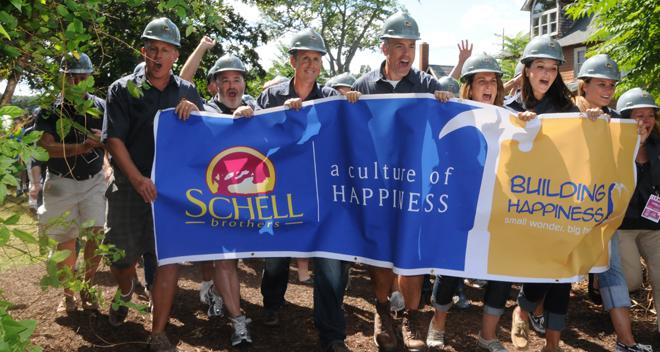 At 9:30 Monday morning, energetic volunteers were already lining up at the registration tent located at Cape Henlopen High School. Many had driven several hours to get here, changed schedules, or called off work – for the chance to participate in this once-in-a-lifetime opportunity. The parking lot was full of people texting and calling friends and family, sharing any bits of information they had learned talking to others. Schell Brothers employees and volunteers were at the ready – collecting registration forms, handing out t-shirts and hard hats, and trying their best to answer questions.
There was a buzz in the air, nervous excitement – everyone was ready for this big day of… of what? No one was quite sure what to expect.
Some were asking, "do we know who the family is, yet?" "Do we know how far away the house is?" Others were offering guesses. "There's a house down the road from mine that's had strange trucks parked out front all last week…"  Speculation was a great way to pass the time.
School buses sat idling as more and more volunteers arrived. Finally, at 10:15, to the sounds of cheers and applause, the first volunteer-loaded bus began its trip to the build site. A few minutes passed. The second bus drove away. And finally the third. In just minutes, we would all discover where the build would take place, and where we would be offering our time and efforts to help a family in our community realize their biggest dream.
When we got to the site, there was a bit of confusion over which home was to be demolished. Once again, speculation took over. "I don't think they live here," remarked one person. "I don't think anyone lives here," said another. However, all speculation was quickly put aside.
An announcement came that it was time for group pictures, a bit of instruction from the production team, and a short wait before the march. Following a few photos, the anticipation grew and grew and grew, until it was announced that we were moving into position! We were all so ready for this!
However, that plan quickly changed, and it was announced that pizza was on the way, instead. When the pizza arrived, we all paraded down the street to another location, where after being told to eat quickly, we were told to get in position for the march! It was finally time! The Schell Brothers banner was unrolled and held in position at the front of our large gathering of volunteers. The energy was palpable!  But, once again, we were told it would be a bit longer.
You can imagine the excitement when the final announcement came that the family was indeed on their way, and we were to get in position – at our original location.
It was actually a lot of fun. The uncertainty of everything, although it required some walking, and waiting, just helped build even more curiosity and excitement over what was coming. The family would be brought to the site of their new home, led down the property a bit, and told that a lot of folks wanted to help them realize their dream. Then, we would come dashing out of a nearby tree line, shouting and cheering and waving, ultimately encircling the family and the design team, and yes, Ty Pennington, too! Yes! It was time!
We came charging out of the tree line. We encircled the team. We cheered! We waved! We had energy!! Ty talked to the family. Ty talked to Chris Schell. Chris talked to the family. We got kudos from the director! We cheered and applauded and waved just like we were supposed to! We all remembered to smile, and cheered and applauded and waved some more!
And then it was over.
The director thanked us, and of course said that people in Delaware were among the best "cheerers" he had ever met. Aw shucks. I bet he tells everyone that.
It was really an amazing time. Feeling the energy build. Hearing people's stories and motivations behind volunteering. Watching the production team rushing around getting things ready.
What a great way to show the family how much we want to be involved in their dream. What a great beginning to our build week.