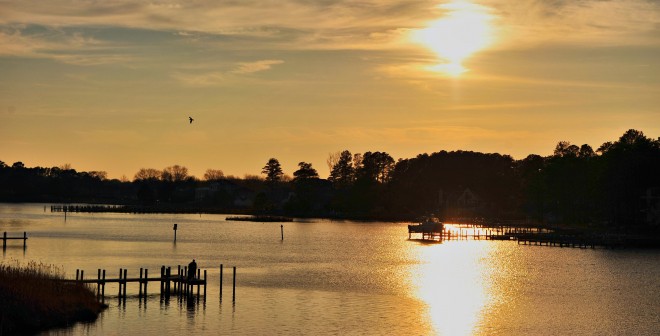 As a native to the State of Delaware, it wasn't until this morning that I realized how fortunate we are to have such beautiful wildlife, state parks, & water canals surrounding our Schell Brothers Community at Sunset Harbour.  The Sunset Harbour team rose early this morning before heading into work, to tour the areas of Bethany Beach, Ocean View, Millville, & Fenwick in order to truly capture a description of what surrounds the Sunset Harbour community.
Sure, Sunset Harbour already offers boat slips, waterfront properties & water canals, but did you know the Bethany Tennis Club is just ½ mile down the road from Sunset Harbour?  Play one game with friends after a hot summer day, or early before breakfast to get your fitness on.
Quillen's Point, at the end of Sunset Harbour's road, is home to the Mason Dixon VFW, with spectacular views of the Indian River with plently of kayakers enjoying the day.
Just around the corner, about 2 miles from Sunset Harbour, is Fresh Pond State Park.  This beautifully designed State Park is not only perfect for walking/running trails, or nature-seeking, but it also can take you straight into North Bethany.  Holt's Landing State Park is a few more miles away, and may be Ocean View's best-kept secret, allowing for walking trails, spectacular water views, and of course, you'll see the rare wildlife from time to time.
Next up for adventurers would be the ever-popular golf courses: Cripple Creek, Salt Pond, & Bear Trap, all only a few minutes from Sunset Harbour.  They're a great treat on a beach vacation!
Venturing back 'home' at Sunset Harbour, we discussed the tasty local restaurants and delis in the area, that offer great year-round dining: Seafood, all-you-can-eat crabs, & upscale dining is easy to find in Fenwick & Ocean View.  No wonder the state of Delaware is called 'the small wonder'… such beauty surrounds us & we are fortunate enough to be in the middle of it all!