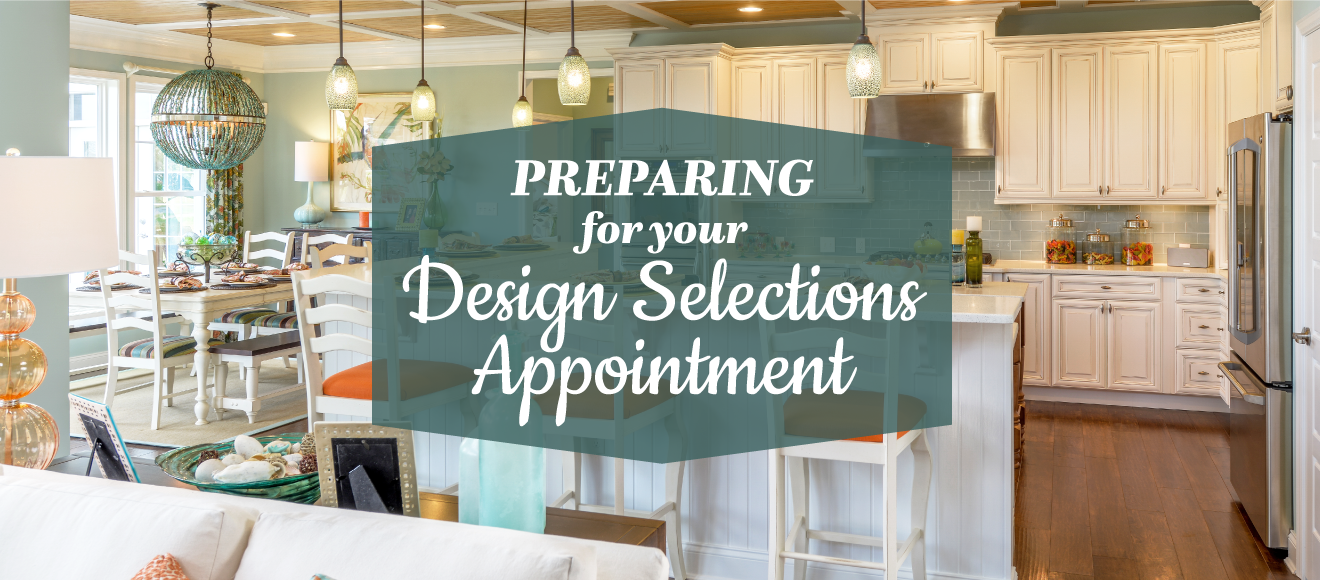 Congratulations! You've purchased a new Schell Brothers home! You've picked out the perfect community, home site, and floor plan, and we're so happy to be able to help make your dream home a reality!
One of the best parts about building a brand new home is the ability to personalize the home with your specific tastes and preferences. As homeowner Susan Goldberg put it, "you want the house to be reflective of your personality. That's the beauty of this. No two homes are alike." It should come as no surprise then that the Design Selections Appointment is one of the most important steps in the building process – and in turning your dream into a reality!
To help you prepare for this important step we gathered advice from the experts – homeowners who have been through this process themselves! Here's what they have to say…
DO YOUR HOMEWORK:
The resounding advice from our homeowners who have been to the Design Studio is that preparation is key. The best way to ensure that this day will be successful, non-stressful, and fun is to do your homework ahead of time.
"The Design Studio is terrific but I would definitely recommend doing some "homework". " – Brenda Millette
"The most important by far is be prepared ahead of the meeting; you need more than vague notions of what you are looking for or it will be a real long day." – The Witzels
"In summary, do your homework!" – Ed Grimes
So what exactly does that mean, and how should you prepare? Read on for great tips from homeowners!
VISIT THE ONLINE DESIGN STUDIO:
Schell Brothers has an award-winning online design studio, where you can see the various design options offered, view photos of the models, and save the ideas you like. Make sure to spend time on the online design studio to get a good feel for the options you will be choosing from at your design appointment.
"Definitely spend time with the online design studio getting an idea of what colors, designs and levels of options are available for the flooring, cabinets, tile etc. It helps narrow down what to look at when you are at the design appointment and also gives you an idea of what to look at during the preview time." – Erin Umerly
"When I clicked on Photos and Videos, and then clicked Homes on the left side, I was able to look at all the model homes that Schell has.  That was really helpful in giving me lots of ideas for decorating and selections." –The Whalens
"The Ideas Gallery on the design center website was also very helpful." – The Whalens
"It's extremely important to stress the use of the website to put your ideas together for all rooms!" – Sharon Simon
"Visit the online studio and spend hours there." –Ed Grimes
VISIT THE MODELS:
You've been to the model home in your community, but there are so many other model homes to explore in person! The models are a great way to see the various design features we offer in person and in a real home. Ask your sales rep or visit our website to see which models we have in the area.
"Visit lots of model homes to get ideas." –Erin Umerly
"The most helpful thing for us was viewing several of Schell's model homes.  Seeing the different finishes, cabinets, flooring and accessories in these houses helped us tremendously." -Brenda Millette
"Visit as many Schell models as you can.  Take notes on what selections you liked.  I took pictures of the kitchens/bathrooms and the description of the selections." –Ed Grimes
"Number one idea – and this cannot be said enough to any individual – visit the models not only of the house you were planning on building but any other model available. Take pictures of features that you like or room colorations that you enjoy, check bathrooms for tile or shower features that can be duplicated in any home. Look kitchens over carefully and consider the functionality for the way you like to cook, ask your sales rep if they have different levels of kitchens for your particular home – again taking pictures of cabinets or cabinet features that you like." – Charles Billingslea
"Visit the Schell websites showing the 3D models, particularly the one you are purchasing, but even better, visit one of the Schell models in DE.  It will get you a much more objective reality of the options available and will assist you the decision making process." –The Witzels
"I would encourage buyers to visit as many Schell model homes as possible.  They should take pictures of what they like and record the names and colors:  floors, cabinets, paint colors, tiles, etc." –Linda Brightfield
ATTEND THE PREVIEW APPOINTMENT:
While the design studio preview is an optional appointment, it is highly recommended! This is a group appointment in which you will be given a "tour" of the Design Studio. You will get a general overview of the options available, and some time to explore the Design Studio on your own. This is your first opportunity to see all of the design features offered in person, so take advantage of it!
"I think the pre-design appointment was incredibly helpful… I would definitely advise people not to skip that meeting." – The Whalens
"Preview appointment was helpful. I took photos of selections that interested me." –Amber Nelson
"Get the lay of the land so you are not overwhelmed when you get there on Selections Day." –Ed Grimes
PRODUCT SAMPLES:
If you need more time to see, touch, and feel some of the selections we offer, ask the manufacturer! They are usually more than happy to send free samples which you can use to help think about your selections ahead of time, and also to help you with your furniture and other ideas.
"Almost all of the manufacturers that Schell uses at the design center will send samples. I got samples from Wellborn, Shaw, Q quartz, and Daltile." – Stephanie Hensal
THINK ABOUT THE SMALL STUFF:
Focus on the major areas, and move to the details. But don't forget to think about the little details that affect your everyday life. Think about your current home and how you use it, which is different for everyone!
"Something you might want think about is do I need an extra outlet in the pantry to plug in a dust buster, charger etc? Do I want to add any additional recessed lights to any room? Or fans? Or floor receptacles?" – Erin Umerly
"For us, we were good when we went in because we knew exactly what we wanted for big things – but then you get down to the nitty gritty, small details. In the end, the devil is in the details." –Susan Goldberg
MAKE A BUDGET:
Know beforehand how much you are willing to spend, and which areas of the home you are going to focus your resources on.
"Being prepared and having a budget was very helpful for us." –Tracey Firth
"Where do you want to put your resources? If you're people that like to cook a lot you're going to want to put the resources into the kitchen. For us it was flooring. I don't think I've touched the oven." –Susan Goldberg
GET INSPIRED:
Maybe you've been binge-watching HGTV or creating boards of your dream home on Pinterest…or already getting inspired on Schell's online design studio! Bring these ideas with you to help share the vision you are looking for.
"Prep is key! Make mood boards using the online design studio. I made one for each bathroom and kitchen. I added non-offered items to my board to get a more complete design concept. On design day, I didn't want to get lost in all of the choices and lose sight of the look I was trying to achieve." – Amber Nelson
"Most design choices will involve the kitchen-great room area of the house. The rest of the house design will flow from this critical area. Bring a color photo of your "inspiration room" for this area of the house to the design appointment. We had an inspiration room photo from HGTV, and it helped convey our taste and preferences to the Schell designer in a way that I could not adequately put into words during the design meeting." – Marilou Merrill
"You should go with pictures and ideas so they can see what you like and are trying to achieve in your new home." – Charles Billingslea
GET EXCITED!!
Don't be nervous! There are a lot of decisions to be made, but if you go in prepared it will be an incredibly fun and exciting day!
"The process and helpful staff made it a great experience!"  – Sharon Simon
"I was like a kid in a candy shop. We loved the day!" –Susan Goldberg
"Come well rested and in a patient frame of mind. Enjoy the experience – it is fun!" – The Witzels
Ready to get started on the Online Design Studio?? Right this way: http://style.schellbrothers.com/