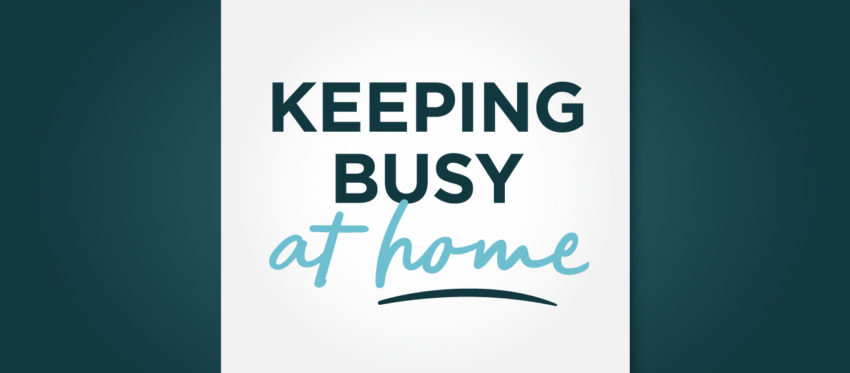 As schools close, offices send their employees home, and restaurants move to take-out only, it's no secret that the COVID-19 virus is changing the nature of our daily lives. Although at times challenging, this is an opportunity where people can rest, listen, educate, exercise, and learn new ways of being. It's a time when our population can meditate and find parts of themselves, they didn't know were there. They can discover new interests, be creative, and connect with each other, although virtually, in meaningful and real ways that we are not often able to do in the busyness of normal life.
With the gift of time, often comes the possibility of boredom. I questioned our Schell employees over the past couple of days as the coronavirus fears have kept many Americans inside, and was pleased to find a world of opportunity to combat that boredom. As you all rack your brains for ways to entertain your kids, what to do in your down time, and how to keep a positive attitude, look at what our awesome employees have found on the internet to keep you moving onward and upward!
The Digital World
With the digital world at our fingertips, TV shows, podcasts, movies and virtual tours readily available. Austin Oswinkle, one of our Community Sales Managers at Saddle Ridge, provided me with some shows he and his son are enjoying right now, "this is a fantastic time to watch The Wire, Entourage, or The Sopranos which are all on HBO GO free with a subscription." He also pointed out that Disney released Frozen II on Disney+ this past Sunday, earlier than they had promised originally. Netflix is known for their amazing original TV series like Stranger Things, and Austin recommends catching up on The Ranch, one of his favorites. Austin works out of our model homes in Saddle Ridge, be sure to check out a virtual tour of our Montauk model here, and our Whimbrel model here.  
Kaylie Austin, a Sales Coach down at our Richmond, VA office, enjoys Netflix as much as the rest of us. She recommends checking out Safe "if you are into mysteries," Love is Blind "if you like ridiculous reality shows like I do," and You, a full-of-surprises thriller great for a date night. She was also able to find out that the Cincinnati Zoo is doing a Facebook live every day at 3pm. This gives kids an opportunity to learn about a different animal every day and experience its habitat without having to go to the zoo.
Her discovery of the virtual Cincinnati zoo tours motivated me to do more research into what we can do online over the next couple of weeks. The National Parks Service has livestream cameras set up around a few of the National Parks. We are able to watch what goes on at the Mammoth Hot Springs in Yellowstone National Park from the comfort of our living rooms! Check it out here. USA Today is releasing weekly Virtual Reality 360 videos of various things such as scuba diving, jousting and walking through the jungle with elephants. Check it out here. If you like the Opera, The Metropolitan Opera in New York City is live streaming its Operas for the next couple of weeks. Check it out here and be sure to look back often because they will be switching out which Operas are showing every day.
I could go on and on about all the amazing virtual tours and experiences you can try right now. Check out your favorite museum (here is a collection of some virtual museum tours), park, streaming service or business, I'm sure they've figured out a way to provide you with entertainment from afar.
Face-to-Face Activities
Kaylie also talked with me about some fun and creative activities for you and your kids. She mentioned drawing your dream house, which reminded me that Schell Brothers has their very own coloring book! You can use this link to download a few of our model houses to color in: https://www.dropbox.com/sh/onlvlj6xwyf0ntq/AAA4fPY9vIRkfo5zEJW9_6uIa?dl=0.
"Try making a playhouse out of cardboard boxes, we all know we have amazon boxes lying around. You can also use playing cards, toothpicks, or any other household items to build a house or castle," Kaylie Austin. The possibilities are endless! Beloved children's author, Mo Willems, has offered to stream "Lunch Doodles" for kids to learn to draw with him. He will be posting a new episode every weekday at 1 p.m., and you can find them here.
Adam Pettengell, our community sales manager at Governors in Lewes, has enjoyed time playing Monopoly with his daughter. The opportunity to play those board games you've been meaning to take out is NOW! Whether it be Monopoly or Mad Gab, The Game of Life or Sorry, board games are a sure way to bring some smiles to you and your family. You can check out a virtual tour of the Bluebell model Adam works in, here, and the new Jasmine model here.
Now is the best time to discover the resources and opportunity that we have at our fingertips. Even here in Delaware, you can watch a 360 video of our beautiful beaches and towns at visitdelaware.com. You don't have to leave your house!
Spend time with family, enjoy the comfort of your home, kiss your furry friends, and remember that we are all in this together.
Be sure to check out our community webpages, they all include virtual tours of our model homes so you can continue dreaming about your future. Be safe and use these resources to keep you and your families from getting bored!