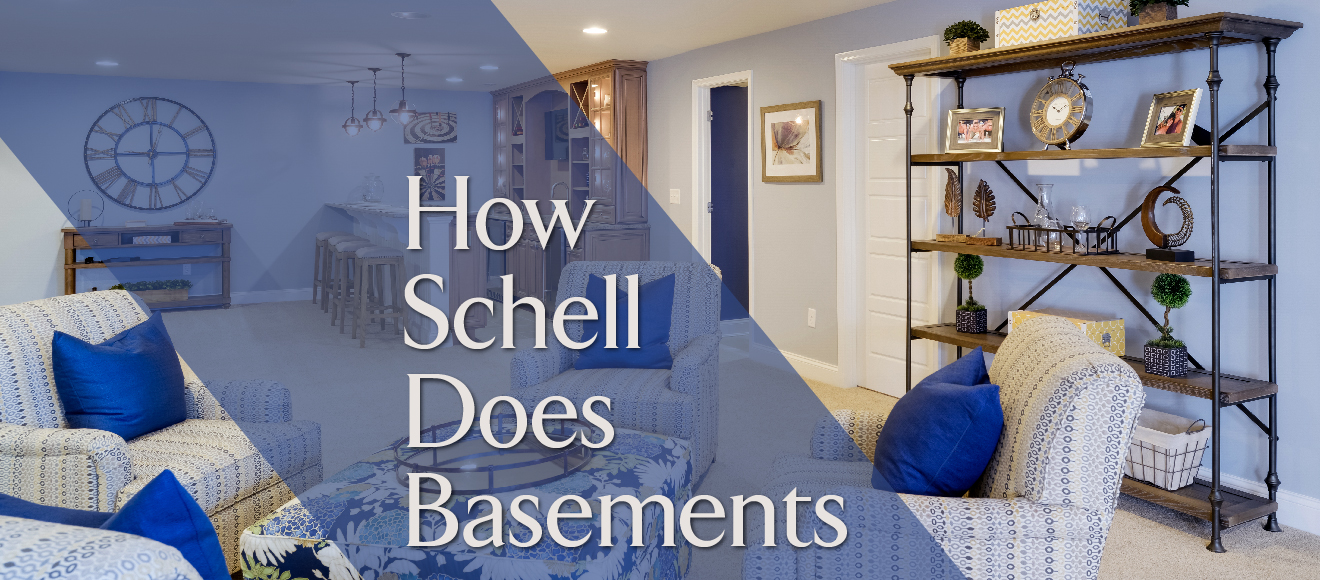 We admit, we may be slightly biased, but there's no denying that a Schell Brothers' finished basement is a signature statement-maker for a home!
Since we offer the ability to build a basement on any homesite here in Richmond, we often hear the question, "which is preferable, a walk-out basement, or one that's in-ground?" and we love to work with each customer to figure out what's best for them.  Most often, the homesite dictates whether the basement will "walk out" into the backyard, so we'll also tell you more about why that's so appealing…
When the basement level opens into the backyard, this allows for the space to have full-sized windows and a door with easy access right into the backyard!   Gone are the days when basements were dark and gloomy…and filled with cobwebs.  Today's basements have ample natural light shining through, and make the perfect playroom for kids' toys, or entertainment space for adults-playrooms, parties, and storage galore.
It's your basement, your way!  Here are 5 features you can choose for your Schell basement:
Bar
Belly up! With cabinets, a mini fridge, backsplashes, and barstools…there are some very fun ways to decorate your basement bar.
Home theater
We've got this covered, from seating to sound absorbent panels, to the TV set up, what better way to relax and watch a movie in your own home?
Wine Room
Wine aficionado in the house? We just added this cool room to our selectable basement room finishes, and can't wait to show it off!
Bedroom Suite
Need a bedroom on a separate level from the rest of the family? The basement can make the perfect bedroom retreat for those needing additional privacy.
Walk-out or Walk-up?
We can help you decide which is best!  Either way, you'll have access to your yard.

One thing we hear from customers when they price a basement home with us, is how they appreciate that our prices are different for each home's plan and finished space.  There is not a "one size fits all" for pricing the finished basement, and this equates to making the finished basement space a reality for many families. What might have been a "maybe," is now a justifiable "must have!"
We'd love to show you "how Schell does basements" in person… come and take a look for yourself!