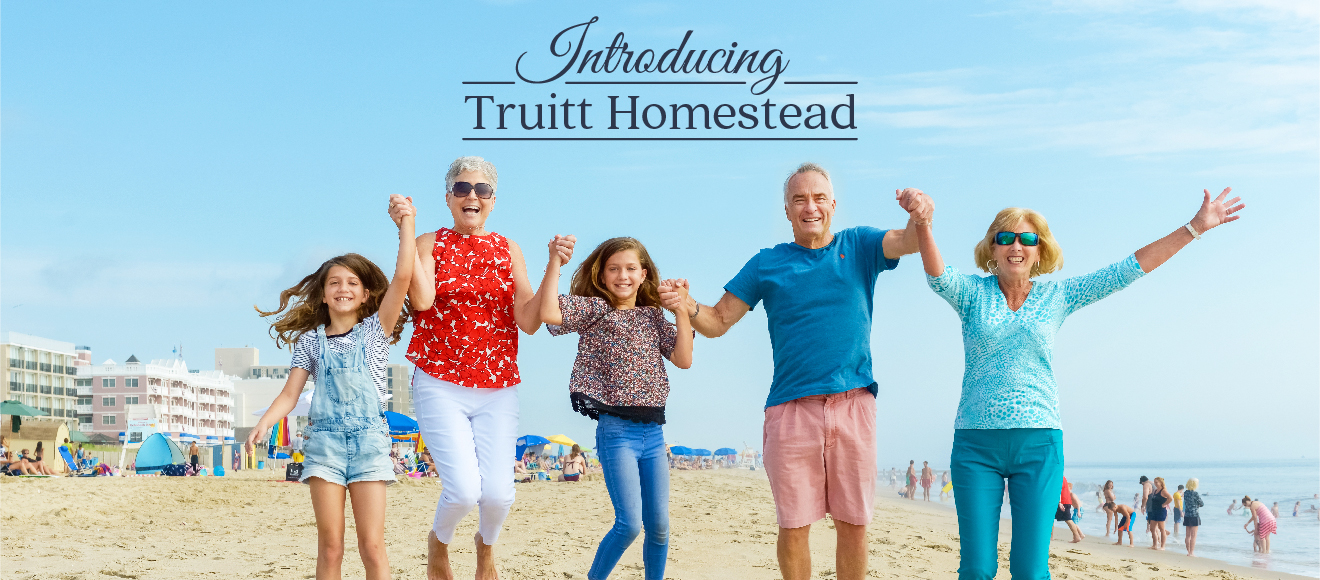 Just a half-mile from Downtown Rehoboth Beach, the location of Truitt Homestead really can't be beat, with some of the area's best dining and shopping (not to mention the beach and boardwalk) just a short car ride or bike ride away. Closer to home, there's a lineup of amenities that suit every interest. But that's not all! Community Sales Manager Andrew Rogan tells us more about this incredibly unique 55+ community:
Marketing and sales talk aside, what do you think makes Truitt Homestead so unique? 
I would say it's two things. First, it's the only 55+ community in Rehoboth Beach. Second, its location is awesome! Being so close to downtown Rehoboth, homeowners could bike to the grocery store, their favorite restaurants, and the beach all less than two miles away. 
Elaborate on the concept at Truitt a bit for us. This is a 55+ community right?
It sure is. The benefit is that homeowners will be able to focus on enjoying life and not having to worry about exterior home maintenance. And if they don't feel like traveling the two miles into town, the amenities within the community are right there for them!
The location! How amazing is the location?? 
I really cant say enough about the location. You can literally walk to Wawa and get your morning coffee then go over to Fresh Market and get a few groceries. The grandkids are visiting? Take them to the beach or walk around the corner to Jungle Jim's Water Park. Downtown Rehoboth, its shops, restaurants, and beach are only a  bike ride or a very short car ride away. And if you don't feel like leaving, the amenities onsite are great, including the indoor pool, gym, restaurant, movie theater and more.
So you're not exactly the target demo for this community, so we'll ask you this – would you sell your parents on moving to Truitt?
Funny you ask. After I told my parents that I would be responsible for sales at Truitt, they immediately asked me for more details about the community because they were interested themselves. My mom is extremely active and keeps my Dad the same way. They spend a lot of time biking, walking the dog, and getting dinners together (growing up my dad was out at sea for months at a time and they now try to capitalize on the time they have together). A lot of these activities they do are conveniently located around Rehoboth or the neighboring park trails, so Truitt makes a lot of  sense for them. If my brother and I were not getting married this year they would probably be much closer to making a move!
There's some pretty incredible amenities planned for this community, which ones do you think will be fan favorites?
Wow, great question! I think they will all be popular. There really is something for everyone. Indoor pool, gym, game room, movie theater, restaurant, and salon. It will be a great place for homeowners to enjoy their favorite activities, spend time with neighbors, and get involved in groups and clubs. The extensive array of amenities on site in Truitt will certainly help cultivate a great community atmosphere.
Describe Truitt Homestead in 3 adjectives:
Active
Social
Accessible
So back to this awesome location….what are some locals favorites in Downtown Rehoboth?
Certainly, the Fresh Market grocery store, Browseabout Bookstore, the beach of course, Funland and Jungle Jim's, and really any of the countless restaurants (one of my personal favorites is Frankie and Louie's). Rehoboth has so much to offer not just in the summer but year-round so it's really hard to pick a favorite!  
Our newest series of homes, the Coastal Cottage series, is being offered at Truitt. Tell us a little about what makes this series unique. 
All of Schell Brothers homes do this, however, the Costal Cottage series really focuses on maximizing the space where you will need it most. In terms of outdoor living space, there are more possibilities than ever. Also, every time I look at one of these floor plans I discover a new way to add storage space!
If you had to pick a favorite floor plan, which one would it be and why?
I would say The Orchid. It is a very functional, open ranch-style floor plan with an owner suite, and two guest bedrooms downstairs, yet has the ability to add additional space where you might need it. Our new model will be The Orchid and will display the loft selection as well as a few other selections that really have that "wow" factor.  
Final thoughts?
It's funny I hate using the term "unique opportunity" because it sounds like a sales pitch; however, there really is no better way to describe Truitt. Having grown up here at the beach, there is very limited open land near Rehoboth, so the ability to build a brand new home so close to downtown is rare. Then when you factor in the fact that it is the only 55+ active adult community in Rehoboth Beach, there really is nothing else like it. I am pretty excited to see this community grow!
Want to know more about Truitt Homestead? Simply click here.