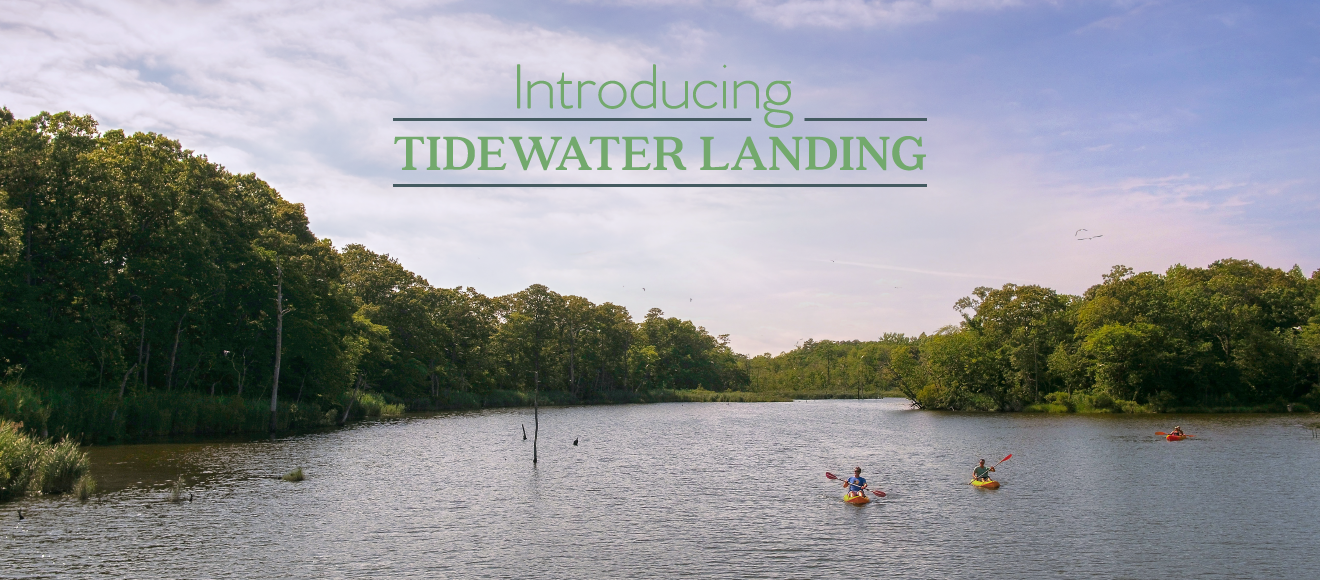 The interest in Tidewater Landing has been incredible so far (seriously, we're talking over 650 inquiries in a few short weeks), which means a lot of people are talking about our latest community in Lewes, Delaware. And who can blame them? The location can't be beat, the amenities are amazing, and the site plan features tall, mature trees on nearly every lot. But that's not all that's worth bragging about. Community Sales Manager, longtime Schell employee AND Schell homeowner Josh Hay has the scoop on the latest and greatest at Tidewater Landing:
Marketing and sales talk aside, what do you think makes Tidewater Landing so unique? 
It's truly different from all the other communities in the area.  So many communities are built on farm land and open fields that it loses character.  Tidewater Landing is basically being chiseled out of a forest and leaving 41% of the trees.  Almost every home backs to the woods and it gives the neighborhood a private and peaceful feel when driving through it.  All you hear are the birds and wind through the trees.  In addition, we'll have access to Love Creek where you'll be able to kayak, canoe, paddle board, and fish.  All this and it's just 6 miles to downtown Lewes.  It's just a great location and setting.
How excited are you to be partnering with Carl M. Freeman on another community?
It's a huge pleasure to work with Carl M. Freeman on this community.  They are known for designing beautiful communities with lots of curb appeal and character.  Freeman is one of those companies that always focuses on their developments as if they were living there and spare no expense to make sure their communities are the best.  We've been fortunate to work with them on other communities and we couldn't be happier to be teaming up with them again with Tidewater Landing.  
This community is designed with some pretty incredible amenities and activities on site, which ones are you looking forward to the most?
The nature trails through the woods are going to be beautiful and a great place to walk your dog.  The clubhouse will be the perfect spot to meet up with everyone and play a game of pool or watch the game in the lounge area or at the bar.  There also will be a fitness center, outdoor pool with bar and grill area, and tennis/pickleball courts. 
Describe Tidewater Landing in three adjectives.
Serene
Private
Enchanting
If you had to pick a favorite floor plan, which one would it be and why? 
The Mayberry.  I love the layout of the living space and how the home kind of wraps around the courtyard.  The kitchen is a great size, especially when you do the counter height island. And the owners suite is an awesome layout.  I try not to do work from home but there is a flex room that gives me a quiet space to get some work done when needed.
How about the area – what are some of your favorite spots in Lewes? 
The location is one of the best parts about Tidewater.  You can get almost anywhere on back roads and very quickly.  Downtown Lewes is only 10 minutes away and has some of my favorite restaurants…Agave, Striper Bites, Touch of Italy, just to name a few.  And Kings Homemade Ice Cream must be had when walking around Lewes. 
You've been with Schell a long time and you own a Schell home, what is it about our homes and communities that stand out the most to you?
The attention to detail in a Schell home is really unbelievable, along with the innovation of the Schellter™ package that is included in every home.  Every home is built as if it was a home that Schell Brothers was going to live in.  There are also so many selections to choose from that you can really personalize the home to your style and not have to compromise.  The biggest thing I have noticed though after living in a Schell home is the comfort of the home.  It's such a quiet home to live in.  You don't hear cars going down the street or barking dogs.  The energy bills are a fraction of what I used to pay because of the energy efficiency of the home.  I can now set the thermostat at what is a comfortable temperature and not have to sacrifice my comfort in fear of the utility bills.  I've also gone winters now without getting that typical winter cold which I'm sure has something to do with the air quality in the home.
Final thoughts?
It's a really exciting time to be looking for a home in the Lewes area.  There are some great communities out there and if you are looking for a quiet, wooded neighborhood with amenities and access to kayaking and fishing than you couldn't have found a better community.  Tidewater Landing has brought the best features of all the other neighborhoods and consolidated them in one place.  It's a beautiful place that I hope you can come visit!
For more on Tidewater Landing, simply click here.
And to speak with Josh or pay him a visit at Tidewater Landing:
(302) 841-5705
Robinsonville Road
Lewes, DE 19958