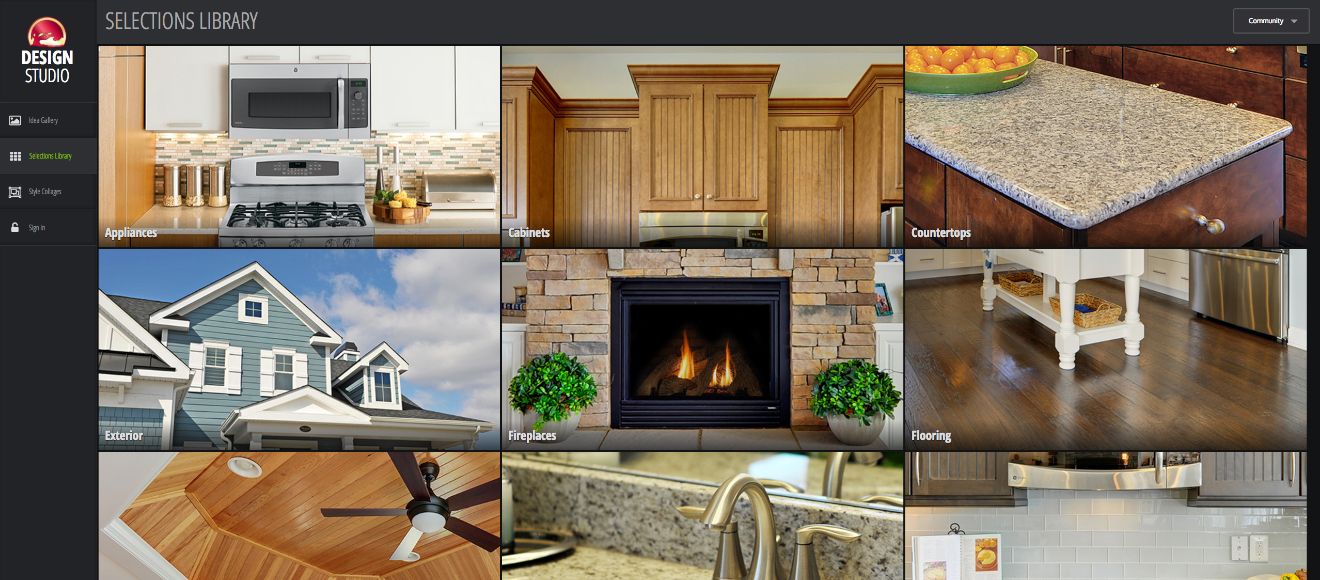 I adore Pinterest. I spend a large amount of free time "pinning" those brilliant DIY projects that I will never get around to, including the incredible meals I will never make, and every quick-fix weight loss program that I will never try. One can dream, right? I was pinning to my heart's content until I was introduced to the Schell Brothers Online Design Studio, which quickly became my new obsession for designing my dream home.
One of my more recent boards on Pinterest is called "Southard Mayberry," which consists of a few hundred pins on how I plan on decorating my Mayberry…when I build it in four years. Then our Design and Marketing teams at Schell Brothers went ahead and launched a new and improved Online Design Studio that swiftly put my pinning on the back-burner. Now my Pinterest boards are being neglected and I have turned my energy and free time towards a whole new addiction, creating my dream home in the Online Design Studio. Did I mention that unlike the Pinterest world, all of these options are real? You love that Sparkling White Quartz countertop you saw in the Kingfisher model? Guess what? You can have it in your kitchen! <drops mic>
As most have you have visited the website before, you know Schell Brothers is incredibly innovative. This online design studio is no different. Between the Selections Library, the Idea Gallery, and the Style Collages, it is like a dream come true!
Not convinced? Allow me to break it down for you:
Selections Library
The Selections Library lists all of the products we carry, including appliances, cabinets, countertops, and flooring. Not only are they all there for you to view, but they are organized by category to make easier to navigate through.
Idea Gallery
The Idea Gallery offers you the ability to get inspired by viewing photos of model homes, and let's face it, no one does a model home like Schell Brothers. In the gallery, you can once again easily maneuver through categories and even save pictures to your favorites. Want more? Let's say you love that Ainsley Kitchen from Peninsula Lakes; click on the photo, and the Online Design Center lists the options! One click will show you that the Ainsley kitchen has a Color Wave Twilight Blue backsplash, with Seville Cabinets that are painted Dove Slate. In a lot of cases even the tiers are listed. Pretty cool, huh?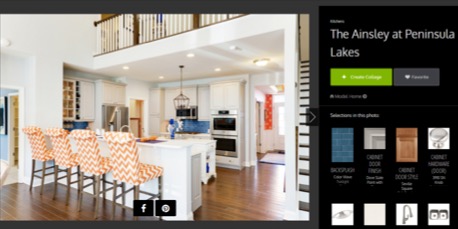 Style Collages
Last but certainly not least, we have the Style Collages. This is where your inner-pinner desires can run free! You can create collages for your Bathrooms, Kitchen, Exterior, etc. Within each collage, you select options that make sense. So if you are building your Kitchen Collage, you will have the ability to  select your backsplash, cabinets, cabinet finish, door and drawer hardware, and even your kitchen sink. Not only is it a blast, but it allows you to be totally prepared for your selections appointment because it is all right there at your fingertips. Literally.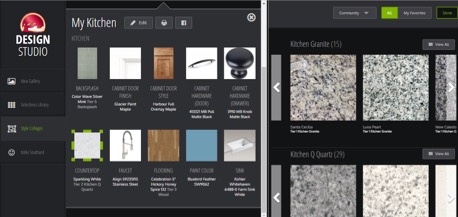 So make the selections process as fun as it should be. Jump on the Online Design Studio, get prepared, get inspired, and keep on living the dream!