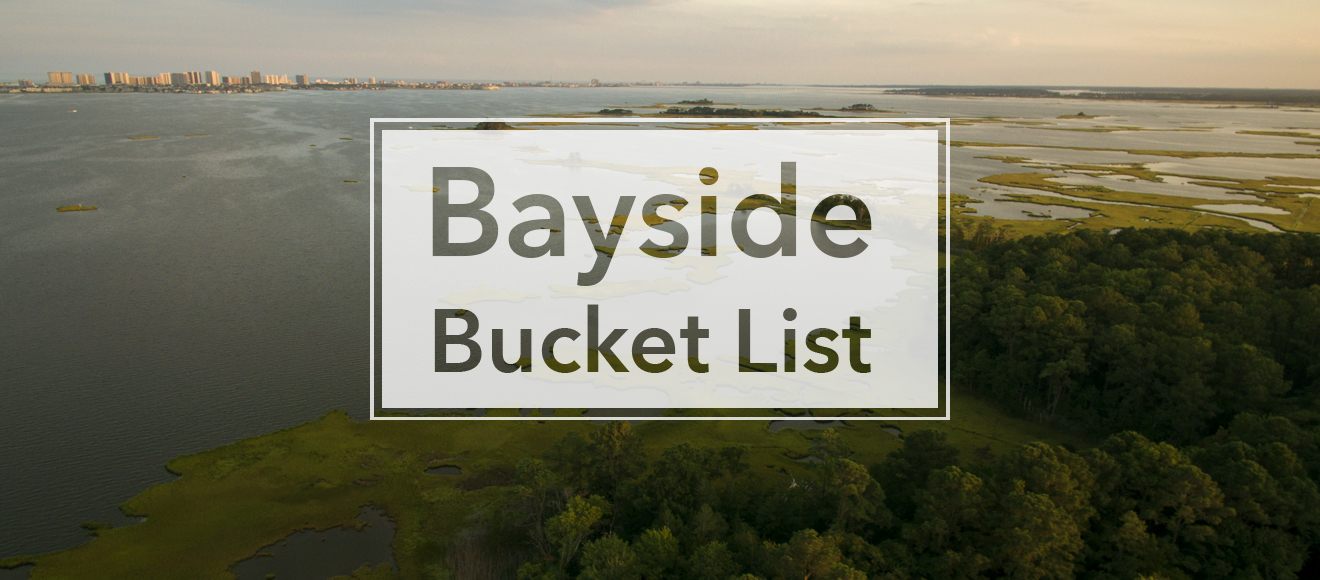 New to the area? Have friends visiting and need help deciding where to take them? No problem! With the help of our friends on Facebook, we put together a bucket list of the must-hit spots and best things to do at Bayside and in the surrounding area.
1.Beach Shuttle to Fenwick Island State Park
No matter the time of year, you can't come to the area and not hit the beach! Whether it's taking the beach shuttle in the summer from Bayside to Fenwick Island State Park, or spending the day at the beaches of Bethany Beach and Ocean City, it's an absolute must to feel the sand between your toes and get a whiff of that sweet, salt air! Mary Lou Shores told us on Facebook that she prefers to "sit on the beach with my eyes closed listening to the beautiful sound of the waves." And of course we can't argue with Jane Borkey, who loves the fun of jumping waves on the beach!
2. "Attend a show at the Freeman Stage!" – Robin Walker
Not only does the Freeman Stage bring in big names such as Justin Moore, The Beach Boys, Gavin DeGraw, Andy Grammar, Phil Phillips, The Band Perry, and The Drifters, we also enjoy watching performances by local musicians, dancers, and singer and actors! What could be better than watching live shows with your friends and neighbors? And you don't even have to leave the community! Check out the schedule of events here: https://freemanstage.org
3. Kayaking and Paddle Boarding
Lynn Cattafi loves "paddling around the shallow areas of the bay." She says, "there are so many little islands and spots to stop and enjoy and be." We agree! Whether it's using the community kayaks or paddleboards and launching into Assawoman Bay from the Point, or heading to other local kayak spots such as the Nanticoke River or Delaware Bay at Cape Henlopen State Park, getting out on the water is a great way to enjoy the area's natural beauty.
4. Assawoman Bay State Wildlife Area
Our very own Jay Hauck loves enjoying the great outdoors, so naturally he suggests heading to the Assawoman Bay State Wildlife Area. There are so many fun things to do here, including crabbing, fishing, walking the trails, kayaking, and birdwatching in the watch tower.
5. Pool Day
If you're here in the summer, than it's mandatory that you make time to relax by the pool. The kiddos can splash around while you lounge in the sun with an iced cold drink from the pool bar!
"My grandkids loved the splash pool. They preferred that to going to the beach!" said Bev Reed Witmer.
6. Crab Feast
"It's not a trip to the beach without some steamed crabs!" – Ali Baker.
This area is famous for our mouth-watering blue crabs. Not only do you enjoy a delicious meal, but getting together with friends & family and spending the evening cracking crabs is an adventure within itself! You can catch your own in our bays, or pick up a bushel at a local crab shack such as Captain Mac's Fish House, Rippons Seafood Market, The Crab Bag, or Fenwick Crab House.
7. Orange Crush at Harborside
The Orange Crush is this area's signature drink, made up of fresh-squeezed orange juice, sprite, triple sec, and vodka. While you can get this drink at any of the local bars and restaurants, Harborside Bar and Grill in West Ocean City is the home of the original Orange Crush. It is an absolute necessity to enjoy a refreshing Orange Crush while watching the boats go by on Harborside's deck…exactly where this locally famous drink got its start!
8. Ocean City Boardwalk
Whether it's riding rides at Trimper's, playing games at Marty's Playland, or eating all of the delicious, greasy boardwalk food (Thrasher's Fries!!!), the boardwalk in Ocean City provides endless fun. A perfect way to spend a summer night, or even just a nice place for a stroll in the winter!
9. Attend a Bayside Institute Course
For Bayside members (and guests if there is room in the class), we have a variety of classes and events to attend through the Bayside Institute! They're held in various locations around Bayside – the Point, the lawn at Bayside commons, the Cove, and sometimes even the model home! There's something fun for everyone. We've had birdwatching classes, baking/cooking classes, whiskey and cigars classes, and more! See the schedule of upcoming Bayside Institute Courses here: http://livebayside.com/bayside-institute/#classes
10. Watching the Sunrise and Sunset
There are so many great spots to enjoy the serenity of watching the sunrise over the ocean or sunset over the bay. Valerie D'ambrogi says, "Sunsets at the point!!" and Lorna Cahn enjoys "watching sunrises and sunsets from my porches, my friends and all the things that go along with that!"
11. Assateague Island
Assateague Island is another nearby natural beauty, but this park is also home to wild ponies that you'll frequently see roaming the park…including the beaches! Some fun things to do at Assateague include driving out on the beach, building bonfires in the sand, camping, kayaking, exploring the various hiking trails, and learning about the wildlife in the visitor's center.
12. Golfing
Of course while at Bayside you need to play a round at the first Jack Nicklaus Signature golf course in Delaware! This challenging course also has breathtaking views of the bay, ponds, and wooded areas. Follow it up with drinks and food at The Cove!
13. Cruisin' OC Weekend
During this annual car show, thousands cruise up and down Coastal Highway in their Hot Rods, Customs, Classics, and more. "My husband loves the muscle car weekends in Ocean City where we drive his 59 Chevy sedan down Coastal Highway along with hundreds of other car guys and gals," explained Lynn Cattafi. No matter the time of year, there is always some fun special event going on in Ocean City! From Winterfest of Lights to Sunfest to the various car shows, check out http://ococean.com/events/ for the calendar of events!
14. Water Parks
If you want to enjoy the sunshine and get active, than we highly suggest hitting one of the many water parks in the area! Check out Thunder Lagoon in Fenwick Island, Splash Mountain in Ocean City, or Jungle Jim's in Rehoboth Beach!
15. Parasailing
There are multiple companies in Ocean City that will take you flying high in the sky for a parasailing ride, including OC Parasail and Paradise Watersports to name a few. This is a fun way to view the beauty of the Ocean City skyline, and you can ride over either the ocean or the bay.
16. Jet skiing/Boating
Jet skiing and boating are a few of the more fast-paced adventures you can enjoy out on the water. Rent a jet ski for a couple of people to zip around on the bay, or get a boat to fit the whole family and spend a full-day on the water.
17. OC Rocket/Sea Rocket
If you don't want to captain your own boat for the day, get tickets to ride on the OC Rocket or the Sea Rocket! These speedboats take you for a ride in the ocean, where you will go up and down the coastline of Ocean City. If you're lucky you may even get to see a few dolphins!
18. Fenwick Float-oars
Float-Oars is Fenwick Island's favorite gift shop! They have two buildings full of home goods, clothing, fun toys & games, and souvenirs! Perfect for browsing, especially on a rainy day!
19. Frontier Town
If you're looking for something to do with the kiddos, Frontier Town is a must-hit spot! This Western theme park is packed with fun activities. From a train ride, to panning for gold, to shows with cowboys and can-can girls, your kids (and you!) will not be bored! Frontier Town also has a water park, mini golf, an arcade, a high ropes adventure park, and a campground if you would like to stay overnight!
20. Happy Hour at the Model Home
Of course happy hour at the Schell Brothers model home had to be on the Bayside Bucket List. Once or twice a month we host a happy hour in our model for the homeowners! It's so much fun getting together, and we always have a blast! Check out our Facebook page, stop by the model, or give us a call to find out when the next happy hour is!