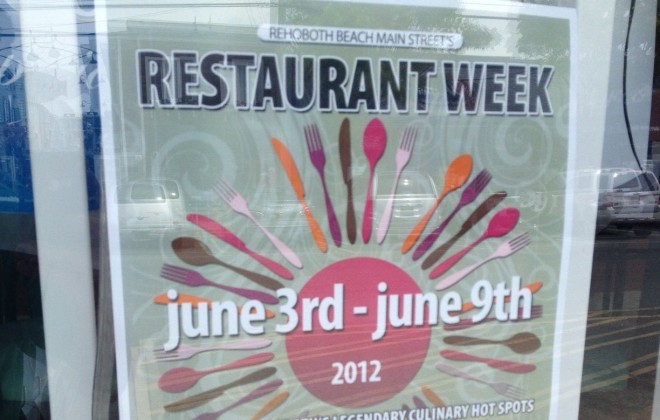 Yes, I am one of those people. I do love food. I also love trying new restaurants. Put these together and I guess I couldn't of landed anywhere better than Rehoboth Beach where food and restaurants are in abundance. As luck would have it, a special event is happening in Rehoboth from the 3rd of June till the 9th. It's restaurant week! Yaaaaaaaaaaay.
So what does that mean? Yes restaurants will be open as always BUT in this period of time you can go and get a lunch or dinner at super-duper prices. As much as I like food, some of the fine dining experiences to be had usually come at a cost. You've heard the saying "you get what you pay for". For gourmet food you expect to pay a bit more. I guess in many ways, it's like Schell Brothers. We use higher quality materials than most other builders in the area. We deliver higher quality homes just like fine dining restaurants deliver higher quality food! How many times have you gone and brought an item only to be disappointed by the lack of quality in the end? Probably more often than you would like to admit. Never take that chance with food and especially not when you're buying a home at the beach.
So getting back to food. What does this mean? Well it means that during restaurant week you can go and try out many fine dining restaurants in Rehoboth and still have money left for Funland.
A three course meal at Blue Moon, Zebra (yummy), or Salt Air for only $20 is a steal! Nearly as good as buying a new home on The Avenue with Schell Brothers. Okay that was a shameless plug, but The Avenue will go down in history as one of the last new-home communities in Rehoboth, that I'm sure about.
If you can't make it out for dinner, go for lunch. Go and try places you've never tried before. You'll never know unless you try it. I'm sure I say that to my kids… and wife! Remember, we are all here for a good time, not a long time 🙂
If you're still undecided, well have a look at the Rehoboth Foodie website. It gives you reviews on all the restaurants in the area and tells you about the new ones opening up. PLEASE remember though, everybody has different tastes and one person's heaven is another person's hell.
Top 4 restaurants I've not tried yet:
Cabo (brand new)
Café Azafran (we have a ton of gift cards to use)
Mixx (the wife loves martinis so should be a winner)
Back Porch Café (the misses is a bit fussy but I'm hoping to get this one checked off)
I've been lucky enough to have tried most all the others so let me know what type of food you're looking for and I'll be sure to give you my recommendation.
Good luck out there food lovers!