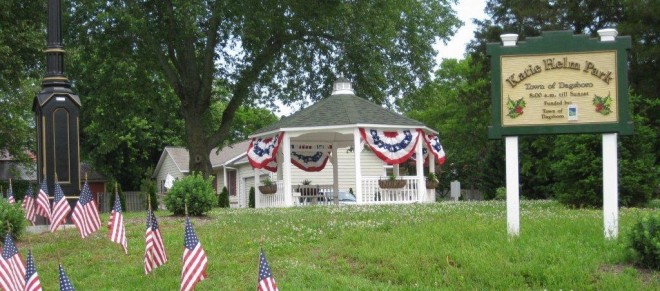 The town of Dagsboro proudly displayed its patriotism on Memorial Day!
American flags were placed on the hillside by the city park and the park gazebo was decorated with colorful draping flag banners. 100 or more small American flags made a colorful entrance and patriotic
entrance to The Woodlands of Peppers Creek Memorial Day weekend.
This was a great weekend to visit a of few of the local farm stands in the area. In just a few miles you will find fresh strawberries, asparagus and other locally grown seasonal produce.
If you are looking to get away from the fast paced life style we have all experienced in larger cities you will love the small town of Dagsboro.
Our quaint Main Street features the Clayton Theatre which offers 1st run movies with its original fixtures dating back to the 1940s. It is the small town charm that continues to draw many people back to Dagsboro.
Of course we want you to visit our community. While at our welcome center at the Woodlands of Peppers Creek you can listen to the sounds of nature that surround you. Peppers Creek is directly behind most of our twin homes it is a very serene environment. You will realize immediately that you found
the peaceful relaxing neighborhood you have been searching for.