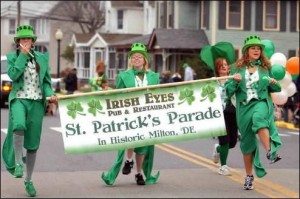 March is the sign of many things, such as the beginning of Daylight Savings Time on March 11th, or the first day of Spring on the 20th.  Yet, the most celebrated day in March is the 17th, St. Patrick's Day. And nothing says St. Patrick's Day like good Irish stew, green beer or stout, and a parade.
The first St. Patrick's Day Parade didn't take place in Ireland, but in the United States. On March 17th, over a thousand Irish soldiers who had served in the English military marched through New York City. The music and parade helped soldiers reconnect to their Irish roots.
For 35 years, Irish patriotism was celebrated by American immigrants and societies like the Friendly Sons of Saint Patrick and the Hibernia Society. Bagpipes and drums became a staple of the St. Patrick's Day parade and that's still true today.  In 1848, the societies merged their parades and now boast more than 150,000 participants with over 3 million people watching the procession along New York City's 1.5 mile parade route.
But, if you find yourself far from New York this year, you can still enjoy a parade right here in Delaware.  Milton's St. Patrick's Day parade, sponsored by Irish Eyes Pub will be held on March 11th, starting at 2 pm.
So, come on out for the parade and stop by for a visit to Heritage Creek afterward.  We'll share our favorite Irish recipes with you.  For starters, here's one we love for Beef and Irish Stout Stew:
Beef and Irish Stout Stew

Ingredients

2 lbs lean beef stew meat, cut into 1" cubes
3 T vegetable oil
2 T all-purpose flour
1 pinch salt
1 pinch cayenne pepper
2 large onions, chopped
1 clove garlic, crushed
2 T tomato paste
1 ½ C Guinness®
2 C chopped carrot
1 spring fresh thyme
1 T chopped parsley, for garnish

Directions

Toss the beef cubes with 1 tablespoon of vegetable oil. In a separate bowl, stir together the flour, salt, pepper, and cayenne pepper. Dredge the beef in this to coat.
Heat the remaining oil in a deep skillet or Dutch oven over medium-high heat. Add the beef, and brown on all sides. Add the onions, and garlic. Stir the tomato paste into a small amount of water to dilute; pour into the pan and stir to blend. Reduce the heat to medium, cover, and cook for 5 minutes.
Pour 1/2 cup of the beer into the pan, and as it begins to boil, scrape any bits of food from the bottom of the pan with a wooden spoon. This adds a lot of flavor to the broth. Pour in the rest of the beer, and add the carrots and thyme. Cover, reduce heat to low, and simmer for 2 to 3 hours, stirring occasionally. Taste and adjust seasoning before serving. Garnish with chopped parsley.