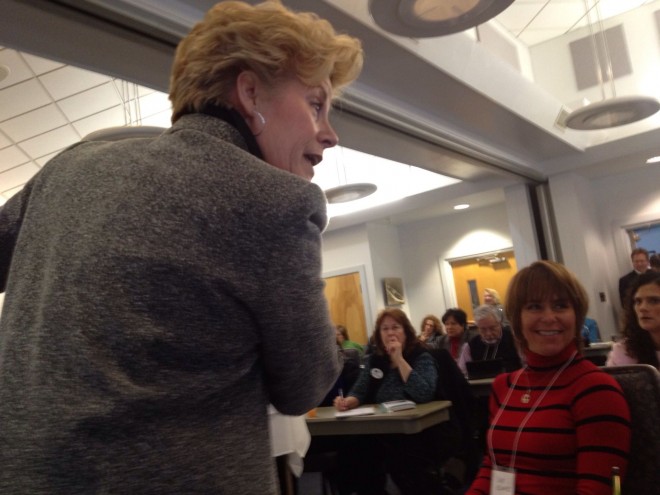 Photo by dmcgurgan
#SoDEL101. . .What on earth does that stand for? Is it a college prerequisite that you just haven't heard your kids talking about? Is it the code on the back of your cereal box? Not quite, guys.
This week,  it was a "hashtag" used by social media gurus and local business owners in the first-ever Social Media 101 seminar in Southern Delaware. I must say, going into this somewhat familiar with social media techniques and strategies, I was profoundly interested in the takeaways from the panel of eight experts. Who would have thought that "playing, stealing, failing, and engaging" would be terms that would resonate with me – or even in any way make sense in the same seminar?
Tweeting Is Like Making Friends
The room was filled with a variety of "social networkers", some with their game faces on, wanting to learn the next best thing and others who were there to take baby steps into this new world.  For the newbies, Laurie Bick (@LaurieBick on Twitter) encouraged the audience to remember their childhood to demonstrate the best way to tackle Twitter. Her comparison of making new friends made it easy for attendees to relate. It was clear that the natural way kids develop friendships by listening, repeating, and interrelating is exactly like entering the Twitter community. . .tweeting, retweeting, following, and gaining followers. Later, Laura's invitation to join the virtual cocktail party resulted in Twitter feeds from attendees referencing "cheers to that!" Wow, thinking of Twitter as a community of friends makes it so much easier to grasp.
Just Jump In
Mariah Calagione (@dogfishbeer on Twitter) took the stage to offer a glimpse into the company's social media platforms.  She eased the minds of attendees by encouraging networkers to just jump in, try things, and see how they're received.  With over 210,800 Facebook fans and 78,000 followers on Twitter, I'd say her "just do it" strategy is working!  Oh yeah, and how cool is it that her original Facebook and Twitter accounts were created by fans and later taken over by Mariah herself!
Create Your Own Success Story
Dave Burris (@daveburris on Twitter), the final presenter, provided a valuable recap of the day by reminding the audience to get involved and try new things. He stressed that you really can't break anything in the social media world so go ahead and dive in!  Dave said that failing early is better than failing late and he reminded the group that there is a ton of information available on the Internet if you have questions.  You'll also find a lot of good ideas on line, and you should never be opposed to transforming a great idea into your own success story.
The Power of Engagement
Understanding the theme and call to action of engagement was probably the strongest takeaway of the day.  In order to be successful at making friends in a sandbox or taking part in a conversation at a cocktail party, you have to engage right? Well, the same thing is true about social networking.  You have to participate, interact, respond and share to become part of the online community. The power of engagement can take your social networking to the next level.  So, play around with the tools, don't be afraid to fail early, look for ideas and don't shy away from interacting and being engaging. After all, who wants to attend a cocktail party with someone who doesn't talk, or even worse, someone who endlessly drones on about herself?  Sharing content that interests your fans and followers will increase your fanbase and followers.  Now, get to know us @schellbrothers on Twitter!