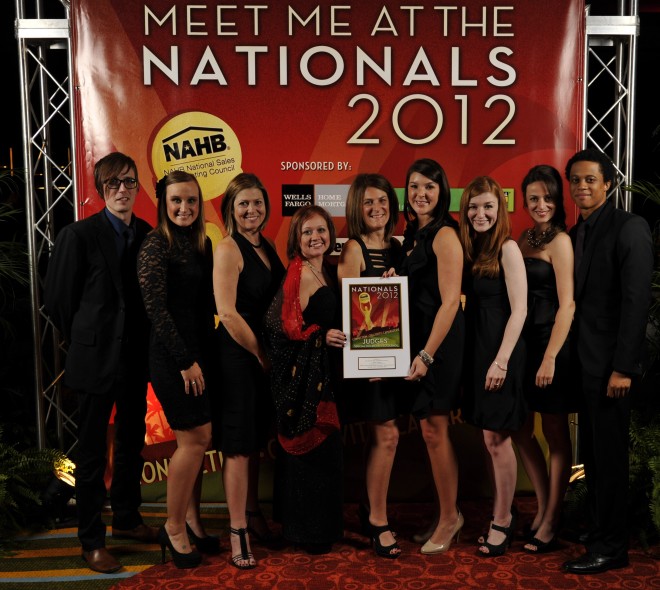 It's that time of year! The Golden Globes, The Oscars, the SAG awards and of course the Grammys!  While these awards shows are watched on TVs across the nation, there's one award show you won't see on TV but, to many of us, it's just as important – the 31st Annual National Sales and Marketing Awards!
Many of you are familiar with the "Extreme Makeover: Home Edition" project we were a part of back in August of 2011 and we're excited to announce that we received an award to share with the community!  The Building Happiness: Small Wonder Big Heart project took home a Judges Special Award for Community Service in recognition of Delaware's giving spirit.  Thousands of volunteers worked alongside our employees to accomplish one of the largest projects "Extreme Makeover: Home Edition" has ever created, giving the Dunning Family the Jusst Sooup Ranch of their dreams, to continue their mission of helping those in need.  When accepting the award, Marketing Director Debby Coughlan acknowledged the generosity of the volunteer community that not only built five structures for the family, but also raised $300,000 for an endowment to help them maintain the property in the years to come.
Even though Schell Brothers handled leadership responsibilities for the build, none of it would have been possible without the help of generous sponsors and volunteers.  "Receiving the Community Spirit Award at Nationals this year wasn't just for Schell Brothers as a company, it was for the entire community," said owner Chris Schell.  "We had just a small part in the build; it was the sponsors and volunteers that truly made it possible."  Coughlan agreed, and added, "The real heroes are the Dunnings, who give everything they have, day-in and day-out, to feed hungry people in our state."
We are honored to be a part of such an amazing community that is willing to give back to each other and to people in need.  We hope you will enjoy and celebrate this special award of recognition for our community as much as we will!