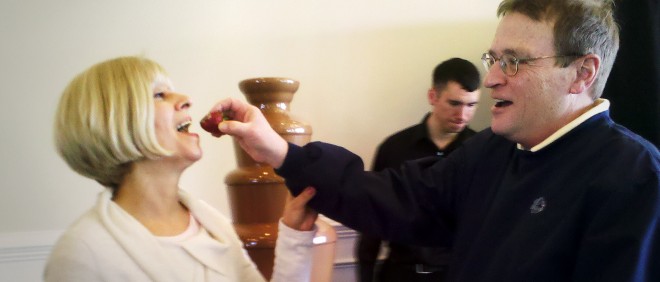 If you weren't at the Health Fair at Independence this past Saturday, you really missed out! Free screening for bone density, cholesterol, BMI, and blood sugar were available for residents and guests–and I had it all done!
The volunteers from Beebe were spectacular! A CPR class was held at 10 a.m. and 30 of Indy's finest were in attendance and practiced what they had been taught. Doing 100 compressions in 60 seconds on someone's chest is no easy feat!  We all had dummies on which to practice and before you jump to conclusions, let me clarify that I'm talking about the training dummies brought by the paramedics.  The big surprise at the beginning of the class was the donation of a defibrillator for our very own community! Everyone was shocked, pleased, and extremely grateful.
After the CPR presentation in the Yoga room, it was off to the Ballroom for lunch where 9 different outside caterers were serving their best vittles to win a spot on the Indy preferred caterer list. One caterer even brought its own photo booth with them! I bet you can't guess who had his picture taken first! Everyone's food was scrumptious and the residents actually voted for the best of the 9. Wow, was that hard to do! All of the votes had not been tallied as of this blog, but the winner or winners will be announced soon. The Ballroom was filled with 75 residents of this great community and 50 people outside of the community! It's a good thing that most people had their screenings before lunch and the wine tasting took place. Guess who didn't? UGH!
Hats off to Wendy Baker for putting this great event together for us! She's become an integral figure in the community as Director of Activities in just 6 short months. Her efforts enabled everyone here at Indy, and those outside of this community, to experience an educationally healthy morning and afternoon–and the free lunch wasn't bad either!