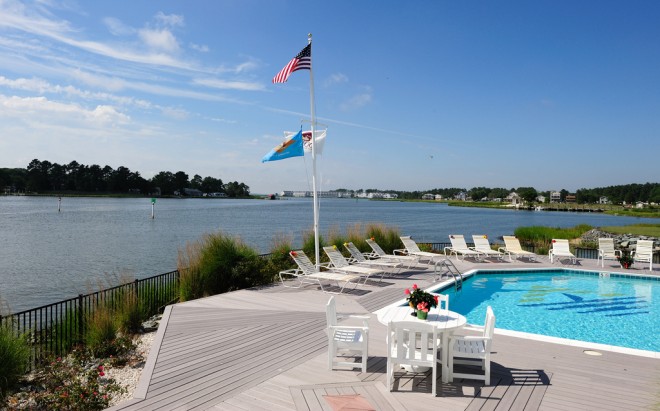 Boaters in southern Delaware received an early Christmas present as State environmental officials recently announced that dredging of the picturesque Assawoman Canal is now complete after many years of work.  This means that boaters can navigate the Assawoman and Isle of Wright Bays that lead to popular restaurants and recreational venues in Fenwick Island, Ocean City, and more.   Of course, by way of Whites Creek, boaters also have access to the Indian River and Rehoboth Bay as well as to the Delaware Bay via the Rehoboth Canal.  Best of all, the Atlantic Ocean, through the Indian River Inlet, is only minutes away by boat.
One of the only new home communities with private boat slips and direct access to these waterways is Sunset Harbour by Schell Brothers, located on Fred Hudson Road.  Residents at Sunset Harbour enjoy fun and convenient access to these destinations, especially in the summer months when traffic on Route 1 begins to pile up.  There's nothing like the prestige of showing up at a restaurant by boat, especially when everyone else is stuck in traffic!  In addition to visiting local eateries, boaters may also take a day trip all the way down the coast to Chincoteague without ever going into the ocean.
The accessibility of the Assawoman Canal opens up a whole new world to water enthusiasts and surely the remaining homes with boat slips at Sunset Harbour won't last long.   Whether it be boating, kayaking, jet skiing, swimming or just taking a walk along the shore, the community is surrounded by water and all its beauty and bounty.  Sunset Harbour is one of the only communities that has been approved as a minor marina which allows continued maintenance dredging, stabilization of the banks of the canals and the construction of new docks.  Additionally, residents have private access to the community boat ramp.  I'm thinking it may be best to check out these homes now before interest rates continue to climb and the best homesites slip away!