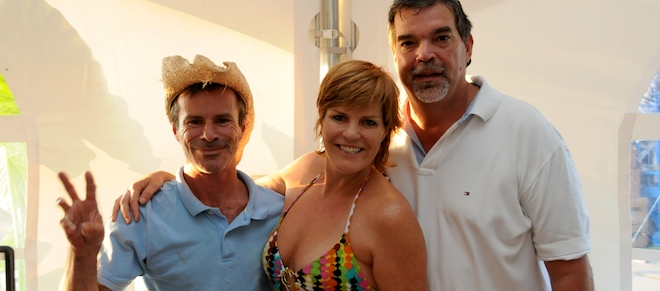 Wednesday, August 24th at the VIP Tent at 4:00 p.m. is when several renowned area chefs will be dueling for bragging rights.
One chef pondering what to serve 200 guests is Gretchen Hanson.  She is the Executive Chef of Hobos Restaurant & Bar, a trendy spot on Baltimore Avenue in downtown Rehoboth Beach.  Website? www.myhobos.com.
This is her contribution to the build project of Extreme Makeover: Home Edition.  She wants to provide delicious food for volunteers and special guests, and to battle and duel and ultimately win that coveted prize.  She has been rounding up her troops, including her soon-to-be husband, Michael Daley.  Her demeanor?  Cool as a cucumber.
Gretchen has embraced more of a plant-based food culture.  You know, less milk and animal protein.  But she will be the first to tell you that she is not the perfect Vegan.
Her food has wonderful colors and textures.  They appeal to diverse palates.
Her restaurant is sensitive to people with food related allergies.  Gretchen's concern for the environment carries into her restaurant; Hobos is a green establishment.
I know what she is making for the Challenge; I am not telling.  Remember, there are some that will win the battle, but Gretchen wants to win the war.
I have heard Gretchen say "Your Path, Your Journey, Your Choices", a statement that so perfectly describes Rev. Dale Dunning and Jusst Sooup Ministry.  It has been her path, her journey, and most definitely her choice.
Sooo, why don't we have some fun and let the duel begin…Talk to you later.