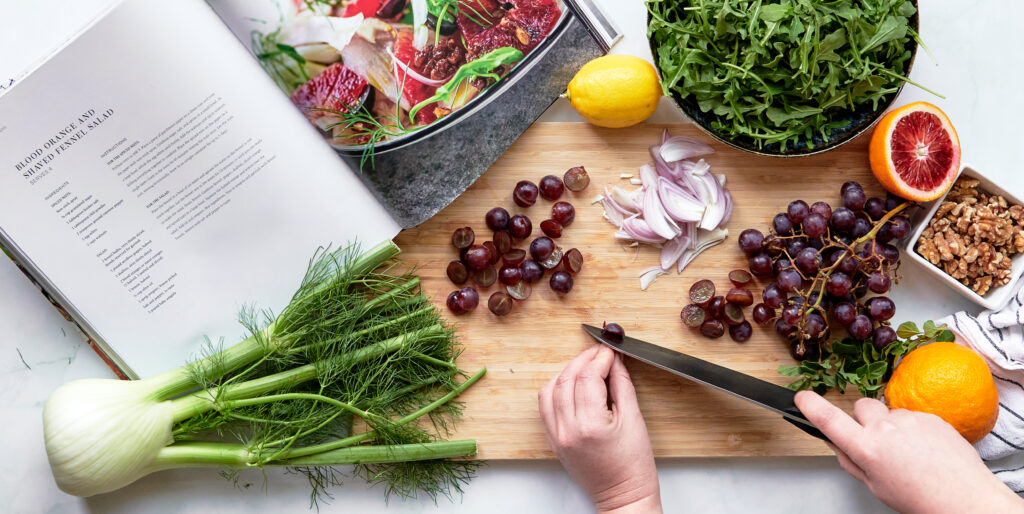 There's a beautiful new source of inspiration for Schell homebuyers once they are unpacked and eager to try out their sparkling new kitchens. In Season: A Coastal Delaware Cookbook is hot off the press and ready to tuck into Schell's welcome baskets.
With photos of the southern Delaware coastline, familiar landmarks, and food, glorious food, the new cookbook features customized recipes that make the best of the area's bounty.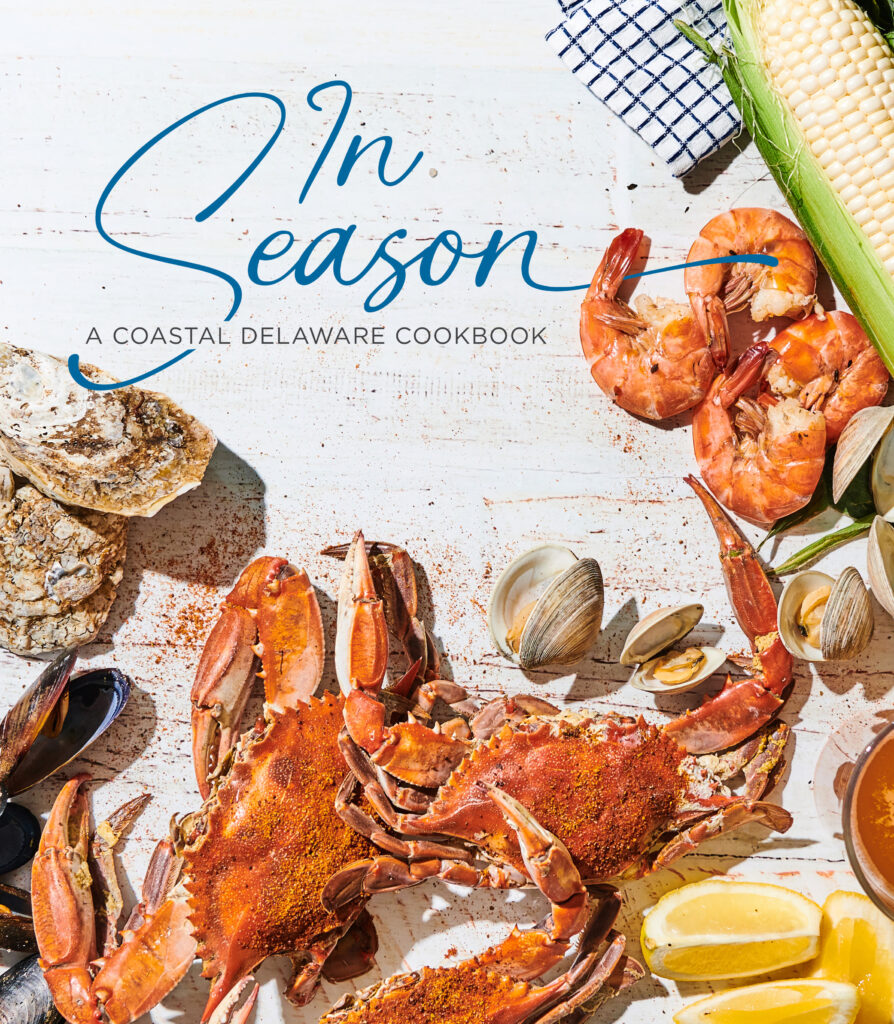 Chef Nate Leonard developed the recipes, dividing them by seasons: In the spring, cooks will turn to the Warm Asparagus Salad after a trip to Fifer's Farm Market for the slender green sprouts. A summer stop at one of the area's farmers' markets will yield the ingredients for the Heirloom Tomato Salad or Baby Back Ribs with Peach Salsa (with peaches from Bennett Orchards). Pumpkin and Brie Stuffed French Toast is perfect for a fall brunch, and the Eastern Shore Eggs Benedict, rich with oysters and shrimp, is a showstopper. A toasty fire and a smoky French Onion Soup make a great winter pairing.
All the recipes are mouthwatering, but not all are complicated. "We were looking for a unique gift for our new homeowners that also showcases Delaware culinary traditions – and offers lots of ideas for adventurous cooks to try," said Schell marketing director Alyssa Titus, who spearheaded the cookbook's development.
Schell employees contributed their favorite recipes and offered suggestions for food purveyors and restaurants that locals swear by and that families will enjoy checking out, like Hickman's Meat Market for hand-cut steaks, Big Fish Market for the freshest filets, or La Fable for that special anniversary dinner.
"We're blessed with talented chefs here in southern Delaware who take advantage of beautiful, local ingredients from our bays, ocean, and of course our family farms," Titus said. "We're excited to let our new homeowners in on the secret, and inspire them to create their own culinary traditions in their new Schell home."
Here's a sneak peek at one: The Lemon Olive Oil Cake, where pantry staples combine with juiced lemons and ricotta to create a result that's sublime.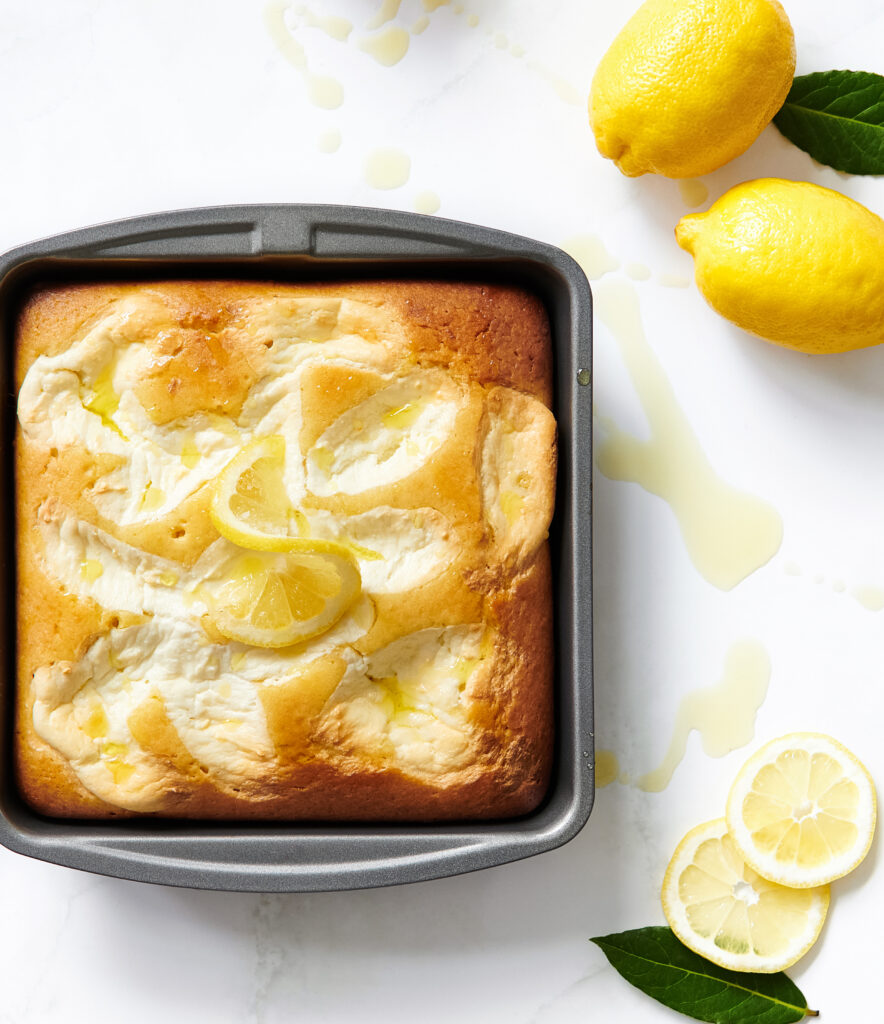 INGREDIENTS
3 large eggs
1 cup granulated sugar
2 lemons, juiced and zested
½ cup extra virgin olive oil
½ cup whole milk
1 ½ teaspoon vanilla extract, divided
1 teaspoon almond extract
2 cups all-purpose flour
1 ½ teaspoons baking powder
Pinch of salt
1-pint ricotta cheese
2 tablespoons powdered sugar
Olive oil
1 lemon, sliced
INSTRUCTIONS
Preheat oven to 350˚F. Grease an 8-inch square baking pan. Dust with flour.
In the bowl of a stand mixer with a whisk attachment, combine eggs and sugar. Whisk on high for 30 seconds. Add lemon juice and zest and whisk on high for 30 seconds more. Lower speed to medium. Slowly drizzle in olive oil, scraping sides with a rubber spatula. Add milk and 1 teaspoon of vanilla and almond extracts. Whisk 2 minutes until well combined.
In a small bowl, sift flour, baking powder, and salt. Combine the dry ingredients into the wet ingredients in 3 stages, turning the mixer on and off to just combine the batter. Do not overmix.
In a separate bowl, whisk together the ricotta, powdered sugar, and ½ teaspoon of vanilla extract.
Pour batter into prepared pan. Spoon ricotta mixture on top of the batter, 1 tablespoon at a time. Bake until toothpick comes out clean when inserted into the center of the cake, about 30-35 minutes. Remove from oven. Let stand for 10 minutes before removing from pan. Cool completely on wire rack.
Serve with a drizzle of olive oil and sliced lemon.
HOW DO YOU GET YOUR COPY?
In Season: A Coastal Delaware Cookbook will be included in all new Schell homeowner gift baskets beginning Feb. 1 and available for $39.99 at The Coffee House Powered by Schell Brothers and Browseabout Books in Rehoboth Beach.