Yellowfin's Bar & Grill, conveniently located off of John J. Williams Highway, is the best new restaurant to try in the Long Neck area if you're looking for tasty appetizers and entrees in a casual yet upbeat atmosphere. This unexpectedly cool spot is directly behind the recently constructed Wawa in a strip center full of cute shops that have just opened or are slated to open prior to Summer 2019.
Immediately upon entering, you'll notice a hometown vibe with locals lingering at the bar and a fairly full restaurant, even on a Tuesday in January. The large bar is accented with a rustic theme, highlighted by a shiplap wall covered with a great selection of liquor, wine, beer and plenty of TV's that will delight any sports fan. The extremely friendly manager, Brad, let me in on the fact that they turn the volume up in the bar area during important games. (Hint, hint: visit them for the Super Bowl and March Madness.)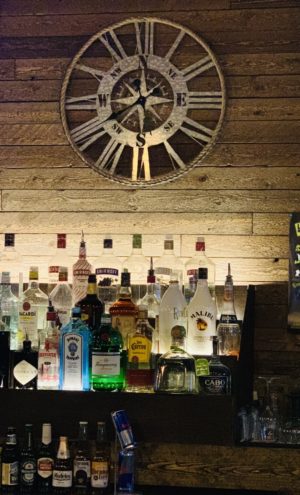 Yellowfin's offers an impressive drink menu with plenty of interesting mixed drinks and ample options for wine and beer lovers alike. The Tuna Nachos are a highlight and evidently a favorite of both staff and visitors. The flaky and light wonton nacho is the perfect staple for the slightly spicy ahi tuna and seaweed. I personally loved this appetizer and so did my husband! We opted to try several items from the Happy Hour Menu, all under $7. My husband thoroughly enjoyed the Boneless Wings, and who doesn't love Fried Spicy Cheese Curds and Fried Pickles with Sweet Thai Chili Sauce?
After that we were completely stuffed, but my hubby managed to enjoy Burger Night and opted for the locally farmed burger topped with a fried egg and onion frizzles.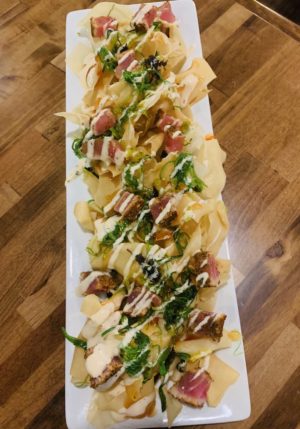 Durning the summer months, guests can enjoy outdoor seating and live music on the patio. Yellowfin's offers nightly specials year-round, including Monday Trivia and Pasta (a crowd favorite, so get there early if you plan on going and be ready for a lively game of trivia).
Brad informed me that their laid-back attitude applies to the hours as well. They stop serving food at ten nightly; but if there is a bar crowd at that time, they'll gladly stay open to serve their guests.
Although Yellowfin's just opened in April of 2018, the atmosphere, food quality and service make it seem as though they have been open for years! Yellowfin's Bar & Grill is a hidden gem in Long Neck that won't be hidden for long.