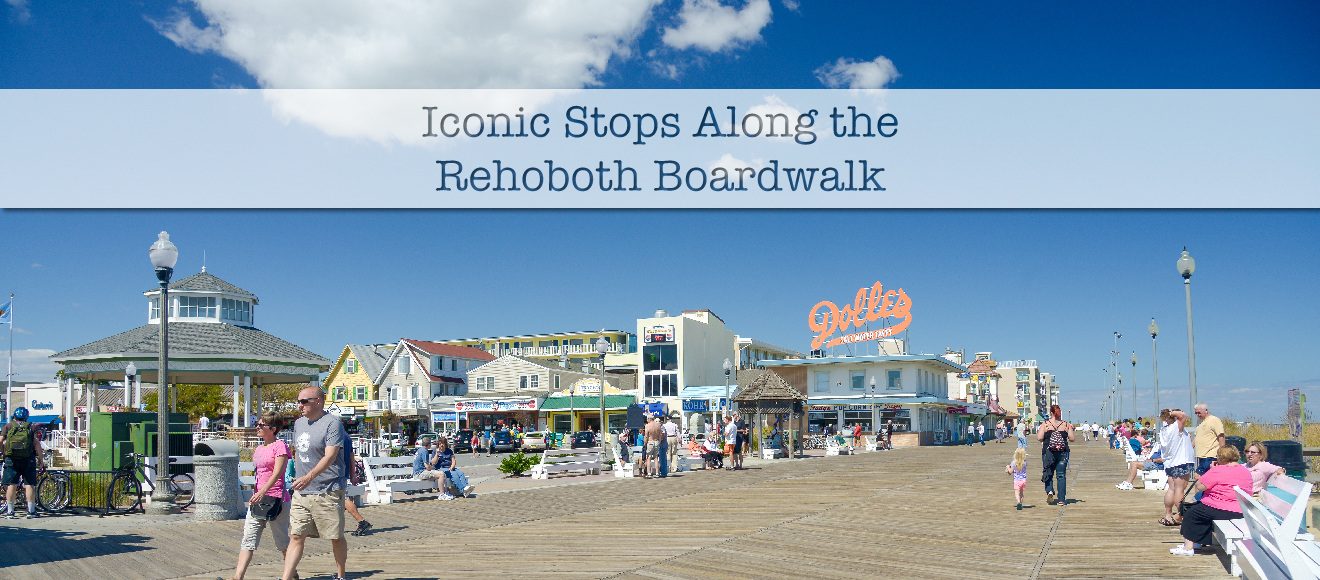 With this year's nod from Coastal Living as one of the "Best Beaches in the USA," Rehoboth Beach continues to gain notoriety on the East Coast, but it's the coastal town's classic charm and casual beach vibes that keep visitors coming back year after year. And why not? The mile-long boardwalk, restaurants, clean beaches, and old-fashioned amusements offer fun for all ages, including those iconic destinations along the boardwalk that we all revel in each summer. From Dolle's Candyland, to Fisher's Popcorn, Nicola Pizza, and Funland, here is a list of a few must visit locations as you explore the Rehoboth Beach Boardwalk.
Dolle's Candyland 
Established in 1926 in Rehoboth Beach, Dolle's began creating the very same confections that we all know and love today. Their original recipes for taffy, fudge, caramel and brittle are now classics; in fact, they are all still made using old-fashioned formulas with no preservatives. Located on the corner of Rehoboth Avenue and the boardwalk, their icnonic orange sign and sweet smells of homemade candy are definitely hard to miss. Be sure to stop by and grab some homemade taffy or just take a picture in front of this classic landmark!
Fisher's Popcorn
This beloved caramel popcorn stand was first opened in 1937 by Everett Fisher. Over the years, the company has been passed down from generation to generation and expanded to four locations along the Delaware/Maryland shoreline, but that irresistible flavor has never wavered. Stop by and grab a tub of caramel popcorn, cinnamon caramel popcorn, and caramel chocolate drizzle popcorn, or indulge in the classic flavors like butter, white cheddar. Of course you can't go wrong with Old Bay popcorn either! Tip: Be sure to take home a few tins to enjoy later – you'll regret it if you don't!
Nicola Pizza
Offering pizza, pasta, sandwiches, and their original and notably unique creation, the NIC-O-BOLI, this family restaurant was started in 1971 and quickly became a Rehoboth Beach favorite. Most commonly know for their NIC-O-BOLI, a combination of pizza sauce, cheese and homemade dough folded over into an overstuffed sandwich, Nicola's is the perfect spot for a family dinner.
Funland
A favorite for parents and children alike during the day or later at night, Funland has it all, including arcade games, bumper cars, amusement rides and more. Funland came to fruition in 1962 when the Fasnacht family visited the Delaware beaches and decided they wanted to become part of the growing boardwalk community. 50 years later they are a staple along the boardwalk and are still run by the same family. Some of the games offered include Skeeball, Balloon Bust, Derby (Horserace), and Wac-a-Mole. Bumper Cars, the Seadragon, a Freefall, and the Haunted Mansion…it's tough to pick a favorite!