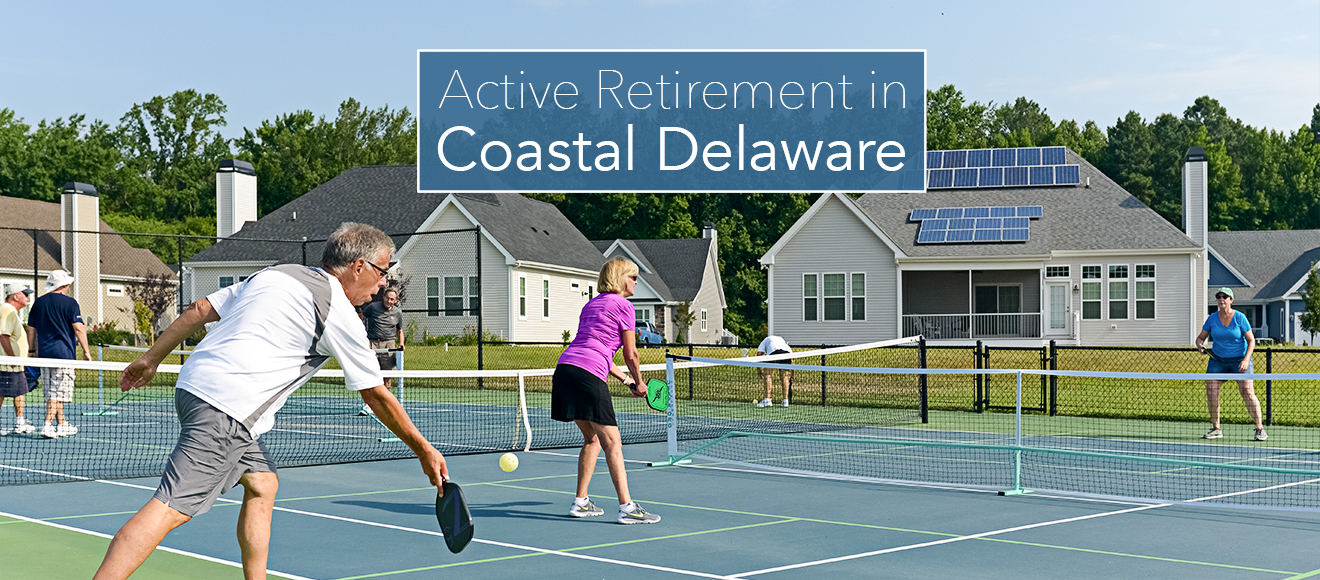 The benefits of choosing one of Coastal Delaware's 55+ communities for retirement are endless, ranging from the area's ideal location, to its mild climate, to the healthy and active lifestyle. If you're eager to stay close to family and friends, while enjoying an active retirement and fulfilling a lifelong dream of living at the beach, than Delaware should be at the top of your list. What's more, there are plenty of 55+ communities, be it a strictly 55+ community or a community boasting all of the amenities you're looking for.
Location
Bordering Maryland, Pennsylvania, and New Jersey, Delaware residents enjoy close proximity to some of the East Coast's major cities, including Philadelphia, Washington D.C., New York, and Baltimore. Closer to home, the Mid-Atlantic location means that temperatures are mild, particularly when compared to the blustery winters of the Northeast. Summers at the beach are a far-cry from the heat waves in Florida, with fall following closely behind with gorgeous autumnal weather. And with water as far as the eye can see, there are plenty of water activities to enjoy. In fact, Delaware has roughly 26-miles of Atlantic Ocean coastline, 25 miles of Delaware Bay coastline, and 115 miles of inland bay shoreline. At the Delaware beaches, you can retire in the coveted Rehoboth beach zip code, relish in the quiet of Bethany Beach (a.k.a the Quiet Resorts), position yourself closer to Ocean City, or opt for the full 55+ community treatment in Millsboro or Rehoboth, just a short drive from the beaches.
Tax Benefits
Certainly the most lucrative advantages of retiring in Delaware – no matter which community you choose –  are the tax benefits. Property taxes are among the lowest in the nation in Delaware, with property taxes on a 2,000 square-foot home in Delaware averaging $125/month – that's less than 10% of the tax on an equivalent home in New Jersey. In addition to enjoying some of the nation's lowest property taxes, you'll also capitalize on the fact there is no sales tax, no tax on social security benefits, and no inheritance tax. Homeowners 65 and older get a credit equal to half of the school property taxes, up to $500. With all of your savings, imagine the possibilities!
Healthy Lifestyle
Delaware proudly touts top-rate healthcare at Beebe Medical Center. The region's close proximity to Baltimore, Philadelphia, and Washington D.C. also positions residents within a short drive to some of the nation's best hospitals, including Johns Hopkins University Hospital, Jefferson University Hospital, and the National Institutes of Health.
Delaware living also lends itself to an active lifestyle, with miles upon miles of beaches, trails, and parks to hike, bike, jog and explore. Many of our 55+ communities also offer indoor and outdoor pools, fitness centers, tennis and/or pickleball courts, basketball courts, walking trails, and golf courses. Plus, easy access to Delaware's numerous state parks and biking trails.
Vibrant Lifestyle
Whether you are new to Delaware or have lived here for years, chances are there is a restaurant, local shop, historical site, or small town waiting to be explored and enjoyed. The vibrant communities of Southern Delaware keep its residents of the 55+ communities endlessly entertained. Fenwick Island, Bethany Beach, Rehoboth Beach, Lewes, Milton, Bridgeville, Millsboro…Delaware's towns are ideal for active retirement. Plus, award-winning restaurants, quaint shops, and a wide variety of local festivals that keep locals busy year-round.
Beach Living
There is nothing quite like the relaxed lifestyle that comes with beach living. Even with a wide array of activities to keep residents busy, the pace is decidedly relaxed in Coastal Delaware, with a true love for enjoying life's little moments (like those stunning sunrises and sunsets along the beaches and bays). With 55+ communities situated in Bethany Beach, Rehoboth Beach, and Fenwick Island, and with others just a short drive from the local beaches, how near or far your home is from the beach is entirely up to you.

New to Delaware or a seasoned pro, the entire state is studded with retirement and 55+ communities to call home. In Southern Delaware, the tax benefits will certainly draw you in, but it's the area's close access to the water, peaceful surroundings, active lifestyle, and quaint towns that you'll fall in love with over and over again.