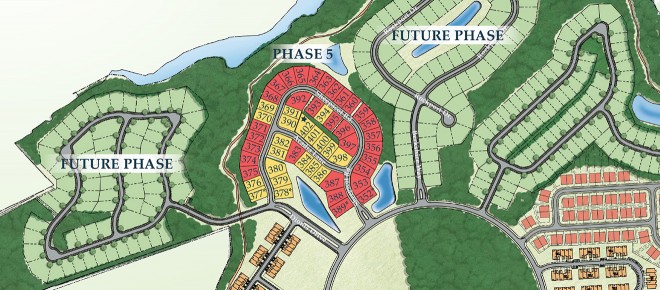 Phase 5, our most recent phase of homesites at Coastal Club, is called North Tisbury. The community's amazing design allows each "village" maximum privacy around the perimeter and provides homeowners with exactly what they ask for.
When any village initially opens up we release it bit by bit rather than opening up the whole village at once. Now we're at that point where we're opening the remaining home sites in North Tisbury. All available homesites you can see in yellow! That's right we still have amazing wooded home sites, pond home sites, and tree lined home sites.

People are asking, "why are these homesites the ones left? What's wrong with them?"  You need to consider that these homesites are an opportunity that previous buyers didn't have before.  This is one of the many reasons we open phases bit by bit, it allows us to have amazing homesites available throughout the entire phase release.
Don't believe me? I'll take you out on one of our Jeep tours and show you the homesites and our Eagle View Trail.  There's nothing better than going off-roading and parking the jeep on a homesite exactly where the house will fit, to show the amazing privacy or pond views you're going to have.
Okay, maybe now you're thinking about a very common home purchasing fear. Who are going to be my neighbors in this amazing North Tisbury village? No problem, I've got you covered there as well. Check out the footage from the most amazing event we've ever had at Coastal Club. Our Sold Sign Event allowed our homeowners to finally put up their sold signs on their homesites. We added some champagne and it was quite the event. As our homeowners get together every month and friendships are made, this fear of the unknown is relinquished.  Before you've even moved into your home, you know your neighbors and have formed friendships.
It may seem unique to most other builders but this is something we pride ourselves on. We build communities from the inside as well as from the outside. Our mission in building happiness is bigger than just constructing your awesome brand new beach home. It's much bigger than that.