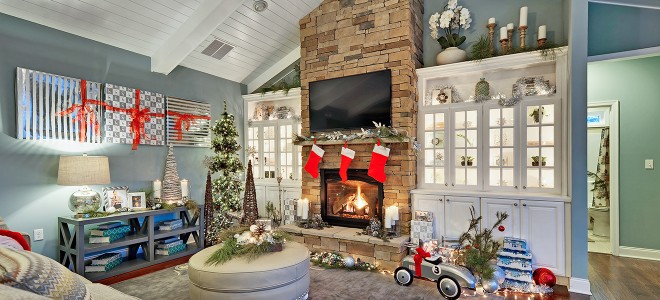 It's that time of year again, where we don our models with holiday décor in preparation for our favorite time of the year—and while some may think it's difficult to get into that holiday spirit before Thanksgiving, the team at Schell Brothers begs to differ!
We know the holidays bring out the altruism in all of us with the buying and wrapping of gifts for friends and family, and we feel the same way. That's why our biggest incentives of the year always occur during the holiday season. We figure the best gift you can receive during the year is always a Schell home and, sadly, our homes may be too big for Santa's sleigh. We do our best this time of year to give the big guy a break and offer some of the biggest deals of the year on his behalf.
Why is a Schell Home the best gift to yourself during the holidays? Here are our Top 5 Reasons a Schell home is the perfect gift to yourself this holiday season (See if you can find all of the holiday movie references).
We guarantee you won't find deals and incentives like ours in your local Macy's. Bayfront at Rehoboth is offering over $25k off the base price with additional savings on select homesites this holiday season. In addition to our holiday incentives, one lucky buyer in our communities will receive an additional $50k towards the purchase of his or her home. And let's face it; the $50k you will be saving on your new home can buy TONS of holiday themed socks and sweaters.
Take this year off! Is it your turn to host Cousin Eddy and his family at your home for the holidays? Once you share that you're building a Schell home, your family will gladly skip your turn in the rotation for the holiday dinner this year in the hopes of future family gatherings taking place in your beautiful new Schell home.
A Schell home is the gift that keeps on giving! You'll find that, with the combination of your low energy bills and your prime Sussex county summer location, your Schell home will continue to surprise you and bring complete joy to you and your family for years to come. If not, we promise to get you the moon; just say the word and we will throw a lasso around it and pull it down!
No more mornings spent wrestling with the furnace in the basement! With a new Schell Home, you finally can retire your title of feared furnace fighter and transition to a new energy efficient home that requires virtually no maintenance. You can spend your time enjoying your home, not worrying about it.
Every time someone buys a Schell Home, an angel gets it wings. Well, we can't say that for sure, but in a metaphorical sense, buying a Schell home does give you freedom. The freedom to invest in yourself and enjoy the coastal lifestyle you've always dreamt about.
Visit our communities, tour our decorated models, and take advantage of big holiday incentives this season.