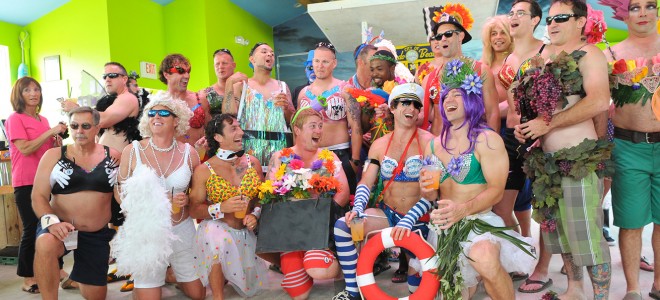 This year's Bras for a Cause took glitter and glam to a whole new level!
Each year the ladies of Schell Brothers, Echelon, and Clean Energy pick themes for their guys' costumes. These ladies poured a lot of time into creating the men's very detailed attire by adding tons of flashy lights, glamorous wigs, and makeup. And let's not forget the amazing tattoos that our very own Ivana drew on two of the bra wearers.
Each guy gladly (and some very eagerly) stripped down to don his bra for the evening. From red, white, and blue patriotic tutus to a "dream come true" firefighter costume, our guys proudly strutted down the streets of Dewey and in to Ivy.

Please specify a Flickr ID for this gallery
The beginning of the evening consisted of our bodacious beauties walking around to the cash laden crowd and getting as many dollar bills as possible. Pretty simple, right? Well, if this wasn't enough to make a fabulous evening, every bra wearer took the stage for a little catwalk action.
For his little turn on the catwalk, each guy danced to a carefully selected song chosen by the bra designer, while a large crowd of men and women placed bids. They placed their bids on the bras that is, not the guys. Let's keep that clear! What an incredible night to spend with family and co-workers to raise money for breast cancer awareness.
With glitter covering the floor, confetti guns propped up against my desk, and the sewing machine ready to get to business, I hear, "Mommy, are you making Mr. Dion another bra to wear?" my oldest daughter, Cera, asks me with a serious look on her face. "Yes, Cera, it's to raise money for breast cancer awareness." Her response, "Awesome! I can't wait to see the video!" Hope you enjoy this year's video as much as she does!