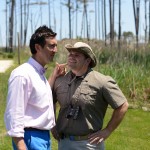 Our Explore Bayfront video series has been a lot of fun to make (maybe too much fun?) and appears to be well received, as we've gotten quite a few compliments from people.
Adam and I pride ourselves on our natural talent as it usually only requires a single take from each of us to nail our scenes. But on occasion we do slip up as you can see in the outtakes video above.
We just filmed a new episode last weekend so while that is in post production check out the outtakes and the previous episodes in the series. Which one is your favorite? Let us know in the comments.
Episode 1: The Dandy
Episode 2: Kayak it up
Episode 3: Hi Explorers