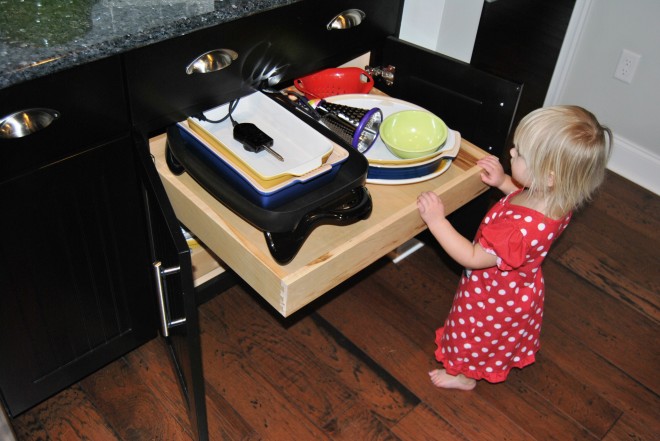 I'm lucky in many ways – or so the wife tells me! When we built our Schell home, the gourmet kitchen wasn't on the table for discussion – it was a must! I just wish the wife would use it. I jest… somewhat. Sorry wife. Hopefully she doesn't read these.

I digress. It has only been since we've lived in the home that I've realised in particular what a huge difference it does make. Sounds a bit 'salesy' Adam. Trust me this is real, everyday true occurrences. For me the 'fully extending' drawers are the best thing since sliced bread. One of my many chores is loading and unloading the dishwasher. The satisfaction of lifting big pots out of the dishwasher knowing that I don't have to get on my hands and knees to rearrange the back of the cupboards is huge. I swear on it. Then when I push the drawers in – with my super human strength – they don't slam shut, as they have soft close gizmos (for lack of a better name), so they close nice and smooth. The only issue with fully extending drawers is that 'little ones' like my little Minnie can get into everything and more.
Unless you have these things I guess you never know the difference but believe me there's a difference. I don't think I could ever go back. Adam, you're just talking about drawers! I know but it makes your life so much easier.
I best not forget the in-drawer trash units. No more rumagining underneath the sink and picking up all the trash that missed! You know what I mean. Simply pull out the drawer and it's as easy as that.
There's more to the gourmet kitchen then just what I've already mentioned. Although gourmet kitchens vary, they all have their own special additions like glass cabinets, wine glass holders, wine bottle slots, cabinet 'style' end panels, quirky corner cabinets, wall ovens, cook tops, ranges, kitchen gadget storage (this is very cool), and this all brings together the unique design features with contours and angles rather than straight lines.
Anyway I just wanted to share my revelations about my dishwasher experiences with you. It truly does make me smile. What are your favorite gourmet kitchen elements?
Cheers Adam