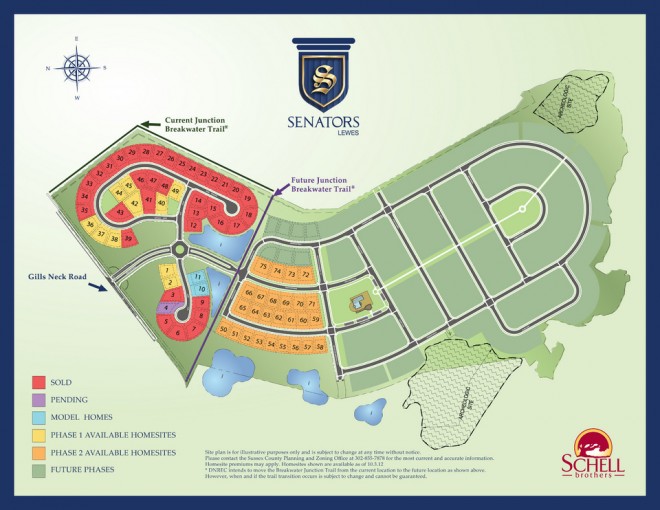 We will be taking reservations for lots in Phase 2 of Senators starting this Saturday, October 6th. More importantly, we have decided to keep the $30,000 pre-construction incentive in place for those buyers who secure a reservation on a Phase 2 lot on October 6th.
Feel free to visit us at the Breakwater model on Saturday from 11 am – 4 pm for our Grand Opening Event to submit your reservation and see the site. You can also complete your reservation via email, fax, or phone. Contact the sales team for more details.
As you may know, most of the lots in Phase 1 were sold over the last two and a half weeks (36 sales) so clearly people are recognizing the tremendous value offered by Senators as these sales numbers are far from normal. If you have been contemplating purchasing a new home, securing a reservation on a Phase 2 lot in Senators is a very low risk first move. You simply put down a $5,000 refundable deposit, which allows you to secure your spot in line for lot choice and lock-in the $30k pre-construction incentive. If you decide later that you don't want to purchase, we simply return your $5,000 and you walk away. If you need to sell your home before purchasing a new home in Senators, securing a reservation in Phase 2 is a good way to go because we won't be asking you to sign a contract for at least a couple months, giving you some time to sell your current home. You basically have nothing to lose and plenty to gain by securing a reservation.
For those of you who are "on the fence", you're not alone. Buying a new home is a big decision and there is almost always a degree of fear and second-guessing associated with such a large decision. However, it is also scary to miss out on one of the best opportunities in your lifetime to buy a new home at a great price, in a great area, with interest rates at all-time lows. Home prices locally and nationwide have started rising again and opportunities like Senators (with current pricing/incentives) won't be around much longer. The enormous sales success of the project speaks for itself… Senators is an amazing deal.
Looking forward to seeing you this Saturday.