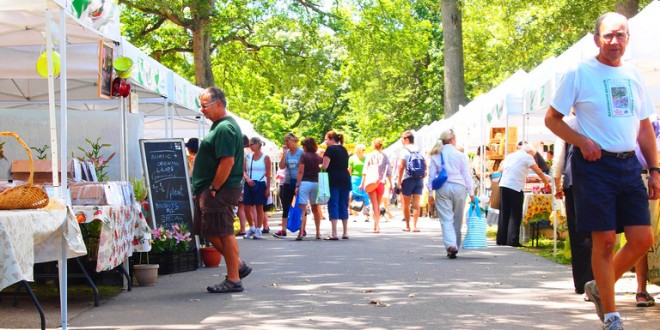 I must say, it's been such a pleasure discovering NEW things about the beach area and sharing my experiences with you! Now, I want to show you the place that I enjoy every day, and what I refer to as "The Perfect City for the Summer," Rehoboth Beach. Surly, it would have been a mistake if I didn't talk about the top destination in the area! Rehoboth Beach is actually referred to as "The Nation's Summer Capital" because millions of people visit here every season from Maryland, Pennsylvania, New Jersey, Virginia, and especially Washington D.C.  There are so many things to see and do in Rehoboth Beach…great shopping, dining, entertainment, attractions, and recreation! And the greatest amenity of all is the beach itself because it's beautiful and relaxing.
I believe that Rehoboth Beach has some of the best restaurants I have ever eaten at – food at its finest! Last week we hosted our Club Echelon Happy Hour at a delectable restaurant called Salt Air. Salt Air, located on Wilmington Avenue, uses local produce and fresh fish to create simple, unique, and innovative dishes. My glass of Merlot, paired with an array of Cheeses, Angus Sliders, and Crab Deviled Eggs, put a big smile on my face. Not to mention, the Flatbread Pizza with Duck Confit, Arugula and Blue Cheese Butter, tasted…well…amazing! For dessert…I walked down the street to a place I know called Café Papillon, which is located on Penny Lane in between Rehoboth Avenue and Wilmington Avenue. Café Papillon is an authentic French Bakery, owned by a French pastry chef. The croissants taste…well… for a moment I think I am back in Paris! And, for anybody who hasn't been to Rehoboth, I am obligated to tell you about the places like Grotto Pizza and Thrashers' French Fries, which are nostalgic and a must-have!
After a nice meal, such as mentioned above, I might go out for an evening of fun with my friends to a pub. I wanted to try a new place, so Jeremy Bell, the Schell Brothers Internet Marketing Manager, suggested that I go see "The Fleshtones" play at Dogfish Brewpub & Eats on Rehoboth Avenue. Unbeknownst to me, Dogfish Ale is native to Delaware, brewed in a 10,000 square ft factory in Milton, and there are over 20 Dogfish Beers sold in 25 states. Needless to say, I had a great Friday night…drinking the local ale, dancing, and meeting new people.
And, Rehoboth by day? – I pack my towel and some sunscreen in a bookbag, and ride my bike to Jungle Jim's Waterpark! Jungle Jims is located on rt 1, across from the main entrance to Rehoboth Beach. There are six giant waterslides, a lazy river, a wave pool, a kids sprayground, an activity pool, and many lagoon areas. My favorite slide is the Anacoda because I think it's the fastest and most thrilling! I can easily spend a whole day there, tanning, floating on the lazy river, and riding the slides and go-karts. This may sound out of the ordinary for a Waterpark, but there is a café inside that makes the best Fruit and Granola Yogurt in the world! So good!
Speaking of healthy foods, I like to shop for fresh and local products at the Rehoboth Beach Farmers market, which is held every Tuesday from Noon to 4pm in Grove Park (behind the Rehoboth Beach Chamber of Commerce). Every week there are all kinds of vendors, sometimes they host local chef demos, live music, and special guests. It's the perfect market to find fruits, vegetables, candy, honey,  fresh bakes goods and cookies…  All kinds of healthy goodies and some treats too!
The Farmer's Market is typically held during the season, circa May-August, as is the same for live entertainment at the Rehoboth Beach Bandstand. But, forget any mention of Rehoboth Beach being "off" in the off-season. In my opinion, the best events are actually held in the off season, such as the Chocolate Festival, the Rehoboth Beach Jazz Festival, the Sea Witch Festival, Greyhound Weekend, the Independent Film Festival, Restaurant Week, the Annual Sidewalk Sale, Christmas Parade…and so much more! Every week there is something happening! And if you haven't already done so, get your tax-free shopping on at the Tanger Outlets. Just recently, I bought a really nice pair of Nike sneakers for only $40. Everything is up to 70% off, so like me, you may become a shopping crazy!
Life is typically easy here. Park for $7.00 at the Dart First State Park and Ride and everybody in your car receives a free unlimited ride bus pass to and from Downtown Rehoboth. The bus is frequent, a quick and easy ride, and it picks-up/drops-off at Rehoboth Avenue and the Boardwalk. You can even shuttle to/from Dewey Beach on the infamous Jolly Trolly for only $2.50/pp each way. The Jolly Trolley also picks-up/drops-off at Rehoboth Avenue and the Boardwalk. And if you don't want to drive at all, there is a bus that runs during the summer, on Saturday and Sunday (Washington D.C. to/from Rehoboth Beach and Dewey). It's only $39 one way.
If you are not familiar with Dewey Beach, it's less than a mile from Rehoboth Beach and can easily be described as relaxing by day and a crazy party by night! My favorite place to go in Dewey Beach is to a very cool bar called The Starboard. Not only do they have a great menu, DJs, live performances by the best cover bands around, and specialty drinks, but it's the home of Suicide Sunday "Build Your Own Bloody Mary Smorgasbord." There is never a cover and their breakfast is awesome!
Rehoboth Beach and Dewey are two great cities to enjoy a perfect summer. Not only can you experience unforgettable moments with your family and friends this summer but also all year long.

Please specify a Flickr ID for this gallery