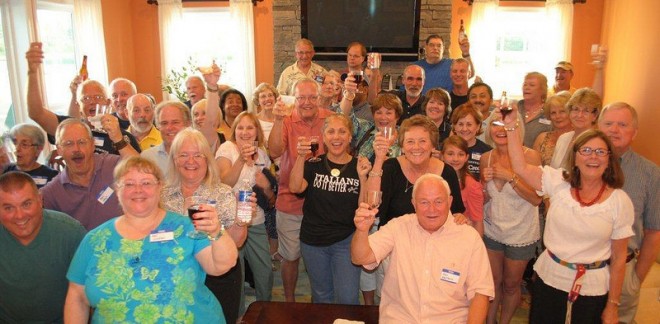 On June 23rd, Heritage Creek had its first annual Italian Fest night for current and future residents. All were treated to a great homemade menu of Antipasto Salad, Tomato and Mozzarella Appetizer, Italian Sausage Stuffed Bread, Hearty Vegetarian Lasagna, Meat Lasagna, Italian Meatballs and Sausage, Pastries from Vaccaro's in Little Italy, and local wine and beer.
Come out to our community of small town charm and timeless beauty on July 7th for the Grand Opening of our brand new Hartford model from 11-4 pm. I'm sure you'll spot our happy homeowners. They will be the ones wearing the "Proud Homeowner at Heritage Creek" t-shirts!
In the meantime, here's a recipe from our Italian Fest!
Easy Italian Meatballs
Yields 60
Ingredients
2/3 C Italian Bread Crumbs (add more as needed)
¼ C Olive Oil
2 onions, diced
2 lbs ground beef
2 lbs ground pork or turkey
4 eggs
½ bunch fresh parsley, chopped
6 cloves garlic, chopped or crushed
1 T and 1 t salt
2 t ground black pepper
1 t red pepper flakes (or more if you like them spicy)
2 t dried Italian herb seasoning (or 1 t oregano/1 t basil)
¼ C grated Parmesan or Romano
Directions
Heat OO and cook onions until translucent, about 20 minutes.
Mix beef and pork or turkey in large bowl. Add cooled down onions, bread crumbs, eggs, parsley, garlic, salt and pepper, red pepper, cheese, and Italian herbs.
Cover and refrigerate for at least one hour.
Preheat oven at 425 F.
Make meatballs into 1-2 inch balls and arrange on a foil-covered baking sheet.
Bake 15-20 minutes, until browned. Add to favorite sauce/gravy and cook another 1-2 hours for a home cooked flavor.
Serve with favorite pasta dish.
Please specify a Flickr ID for this gallery