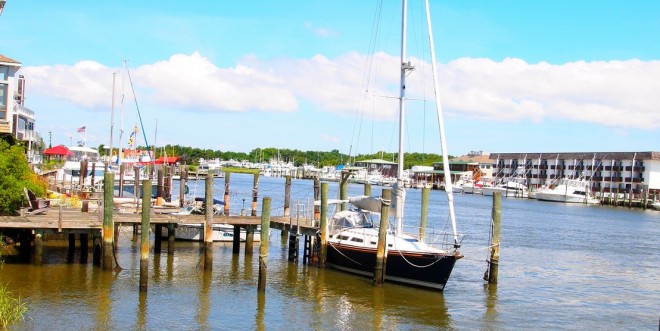 Everyone has been telling me that I have to go to Lewes! Naturally, I wanted to see what the buzz was all about, so I woke up bright and early on Saturday morning and took the bus there (Route 204 – Rehoboth Park & Ride to Lewes). I stopped in Cape Henlopen, crossed over the bridge, and was pleasantly surprised… it is SO beautiful. This is the first old style city that I have seen in the United States. I love a city that's full of history and Lewes is definitely one of them!
First, I explored the most famous street in Lewes, which is surprisingly called Second Street. It's very quaint, and there is a great selection of restaurants (Seafood, Latin, French, Italian, American…), a wide variety of specialty and boutique shops, a wine bar and coffee shops. At Notting Hill Coffee Shop, I had a Frozen Hot Chocolate topped with whipped cream and it tasted so good! At the corner of Second Street and Market Street sits the St. Peter Episcopal Church, which I read is more than three hundred years old. I explored the surrounding streets to discover the beauty of the older houses, and I came across the Lewes Farmer's Market.
My first impression of the Farmer's Market was great! Actually, it's the nicest market I have ever been to. It feels as though you've been invited by friends. It's a tradition, it seems, to meet there every Saturday from 8 to Noon, to talk, eat good food, and share secrets about a better life. It's a very good place to find everything you need for a healthy meal, including organic vegetables, fruits, and homemade bread. There are also delectable snacks. I tried some Tuna, Bulgur and Baby Spinach from Nancy's Fine Foods, and it was delicious. And for dessert, I ate Blueberry Crunch Ice Cream from Chesapeake Bay Farm. I could kill to have another one right now as I'm writing this! I am happy that I found a new place to buy seasonal produce for the summer!
As you can imagine, I was somewhat stuffed from eating all those wonderful treats, so I wanted to walk it off a bit. What a great opportunity to stroll through Lewes and learn about the history of "The First Town in the First State." The Zwaanendael Museum immediately caught my eye. It was built in 1931 as a tribute to the 300th Anniversary of Delaware's first European Settlement. The architecture of the museum is very unique and stands out among the other buildings in Lewes; it reminded me of a Bavarian-style home.
I must have been the luckiest girl, because in the park adjacent to the museum there was a very cute flea market. I bought a few trinkets there and then I walked a few streets over to the Cannonball House (the famous house with a cannonball still stuck in its side from the British attack in 1813). It's an indescribable feeling to stand in front of this house and think about what happened!
I can't wait to go back to Lewes and discover more. I have plans to see Lightship Overfalls, Cape Henlopen State Park, and even take a ride on the Cape May-Lewes Ferry. It would be great to simply have a nice dinner at one of the restaurants. If I could depict Lewes in one sentence, I would say it's as soothing as listening to jazz music and drinking a glass of red wine!

Please specify a Flickr ID for this gallery