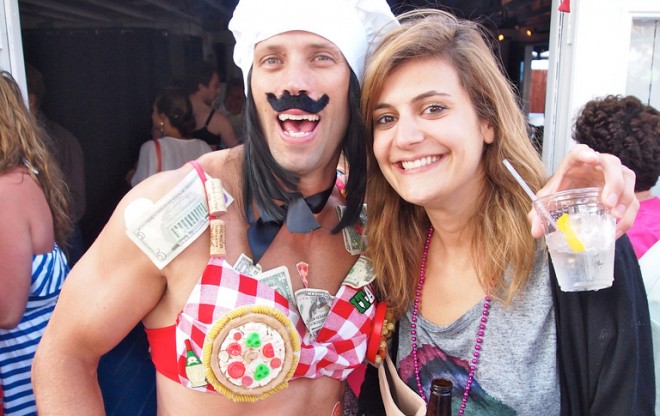 Before I arrived in Rehoboth Beach, I was naturally drawn to do a Google search on "Schell Brothers." I came across some interesting photos/videos of my soon-to-be boss in the Gallery section of the website. For some reason, Chris Schell and fellow male co-workers were dancing on stage with bras on! If you can imagine my thoughts at that time… maybe this was a little "odd"… but, how ironic it is that my first assignment/event with Schell Brothers would be just that, making a bra for a man??
For the last couple of years, Schell Brothers has participated in a fun event called "Bras for a Cause," which is hosted by the Sussex County Women's Council of Realtors. The community bans together for a live bra auction at Aqua in Downtown Rehoboth in which a large portion of proceeds are donated to the Delaware Breast Cancer Coalition.
One week before the event, we held a secret "girls only" lunch meeting at Arena's Deli to bounce ideas off each other about the design and names of the bras, and to determine which guy each of us would be making a bra for. This meeting is such a secret, that I heard every year Chris Schell tries to find out what his bra is going to look like. I figured there must have been some peculiar reason why he was having lunch at Arena's too, at the same time as us… maybe spying?
These are the names that we came up with… so funny!
Chris Schell – "Dream Barbie"
Tim Green – "Precious"
Dion Lamb – "I Scream Sundae"
John Cristaldi – "Sugar Plum Fairy"
Dan Matta – "Alla Puttanesca"
Chris Tull – "Really Well Built"
Tommy Watts – "Hole In One"
Wes Frehauf – "Handle With Care"
After the meeting, Chris' assistant Ashley and I went to Maidenform and bought eight 48DD bras. We also went to several other stores to buy crazy things like pasta noodles, a black moustache, a checkerboard tablecloth, a Play-Doh Pizza Maker, black shoulder-length wig… the perfect "ingredients" to make Dan Matta, our Customer Service Director at Schell Brothers, into an ITALIANO PIZZA BOY!
On the day of the event, we all met at Echelon Design Center to put last-minute finishing touches on the bras, and to help the guys get all dressed up. I have to admit that I was a little worried for the guys. I thought that once we were at Aqua they may be too shy to stand on stage in a bra and be auctioned off in front of a large crowd. Boy, was I wrong! One by one the announcer brought all the "bra-baring models" on stage, and they danced their way into the hearts of the bidders. The whole event, which included "models" from all over the community, brought in over $35,000! Needless to say, it was a spectacular show!
As I reflect back on my first event with Schell Brothers, I must say that I not only love the feeling of helping such a great cause, but also EVERYONE did a wonderful job. Tim Green, our Branch Out Division Manager/Bras for a Cause Participant said in an email that, "This was just another example of how well our team works together to go above and beyond." I want to quote him because he pinpointed exactly what I am thinking. After having such a delightful experience, I can't wait for our next event!

Please specify a Flickr ID for this gallery