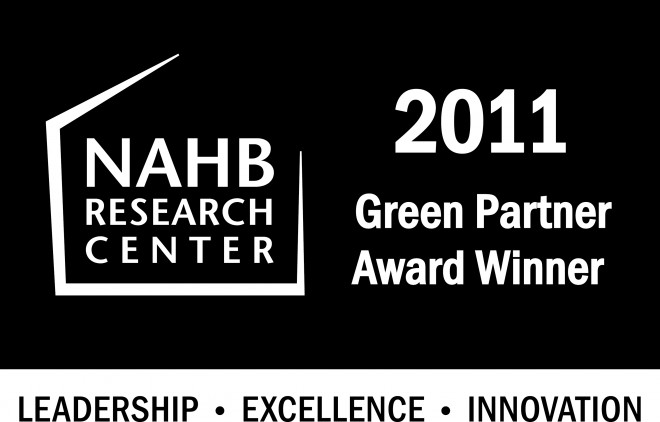 Schell Brothers Recognized as NAHB Research Center
Green Partner of the Year for 2011
Local Builder Applauded for Excellence in Advancing
High-Performance Mainstream Home Building

Rehoboth Beach, Delaware March 26, 2012– Schell Brothers has been named an NAHB Research Center Green Partner of the Year for 2011. Being one of only a handful of the Research Center's Green Certification participants to be honored with this award validates the commitment Schell Brothers has made to provide its Delaware customers with increased value, comfort, durability, and efficiency through its Green Certified homes.
"This is the first year since the Research Center began offering certification services to the ICC-700 National Green Building Standard that we have presented awards to our program partners," said Research Center President Michael Luzier. "After administering the program for three years, we felt compelled to recognize the significant commitment to green certification, innovation in building science, and leadership in the residential construction industry that our partners have displayed. We are awed by what companies like Schell Brothers are achieving in the field and the market transformation they are accomplishing through a voluntary, market-driven program."
In 2011, Schell Brothers constructed 29 homes in Sussex County that were Green Certified by the Research Center to the National Green Building Standard. These certified homes include energy and resource-conserving features such as 16 SEER air conditioners, variable speed blowers, Rinnai tankless water heaters, specially sealed ducts, and proprietary techniques.  The company places an important emphasis on educating their customers and homeowners on the benefits of high performance features, from the interactive displays placed in their model homes to their pre-construction orientation and walk through procedures. Schell Brothers is committed to providing a comfortable and healthy home to their buyers.
"We've created a standard package that produces a superior home in regard to energy, indoor air quality, moisture management and durability.  New home shoppers should always ask builders to provide their average Home Energy Rating Score (HERS).  Our current average is 52, and that's well below a typical new home at 100.  In the end, a lower HERS score will result in reduced utility costs along with a home that provides superior comfort," said Mark Fitzgerald, Vice President of Construction at Schell Brothers.
To earn certification to the National Green Building Standard, a home must meet rigorous criteria in six categories – Lot & Site Development; Resource Efficiency; Energy Efficiency; Water Efficiency; Indoor Environmental Quality; and Homeowner Education. There are mandatory practices in each category that every Green Certified home must meet, and there are a wide range of additional optional practices in each category that a builder can select based on the applicability to buyers in their market. There are also mandatory point minimums in every category in order for a home to attain the next level of certification, which is a more stringent requirement than any other national certification program has.
Since the National Green Building Standard became the first and only residential green building rating system to be approved by the American National Standards Institute (ANSI) in January 2009, the NAHB Research Center has certified nearly 2,600 single-family homes, over 150 multifamily buildings representing nearly 4,700 apartments, and 17 residential land developments representing close to 1,000 lots. For more information on the Standard or the Research Center's certification program, visit www.nahbgreen.org/Certification.
Schell Brothers is located at 55 Cascade Lane, Rehoboth Beach, Delaware.  Chris and Preston Schell have set the standard for home building excellence, high performance features, and responsible land use in Coastal Delaware. Sussex County is a natural draw for new home buyers due to the beach environment and its ranking among the most favorable of all U.S. counties in terms of property taxes as a percentage of home value.  For more information about Schell Brothers, please visit http://www.schellbrothers.com or call 302-226-1994.
The NAHB Research Center, located in Upper Marlboro, Md., promotes innovation in housing technology to improve the quality, durability, affordability, and environmental performance of homes and home building products. Created nearly 50 years ago as a subsidiary of the National Association of Home Builders (NAHB), the NAHB Research Center has established itself as the leading source for reliable, objective information and research on housing construction and development issues. Through its various testing and certification services, the Research Center seal is internationally recognized as a mark of product quality and an assurance of product performance. Visit www.nahbrc.com for more information.