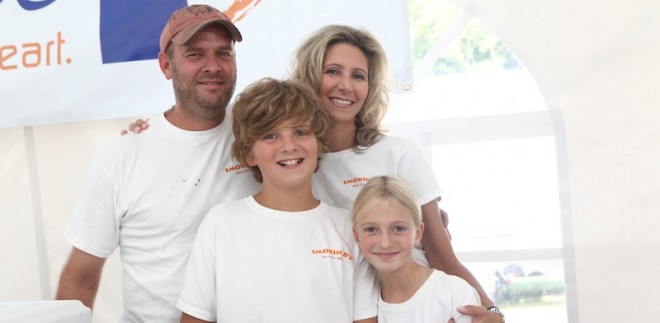 Tuesday night, in the VIP tent at the Extreme Makeover: Home Edition Sussex County build, local business owners Katherine and Damian Birl, and their children, Colin, 12, Sophia, 9, and Gavin, 6, treated folks to an evening of their Smokin D'z real pit BBQ.
"We know Dale (Dunning). When we order too much food, or cook extra, we share it with her," said Katherine. "It's so nice to see good people being blessed. Sometimes it seems like life isn't very fair, but these people are so deserving. They're so humbled by this," she said. "They're also very nice people," added daughter Sophia.
The air-conditioned VIP tent is set up to host special visitors to the site and treat them to uniquely themed meals. VIPs are also afforded the opportunity to watch the build up close in a comfortable, relaxed atmosphere, and have the chance to connect with some of the sponsors, builders and behind-the-scenes folks.
Today, I was delighted to meet a couple of VIPs and talk with them a bit about the project unfolding in front of us.

"I'm here for two reasons," explains Betty Trammel. "Dale is my childhood friend; we graduated from Cape Henlopen High School together," she adds. In fact, the ladies met when they were about 5 years old, and used to play together, trading off between visits to each others' homes. "But I'm also a member of his church," she says, motioning to friend Ouemonde Brangman, seated beside her. "That's my second reason for being here."
Ouemonde is also a friend of Dale's, and the Pastor of New Zion AME Church, located a couple houses down from the location of the Dunning's soon-to-be-new home. In addition to Sunday service, his church offers shelter facilities. "Dale sometimes refers people to us, and she also does a good job of screening the people she sends here," he says. Pastor Ouemonde mentioned that he won't be in town to watch the build for the next few days. "But I'm sure she'll let me have a tour when I get back," he says with a smile.
Thank you to all of our VIPs not only for your incredible support of this extreme project, but also for supporting the Dunnings. Their positive impact on our community is inspiring to everyone involved in this project. Also, thank you to all of our generous food sponsors who are so lovingly sharing the gift of food with us this week.
Smokin D'z can be found at Dawn's Country Market in Milton, and can be reached via email, smokindzbbq@yahoo.com, or at Smokin D'z on Facebook.
New Zion AME Church offers weekly 10 am Sunday services, and monthly "Youth Sundays" with BBQ's afterward. The church is located on Rt.9 just east of Cool Spring Road, and can be reached at (302) 253-8212.