I'm excited to announce the completion of our first home featuring the new Schellter™ Advanced Building Science Technology. The home, located at The Reserves at Lewes Landing, scored a 53 HERS (Home Energy Rating Score) without the assistance of solar or geothermal. That equates to a home that is 47% more energy efficient than the reference home or a 2006 home built to code.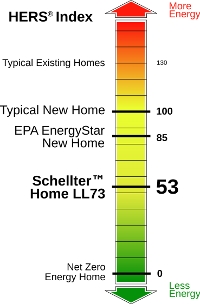 Each 1 point reduction of HERS index score corresponds to a 1% reduction in energy consumption. Since Energy Star requires a HERS index score in the range of 80-85 this house far exceeds those requirements.
In the last few years, a number of builders in our area have jumped on the Energy Star bandwagon with their only objective to meet the minimum threshold as cheaply as possible and stop there. In fact, many of these builders get the certification but don't even share the final 3rd party HERS index scores with their customers. With our Schellter™ High Performance Home we have created a cos- effective standard home package that produces a superior home in regard to energy, indoor air quality, moisture management and durability. So, if you're shopping for a new home, ask if the builder provides the final HERS score and see if they will share their average score with you. In the end, the a low HERS score will result in reduced utility costs along with a home that provides superior comfort.
This home also features our SanctuAir™ package which exceeds the EPA Indoor AirPlus Program (first certified home in Delaware!). This places the indoor air quality of this home in the top 10% in the nation, providing true peace of mind. Features like MERV-13 air filters, vented cooktop exhaust to the exterior, low VOC materials, a garage exhaust fan and Green Label Plus certified carpets are just some of the features included that provide a superior indoor environment.
Finally, this home was certified Gold under NAHB National Green Building Standard. That means this customer will be receiving a $5,000 check back at settlement through the Delaware Green for Green rebate program. It really pays to go Green!
Stop by one of our models to learn more about Schellter™ Advanced Building Science along with the Green for Green rebate program.