August 17, 2005
Delaware Coast Press, August 17, 2005
by Adam Donnelly, Coast Press Reporter
Coast Press Photos by Alan Piñon
Documentary filmmakers Scottie James, and Alan Chamber film Rehoboth Beach Patrol Capt. Kent Buckson on the stand.
Last Wednesday, film makers Scottie James and Alan Chambers were out on the sand interviewing guards and trying to catch some action footage for a documentary about the Rehoboth Beach Patrol. As they approached a lifeguard stand for an interview, the guard jumped from his stand and darted down the beach.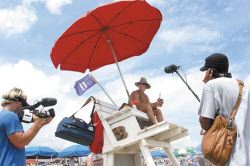 Another lifeguard appeared to cover the stand and James and Chambers discovered there was a C-spine victim at the far south end of the beach. After brief contemplation James and Chambers hurried to the boardwalk, grabbed their bikes and road them from Baltimore Avenue down to Prospect Street to catch the footage.
Down on Prospect, the victim was being secured onto a backboard to protect his neck and spine and transported to an awaiting ambulance. James and Chambers got there in time to catch the footage.
That type of action will join countless other scenes, as well as interviews,first-hand rescues, rookie training and guard competitions to create the documentary, explained Josh Tootell, president of Coastal Public Affairs group.
Interviews will spotlight current and former guards, including Rehoboth native Ed Hill, who is 99 and half years old. Hill was a Rehoboth lifeguard back in the 1920s when lifeguards didn't use buoys to stay afloat. They relied solely on their swimming skills back then, James said.
Tootell said the alumni guards will help paint a portrait of the beach patrol's history.
In its 84th year, the Rehoboth Beach Patrol has a long history of guarding the beach and protecting the people who visit it.
James, Chambers, Tootell and Nick Crawford have set out to create a documentary which will portray the hard work, history and dedication the Rehoboth Beach Patrol exemplifies.
James said he and Crawford were previously Rehoboth lifeguards. They were full-time guards for two years and relief guards for an additional two years.
Tootell, a current lifeguard, said his company is producing the documentary.
Crawford, James and Chambers own a production company called Cover Down Productions. James said he and Crawford do all the filming and editing for the documentary and Chambers takes care of the audio side of the film.
Tootell said the crew started filming interviews with patrol alumni in January and got into full swing Memorial Day weekend when the beach season began.
Tootell said among other things he hopes the film will "capture the emotional aspect of the Rehoboth Beach Patrol." He said many former guards have an emotional attachment to the patrol and they have been more than willing to share their stories.
James and Crawford went to Full Sail Film School in Florida where they met Chambers. James said Chambers not only records audio for the documentary he also composes and arranges all the music for the film.
"He makes music from scratch," James said.
James said Tootell helps with the film's financial aspects, sets up press releases and interviews, handles phone calls and is in charge of the film's premiere, which they hope will take place during the Rehoboth Beach Independent Film Festival in November.
"If we need a helicopter for aerial shots, Josh is the guy who can get it. He has been nothing but great for us," James said.
Before coming to Rehoboth to film the documentary, James, Crawford and Chambers worked on MTV's popular reality TV shows "Real World" and "Road Rules" for a year and a half before quitting last summer.
After ending their MTV project the three guys came to Rehoboth with their idea of filming a Rehoboth Beach Patrol documentary. With the help of Tootell, the crew was able to obtain sponsors — Banana Boat sun care products, Grotto Pizza and Schell Brothers — for the film.
Tootell said the crew will film until the end of the season.
He said if the film is well received they want to bring it to film festivals across the country. "We want to tell our story to the world," Tootell said.