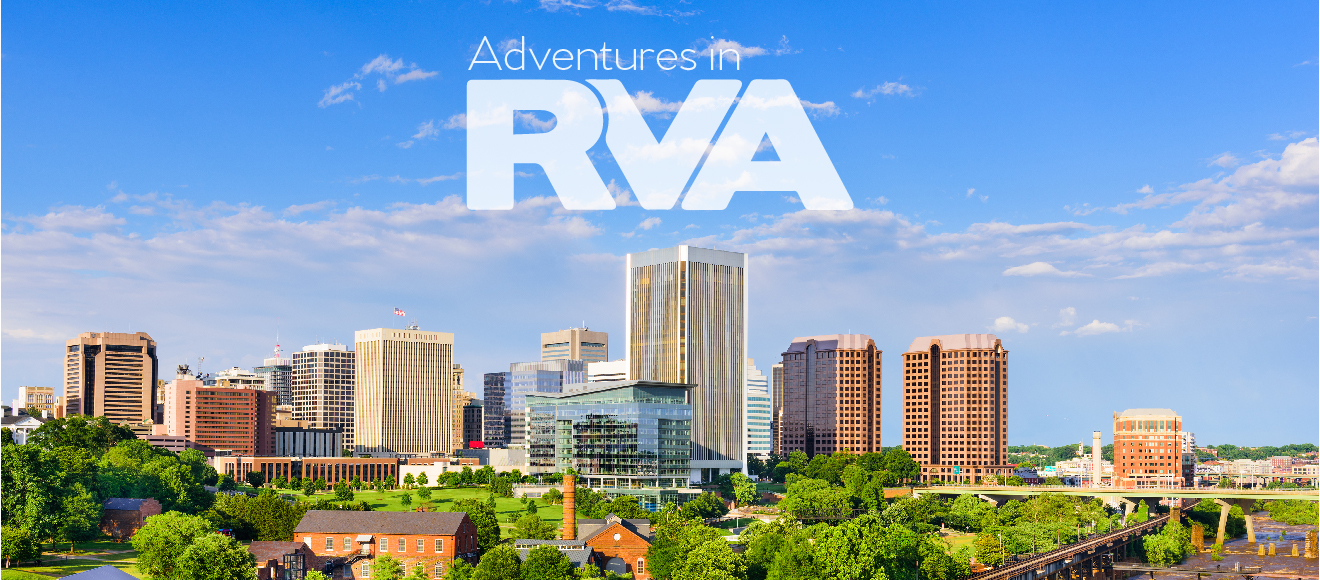 They say Virginia is for lovers, and we couldn't agree more. That love abounds in Richmond, where there's an awesome festival, nature trail, museum, or restaurant around every corner. Whether you're a born and bred Richmonder or brand new to the area, there's a million reasons to fall in love with Richmond, over and over again.
For nature lovers:
Imagine peering up at the bright sun while balancing on your paddle board or resting your gaze on kayakers tackling the roaming rapids. RVA takes pride in the abundance of outdoor activities offered to its residents, with something for everyone to enjoy, all year long. Options include sunbathing on Belle Isle, touring the Japanese Gardens at Maymont, running a 5k at Byrd Park, walking the dog along the riverbank at Pony Pasture, tubing down the James with Riverside Adventures, jogging through Libbie Park at sunset, or attending a Friday Cheers concert on Brown's Island with friends after a long day at work.
*Fun Fact: RVA's Canal Walk features four centuries of Richmond history. Easily a crowd favorite, the infamous Canal Walk boasts incredible street murals created by both local and international artists. It's a great location to explore with the kids or enjoy a romantic evening with a loved one.
For history lovers:
If you paid attention in history class, you may remember that Richmond, Virginia was the capital of the Confederacy. While this is undoubtedly true, Richmond's profound history far exceeds the stereotype of the old southern Confederacy. Take a step back in time and intertwine your own story with the incredible stories that helped build this beautiful city. Enjoy a day exploring Shockoe Slip, The American Civil War Museum at Historic Tredegar, The Virginia State Capitol, the historical Hollywood Cemetery, Monument Avenue, Chimborazo Park Hospital National Historic Site (the site of the largest Civil War hospital in the country!), Cathedral of the Sacred Heart, The Edgar Allan Poe Museum, Main Street Station, and many more!
*Fun Fact: The oldest section of Richmond is a neighborhood named Church Hill. The name Church Hill comes from St. John's Episcopal Church, which is at the district's center. Built in 1741, this church is the home of the famous "Give me liberty, or give me death!" speech given by Patrick Henry on March 23, 1775. I bet you didn't know that, did you? 
For art lovers:
Pull up a chair, sip your wine, and immerse yourself in the bliss of the summer sunset, casting beautiful shadows on the koi fish pond at the VFMA. Friday evening happy hour at The Virginia Museum of Fine Arts is a "go-to" for all city dwellers. Richmond has incredible opportunities to view artwork at every corner…literally. Every year, artists from areas all across the globe are brought to RVA by the Richmond Mural Project. These astonishingly talented artists transform neglected areas of the city with their artwork.
*Fun Fact: Richmond is home to the top public university art school and second in the country overall! Virginia Commonwealth University Art School, commonly known as VCUarts, brings a perfect level of vibrant indivudiality.
For sports lovers:
Richmond is the place where Squirrel's fly, Rams get rowdy, and Spiders score. The Diamond is home to RVA's Flying Squirrels and a great place for an evening with the family. VCU Rams get rowdy at the Siegel Center while University of Richmond Spiders face off at the Robins Center. Experience the strong, fun-loving spirit supporting these beloved teams. In addition, the Richmond Raceway hosts Nascar Spring Cup and nationwide races.
*Fun Fact: VCU's Basketball team made it all the way to The Final Four in 2011. Go Rams!
For food lovers:
Throughout history, blends of settlers from different areas of the world created a melting pot of good food. You will not regret trying one of a kind dishes from Lemaire Restaurant, L'Opossum, Peter Chang China Café, Rappahannock, Pasture, Buckhead's, The Magpie, Heritage, Mama J's, Edo's Squid, Saison, The Roosevelt, Stella's, and more!
*Fun Fact: In 2016, National Geographic named Richmond, Virginia as a 'top destination' for food travel. As a foodie, this is one of my favorite facts.
For festival lovers:
Do you love bacon? Guess what, in Richmond there is a festival for it! In fact, in RVA there is a festival for almost everything. Popular annual events are the Watermelon Festival, the Greek Festival, the Italian Festival, the Bluegrass Festival, the Folk Festival, Oktoberfest, Shamrock the Block, the Jazz Festival, the Beer, Barbeque, and Bourbon Festival, the Irish Festival, and Dominion River Rock, but there are plenty of others.
*Fun Fact: The Greek Festival has grown so big since it first began 42 years ago. Originally the festival was one day. It now encompasses four days of music, food, beverages, artwork, and dances.
For fashion lovers:
Attention fashion lovers: Carytown is your new favorite place. Not only is Carytown aesthetically pleasing, but almost every shop is unique to Richmond. Spend your afternoon touring the streets of this cute little section of Richmond.
*Fun Fact: Lex's of Carytown ensures that another girl at your school won't have the same prom dress as you!
For theater & music lovers:
Creativity surrounds RVA. View a play at the Carpenter Theater, support VCUarts at the Singleton Center, or attend the Richmond Ballet at the Altria Theater. If you prefer outdoor venues, there is none better than the Dogwood Dell Amphitheater. The National, the Broadberry, the Camel, the Richmond Coliseum, and Innsbrook After Hours are popular venues for musical artists to perform. What are you waiting for?
*Fun Fact: The historic Byrd Theatre in Carytown was built 1928 and the original, natural beauty of the theatre, both interior and exterior, has been kept intact. Currently they are playing classic movies each Wednesday evening for $5. Regular features are $4 per person.
For craft beer lovers:
Richmond, VA – home of the region's fastest growing beer and booze scene. Richmonder's have a vigorous and intense love for their craft beer. With new breweries popping up every year, RVA is the place to be. Currently, there are over 20 breweries in RVA, including Triple Crossing, Strangeways Brewing, Legends, Ardent Craft Ales, Stone Brewing, Hardywood Park Craft Brewing, Isley, Champion, Veil Brewing Co., Blue Bee Cider, and Three Notch'd. Feeling overwhelmed? No problem! We've got a Richmond Beer Trail for successfully navigating the copious beer destinations. Visit five breweries on the map and get Richmond Beer Trail swag! Richmond Brewery Tours also take individuals on guided tours throughout the city.
*Fun Fact: Richmond was the first place where beer was sold in 1935.
Welcome to the River City, where the walls are a canvas and the doors are held open. We are two hours from the beach and two hours from the Blue Ridge Mountains. Come take a walk next to the wild honeysuckle, taste the essence of sweet Southern hospitality, and let the term 'ya'll' slip graciously into your vocabulary. Virginia truly is for lovers, with the eclectic citizens, culturally rich food, and exciting new innovations; this city is not only known for its history, it's making history.
Come join us! Your adventure awaits.