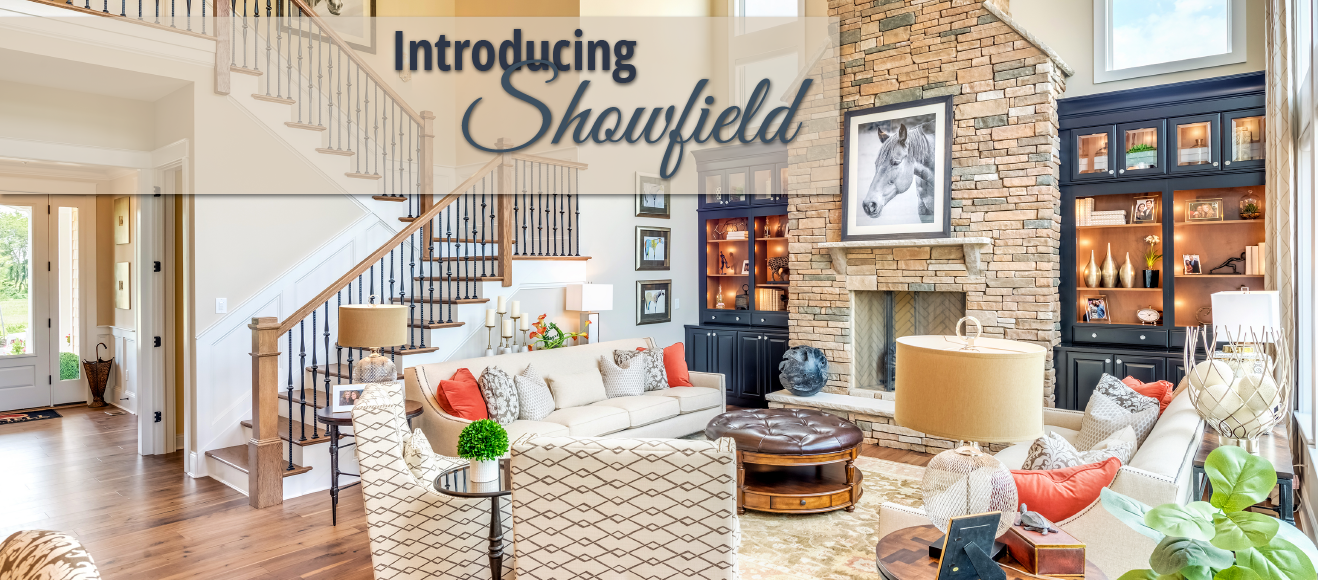 Curious about life at Showfield? One of our newest Lewes, Delaware communities has been generating a ton of buzz lately, so we decided to feature a Q&A with the expert, Community Sales Manager, Vicki Wilkins:
Marketing and sales talk aside, what do you think makes Showfield so unique? 
Definitely the amazing location. We're located east of Route 1 (which is very desirable), just 1 mile from the beach, and adjacent to the Breakwater Trail. Plus we have those large lots that so many people have been asking for;)
The model, The Carnegie, is stunning! But tell us a little bit about some of the other floor plan options.
Well, we currently offer 16 floor plans – 13 of which are Schell Brothers and 3 that are Echelon.  We offer everything from 3 bedroom ranches to elaborate 7,000 sq.ft estate type homes.
If you had to pick a favorite floor plan, which one would it be and why? 
The Kingfisher!  It's so versatile and expandable.  The floor plan starts at 2,566 sq.ft and can go up to 5,750 sq.ft, which makes it adaptable to a wide variety of family sizes and lifestyles.  It also has many of the features that folks look for, including a first floor owners suite, open loft, a beautiful wall of windows, and a tremendous amount of light.
Describe Showfield in three adjectives.
Amazing
Up-scale
Exquisite
We aren't the only builder in Showfield, so ultimately the question becomes: why choose Schell?
There are many reasons of course, but a major differentiator is the fact that our process for buying out here is so simple: 
1. Select your lot
2. Select your home.
3. Sit back and let us build your dream home!
Other builders have a long, tedious building process involving construction loans, two settlements and an extensive amount of steps. We make the process seamless…and fun! 
So how about the area – what are some of your favorite spots in Lewes?
Two easy favorites are Cape Henlopen State Park (cant beat that drive on beach!) and the Cape May – Lewes Ferry.
And if you want to stay closer to home…favorite community amenity?
The former horse stalls/barns have been converted to open pool cabanas.  They look amazing while still being able to preserve and repurpose the original structures.
Now let's talk trends. What's the must-have selection for a new home?
Quartz countertops!
As a relative newcomer to the Coastal Delaware, I have to ask…life at the beach, is it everything you thought it would be?
I just moved here from upstate DE, so I definitely have a fresh and unique perspective.  Working and now living here has really opened up my eyes to the incredible quality of life – especially here on the east side of Route 1.  Watching people riding bikes or walking dogs on the Breakwater Trail, riding bikes to the beach or to the town of Lewes for a bite to eat or shopping, driving your jeep on the beach…it's like resort living every day. The laid back lifestyle is endless and truly unique!
Final thoughts?
Showfield feels like home to me.  It was previously a horse stable (race horses) and horse shows were held here.  I grew up in a rural area of PA on a little over 3 acres and had horses.  My childhood memories are mainly of riding and showing horses.  My love for horses still goes on today!
Want to learn more? Contact Vicki at 302-228-2231, or better yet, stop in for a visit at our Carnegie model at Showfield:
18264 Show Jumper Lane
Lewes, DE 19958
Or learn more right from where you're sitting by clicking here.