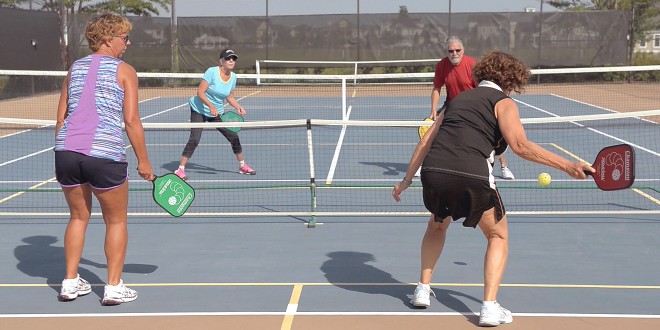 A few years ago one of our customers asked if we would have pickleball courts in our community. "HUH?" That was my internal response as I hadn't the foggiest idea of what they were talking about. Since that day our sales team has received countless inquiries about these mysterious courts and the game that is ultimately played on them. In an attempt to not look foolish, I looked up the game and found that it's basically a modified form of ping pong played on a hard surface. Wait! That's a terribly simplistic summary of the game. Let's see if I can do pickleball more justice.
The game was invented in 1965 in a small town near Seattle, WA. In an attempt to spice up their children's Summer vacation, a few parents came up with the game we now call pickleball. 50 years later it has evolved into an extremely popular sport played throughout the US and internationally. Playable in both singles and doubles, the game is played on a modified tennis court (in fact most tennis courts can easily be converted into pickleball courts).
The equipment needed to play pickleball is a small paddle and a "holed" ball, which strongly resembles a large whiffle ball. The ball travels about a third of the speed of a tennis ball allowing the game to be picked up fairly quickly by any player irregardless of skill. Suitable for all ages, the low impact nature of the game allows for both enjoyment and competition without the risk of a major injury.
Now that I have a better understanding of the game, I have to admit that I'm looking forward to playing a game or two at Coastal Club once the courts are complete. Probably won't have too many "Sampras vs. Agasi" type of rivalries (or "Connors vs. Lendyl" for you die hards), but there's nothing like a closely matched game between friends to make for some great "post-game" banter at the clubhouse.