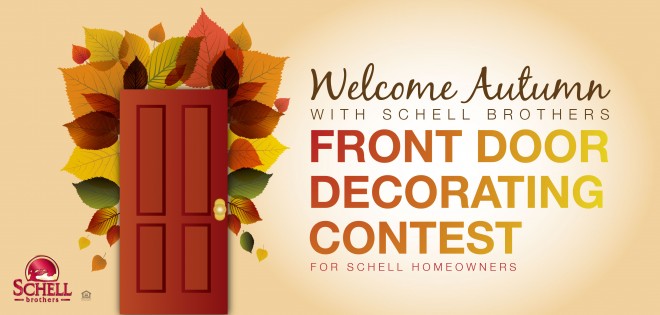 Being fairly new to Schell Brothers I am always learning something new about our communities and how our homes truly stand out. After a sales meeting in Heritage Creek a few weeks ago I was taken aback by how much personality and uniqueness was beaming from the homes. I have been through this community a few times, so what made this time different? I realized that it was the festive love the homeowners had given to the front of their homes. They are proud to own a Schell Home, and it shows through the care they take in making their already special home, extra special.
No one can escape the feelings of autumn; the air gets crisper, the trees get more vibrant, and the sense of community becomes stronger (and lets not forget how cute fall clothes are!) Just by driving through the Schell Communities we can see the thought and time that went into decorating for the season, so why not show it off even more!
We are calling ALL SCHELL HOMEOWNERS to be a part of our first Front Door Decorating Contest! While you are taking a sip of your morning coffee, admiring the bright mums, cute scarecrows and leafy wreaths, snap a photo of your festive front door and email it to frontdoor@schellbrothers.com. Be sure to send it in before Thursday, Nov. 8th when the contest closes.
After we receive all entries they will be posted to our Facebook page for voting/likes to commence. You will want to be sure to 'like' our page and share your photo with all your friends because the homeowner with the most likes will win the contest! We wouldn't let the winner walk away empty handed… the winning front door will receive a $200 gift card to Giant Foods (now that's one big Thanksgiving turkey!) AND their front door featured in a November Cape Gazette ad.
So grab those hay bales, gourds and cornucopias and get decorating! There is only one week left, so don't wait. Photos must be of a Schell Brothers Home and submitted by a Schell Brothers Homeowner. Photos may be send as a jpeg. Winner will be announced Friday Nov. 16th.
Happy Autumn!