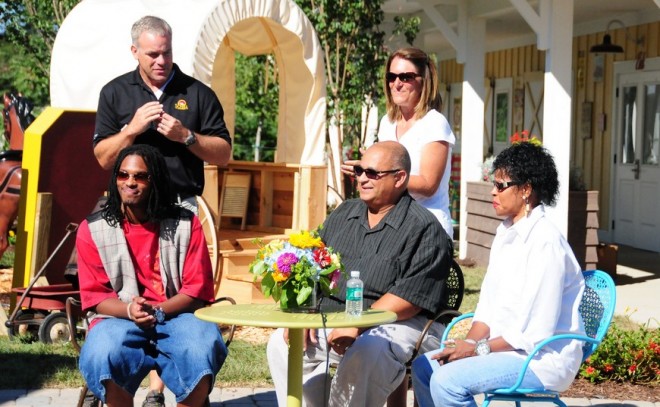 Thursday morning, I attended the 10:00 am press conference at the newly "Revealed" Jusst Sooup Ranch, the latest and I believe, greatest Extreme Makeover: Home Edition build. I came expecting to hear a simple wrap up of the project that has consumed me and over 2000 volunteers from around the country for the past 9 days.
I expected to hear an overview of the build; how well everything went in spite of an earthquake, a hurricane, and several tornadoes. I expected to hear about the costs of the project, the generosity of sponsors and selflessness of volunteers. And, of course I expected to hear reaction from Dale and Ken Dunning, and their son Brooks about the experience of being chosen for Extreme Makeover: Home Edition, how surprised they are over the outpouring of generosity from the community, and perhaps a bit about Reveal day, how they not only received the soup kitchen they had dreamed of, but were surprised with 2 gorgeous homes, an expansive pavilion, a storage facility, vegetable gardens and even play equipment.
I know that neither I, nor the Dunnings, for that matter, expected the surprises to keep coming, and coming and coming, with even more gifts from local businesses and individuals.
Under beautifully blue, sunny skies, the Dunnings sat calmly next to their beautiful new pavilion, located just behind the new soup kitchen, as person after person presented them with additional gifts.
There were donations to help with general home-ownership costs; William's Insurance Agency gave homeowner's coverage, First State Disposal donated trash disposal and recycling services, and Brasure's Pest Control will provide product and labor to keep termites and other critters away. Sharp Energy donated gas for the Dunnings' new high efficiency tankless water heaters and gas ranges.
Some of the gifts will help the Dunnings enjoy their new home that much more. Monthly cleaning services will be provided by Beach House Cleaning, LLC., and Comcast will provide a year's worth of free cable service.
A group of Schell Brothers employees did their own fundraising, and presented the Dunnings with yard tools and equipment that conveniently fit inside a landscaping trailer donated by Weller's Trailers with a sign reading "Sooup-R-Cuts" for Ken Dunning's lawncare business. A Kubota Zero-Degree Turn Radius Mower, donated by Burke Equipment will be especially appreciated for cutting Jusst Sooup Ranch's 6 acres of property.
There were also gifts designed to specifically help Dale's ministry of feeding the poor. Smithfield Ham donated hams, plus an additional $500 as part of their "Helping Hungry Homes" program. Dental care was offered by Dr.'s Fox and Butterworth, not only for the Dunning family, but for 5 additional Jusst Sooup friends.
Finally, to help cover additional expenses, Schell Brothers presented a professionally managed endowment fund of $300,000 to the Dunnings.
All these wonderful gifts have done so much more than give the Dunnings the physical means to make and serve soup to the hungry. Each gift is an acknowledgment to the Dunnings, that their ministry matters. "We didn't do it to be seen," a tearfully joyous Dale Dunning said to the media and attendees of yesterday's press conference, "but you were watching! This ministry is the joy of my heart!"
With the build project done, the Jusst Sooup Ranch is equipped and ready to feed the hungry. "When I can make 900-1000 quarts of soup on a four-burner stove, imagine- imagine what I can do with the soup kitchen!" Dale said to the crowd. With Dale's dedication to her ministry, we're certain we won't have to merely imagine it for long.