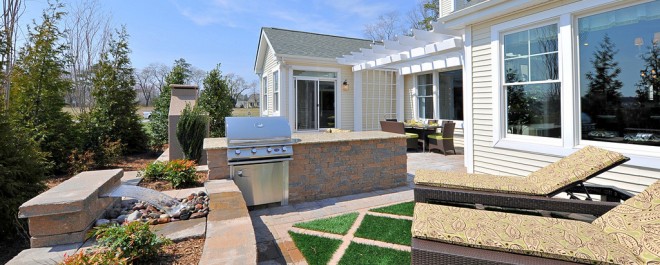 We've finished our first Courtyard Series model at the Villages at Herring Creek and will be launching the full series in the next few weeks.  I think you'll really like this home series.  The Courtyard Series is based upon extensive research about what Boomers are looking for in a home.  Here are just a few of the design aspects of these houses that are unique:
Courtyards: By far the most unique aspect of these homes is the Courtyards.  The feedback provided by boomers was that they wanted more "usable", private, and comfortable outdoor living space.  The research indicated that backyards are very rarely used and that production homes don't allow for a usable practical outdoor area.  So, all Courtyard Homes live around an outdoor courtyard space.  The living area and the master bedroom open onto this space.  The outdoor space is raised so that there is not a big drop between the indoor and outdoor spaces.  It can be made private via fencing or planting an evergreen border.  There are also multiple "spaces" or outdoor rooms to the Courtyards.  For example, the Courtyard at the Villages at Herring Creek has 3 "outdoor rooms":  an outdoor dining area, a sunbathing/lounge area, and an outdoor living area (sofas/chairs with a fireplace).
No Formal Dining Room but enlarged dining area in place of breakfast nook:  all the homes have bar seating in the kitchen and an enlarged breakfast nook type area for a large dining table.  The feedback we received was that formal dining rooms are never used and are a waste of money & space.  Plus, most people like open floor plans so it made more sense to have the dining area off the kitchen and open to the kitchen & living area.
Flex Room: most plans have a flex room on the 1st floor that can be used as a study, den, living room, bedroom, or formal dining room.  Our research showed that many people want a "cozy" spot to watch TV, surf the internet, or do home office/hobby type work.
Oversized 2 car garages with ample Storage Space: by far one of the biggest gripes people had with the homes offered by the large National Builders is the tight garages.  The garages are barely large enough for two cars and with two cars, there is no space for bikes, tools, beach gear, golf clubs, etc.  All of the courtyard garages have ample storage space in addition to plenty of room for two cars.
First Floor masters with ample closet space: this one is obvious.  We also offer a bunch of luxury master suite options.
Storage Closet on first floor: another gripe buyers had was lack of easily accessible storage space for things like vacuum cleaners, platters, Christmas decorations, etc.  So, most Courtyard Series plans have a first floor walk-in storage closet.
Open Kitchen/Dining/Living: All the plans have very open living areas which seems to be desired by most buyers nowadays.
Anyway, we invite you to visit the Villages at Herring Creek to tour our new Courtyard model.  We haven't planted the flowers yet in the courtyard space because it's too early but once we do that, the Courtyard area should be even more impressive.