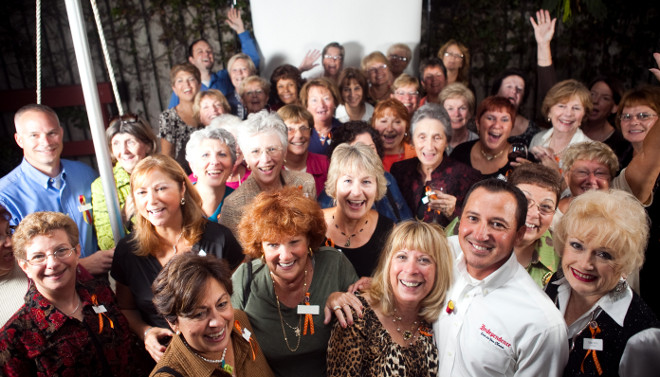 Imagine hosting a dinner party and having 400 guests in attendance, especially when you're a home builder and word on the street is that we're supposed to be in a down market.  That's what happened on Saturday, October 2nd, when Schell Brothers, a local builder in Rehoboth Beach, Delaware, celebrated with hundreds of families who purchased homes from the company since its inception seven years ago.  "As soon as we sent out the first invitation about the event, the responses began to pour in," said Chris Schell, owner of the company.  "I couldn't be happier, because this is something I've always wanted to do for the people who mean so much to our company.  Through the years, I've gotten to know many of the individuals who live in our homes; they really are an extension of the Schell Brothers family."
With continued national news stories focused on the struggling housing market, the Schell Brothers event is an indicator that the Delaware beach locale is not following negative national trends.  Under the theme "Coming Together – Building Memories", the Schell Brothers party was held in Dewey Beach, Delaware, where guests enjoyed striking sunset views over the bay.  Midway through the evening, Schell addressed the crowd, thanking them and explaining that an unrelenting focus on customer happiness has been the catalyst for the company's continued success amid a down market.  According to Bob Scannell, an Independence homeowner who attended, "The Schell Brothers' mission was fulfilled again this evening:  there are hundreds of happy homeowners who continue to have pride in Schell."
In addition to homeowners, the event included prospects who are close to finalizing their home purchase.   Attendees were treated to music and fine dining, and there was even a choreographed performance by members of the Schell Brothers team to honor the homeowners.  Late into the evening, homeowners and employees danced together and shared stories at Venus on the Half Shell and adjacent North Beach, specially chosen to showcase the water-oriented atmosphere that, along with low tax living, draws so many people to coastal Delaware.
Chris and Preston Schell have set the standard for home building excellence and responsible land use in Coastal Delaware.  Sussex County is a natural draw for new home buyers due to the beach environment and its  ranking among the most favorable of all U.S. counties in terms of property taxes as a percentage of home value.