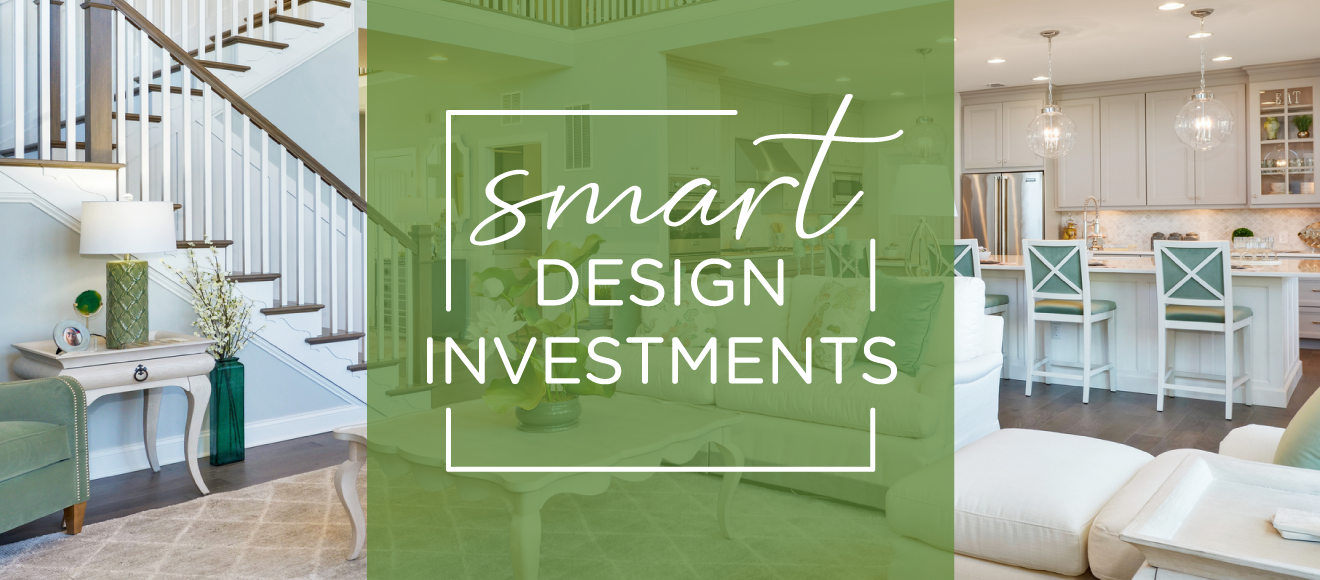 You have devoted countless days, holiday weekends, maybe even years, to searching for the perfect community, homesite and floor plan that fit all your needs. And you've finally made the first step: you contracted on a new home! If you're anything like me, just hours after signing your purchase agreement, you found yourself scrolling through Pinterest and obsessing over all the latest design trends – pinning ideas for your new dream home (even if it was still a bit of a distant reality).
There is certainly a sense of thrill and excitement that comes with designing an entire home to reflect your style. But, let's be honest, nice things cost money; and more often than not, our champagne taste doesn't quite match our budget. So, how should we spend our hard-earned money? Which features in a new home are considered good investments?
Structural options are key. At the start of every design appointment, we review all of the available structural options such as, but not limited to: luxury bath configurations, additional bedrooms and bathrooms, garage extensions, screened porches, sunrooms and courtyards. And so often we hear, "we'll make it work," or "we have plans to do it later." That's all well and good, and I would be fibbing if I told you there weren't extras that I elected to put on hold when designing my new home; but, structural options were paramount.
While outdoor features can be added later, it proves to be both complicated and costly. If you choose this route, you have now assumed the responsibility and unnecessary stress of consulting with an architect, acquiring permits and submitting for HOA approval. You must also consider the added cost for potential structural alterations that may have to be made to the roof line (or other areas of the home) in order to tie-in the future addition. If I could offer you one bit of advice, it would be to add structural options during the design process, because they will maximize your home's potential and enhance your daily life.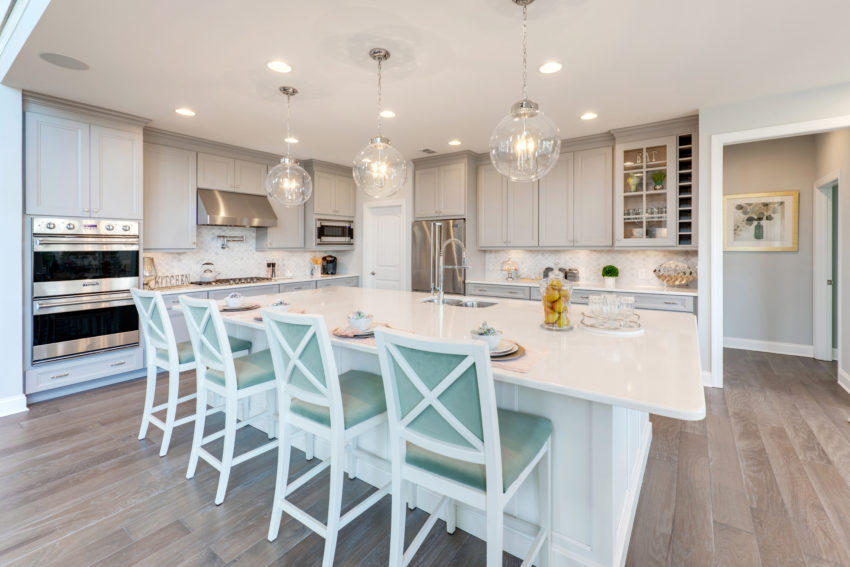 Flooring sets the stage. Your flooring selection is one of the biggest decisions you will make because it can radically affect the value and look of your new home. The function of a room certainly influences the flooring that is required. However, it is best to minimize the amount of flooring transitions; this will create a sense of openness and cohesion. Let's put aesthetics aside for a moment and discuss durability. Flooring is naturally the first surface to reflect wear, because it takes the brunt of our daily activities. So ask your designer to assist you in finding suitable high-traffic floors that will ensure a lasting impression.
The kitchen is the heart of the home. It isn't a coincidence that "open concept, updated kitchen" is always listed as a must-have on HGTV's Love It or List It. The kitchen is a gathering area, where most of the entertainment takes place. So, how can you be certain that your kitchen looks beautiful for years to come? Well first I think it's important to consider construction, particularly the features behind the cabinet that you can't necessarily see such as dovetail, soft close and hidden rails. And regarding the visible details – in my opinion, the three components that can completely transform a kitchen are your cabinet, countertop and backsplash selections.
During your preview appointment, a representative of our team will educate you on the difference between standard and full overlay cabinets. Full overlay cabinets are an investment that I would highly recommend, because it will give you a more custom look. Now for color – although we are still seeing 60%-70% of our buyers opting for white (or neutral) painted cabinetry, this is really your opportunity to personalize your look. Just keep in mind: kitchens should appeal to the masses. If your favorite color is red, it may benefit you to seek guidance from your designer. 😉 Your countertop and backsplash selections go hand in hand. They must complement one another; but, one has to make the statement. In other words, if you select a quartz (another material worth investing in because it is non-porous, unlike its competitor granite) with a lot of movement, then consider a rather simple (potentially solid) backsplash. Some other kitchen features to consider that will add value and charm include: an apron-front sink, upgraded appliances, accent lighting, a contrasting island color and eye-catching cabinet hardware.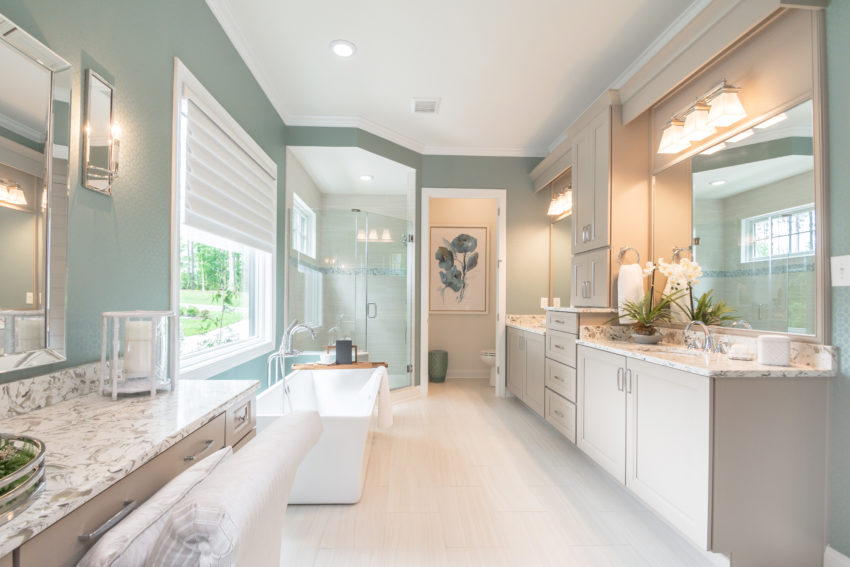 Create an in-home spa. Aside from the kitchen, this is a place where you are likely to spend most of your waking hours. Rather than visiting the nearest spa, why not create a tranquil escape in your own home? You deserve a place to unwind and relax after a long day. A well-appointed master bath includes modern features such as porcelain (stronger than the ceramic alternative) larger format tiles, dual vanities, a soaking tub and a private water closet.
Fireplaces sell homes. Sitting in front of a fire – perhaps while sipping on a glass wine – is cozy and comforting. When it comes to future re-sale value, a fireplace is one of those items that can make or break a deal. When you're trying to justify the extra $5K that you are spending on your fireplace, remember that it not only serves as a focal point (especially if you are considering a stone fireplace), but it also adds an ambiance that potential buyers may consider a must-have. Just in case I still haven't convinced you, consider the fireplace for the primary reason that it will heat your home when the electricity goes out. If you ask me, it's a no-brainer.
If you consider these key points when designing your new home, you will see a return on your investment. And yes, I know what you're thinking – it all adds up. It's certainly easier said than done! When I was financing my home, I had my loan officer break it down for me and I remember her saying, "every $1K you spend equates to $5 a month on your monthly mortgage." This was an approximation of course, and it certainly depends on the interest rate and term. But, as an avid coffee drinker, the first thought that popped into my head was this: that's only one grande espresso beverage at Starbucks that I would have to skip, a few times a month. Suddenly, that deck was looking a little more affordable!
So here's my challenge to you: consider eliminating your morning or mid-day coffee run once or twice a week (or pick something that relates to your daily routine), because that may get you one step closer to your dream home.