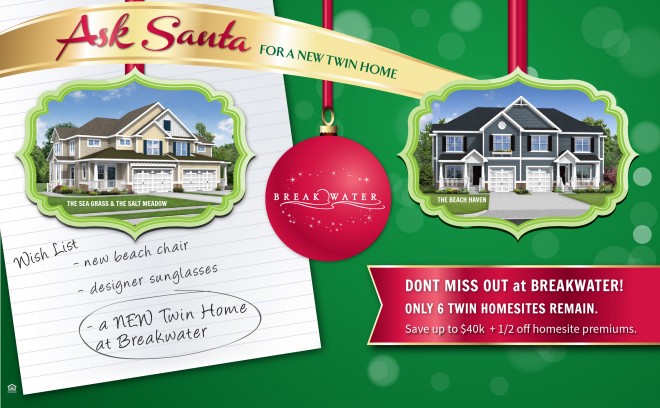 Our Twin Homes are at the top of the Christmas list for those wanting a great location east of Route 1, close proximity to the beach (1.5 miles) and a modest price in the mid $300s (after current incentives).
Real estate transactions usually slow down as we approach the holidays however this is not the case here at Breakwater with seven twin home sales in November. We now have only six homesites remaining for a Twin Home and some of the available homesites offer water views!
Customers are shocked when they see the vast spaciousness of our model, which measures over 2,600 sq. ft.  When people walk through our front door I constantly hear them say "I can't believe I am in a twin home" and "this feels just like a single home".  This is mainly due to the fact that our twins offer a large amount of natural light and a  well-designed open floor plan.
In addition to selling many homes in November we have been busy with our holiday decorating. Our cozy atmosphere of our Salt Meadow model makes it hard to leave, especially on a cold winter's day. Our warm fireplace, large lighted Christmas tree, holiday music and the smell of cinnamon in the air puts you right in the Christmas mood. Stop by the Salt Meadow this week while you are doing your last minute holiday shopping. You will be glad you did. Breakwater is now offering a $40k incentive on the twin homes as well as ½ off homesite premiums but only until December 23rd!
For more info on Breakwater and to view the last available homesites, visit Breakwaterlewes.com.