All good things must come to an end . . . or DO they?  Of course not!  As we enter the final phase at the Retreat at Love Creek, I realize that the fun we've had here will come to an end as we move on after completion.  However, for YOU it can last forever.  Seriously!
Anyone who has driven through The Retreat at Love Creek knows that it's a beautiful neighborhood surrounded by a conservation area, but it's the people who live here that make it a special community.  When you build a new home, you want to know that you will have great neighbors.  The folks who live here are second to none.
For me, it's been a lot of fun meeting the homeowners and watching the community grow, and I want to thank them for all they've done for us.  They've participated in developing the character of the community, from providing Christmas cookies to extending party invitations to sharing conversations on the street with future homeowners who happen to drive through.  Any time we asked for help from the neighborhood we always ended up with more than we needed.  It has been a great experience all around.
If the residents are this great to us, you can only imagine how generous these neighbors are with each other.  And I haven't even mentioned the community happy hours, clubs, dine-out nights, and more.  This spirit is something you can enjoy every day for the rest of your life.  Who wouldn't want to live in a great community that is made up of fun and generous neighbors?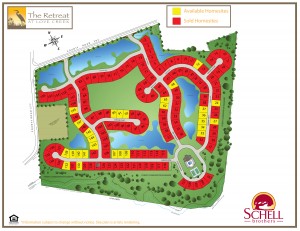 We are down to our final homesites and, at our current sales pace, we look to be wrapping this Lewes Delaware community up by the end of 2012.  The good news is we still do have a few homesites that back to the wooded conservation area and creek, plus some that back to the serene ponds with fountains.   Either way, you won't have to worry about dealing with construction in the community for very long because we are nearing completion.
So, as Schell Brothers gets closer to completing another chapter in our book, it could be the perfect time to start a new one in yours that doesn't have to end.  Come join the fun!