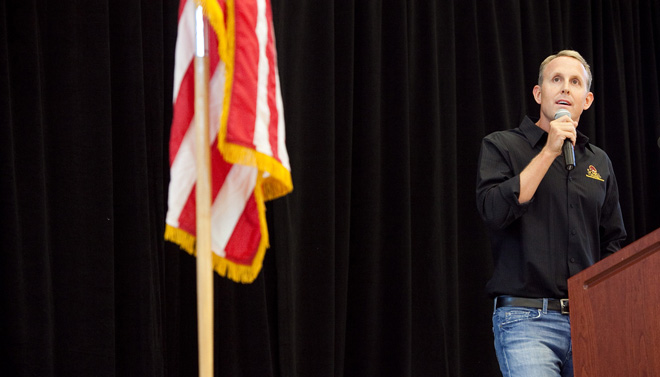 Chris Schell addressing the Pep Rally attendees. Photo by leafophoto
We are so proud that Extreme Makeover: Home Edition has chosen to come to Sussex County to work their magic and involve our community!
When asked by the Extreme Makeover team whether Sussex County would be able to provide the massive numbers of volunteers needed to make this project a reality, Schell Brothers owner Chris Schell had only to think of why he has such great affection for this area. "It's not the beach, it's not the quaint little towns, it's not The Outlets. It's the people! The people here are amazing!" he said to a roaring crowd at Tuesday night's Pep Rally. With thousands of volunteers at the ready, Chris' confidence in his community to step up to the challenge and get involved was well founded. "This is not the Schell Brothers build. This is the community build," said Chris.
Now that the volunteers are assembled, and the builder is selected, we know the dream of building a house for a deserving family is about to happen. We know that it will be beautiful, fully decorated, fully furnished, and fully outfitted to improve the quality of life for the family who will call it home. But, where does the money to make this dream a reality come from?
Charitable Donations
All t-shirt sales and donated money heads straight for the Sussex County Family Fund, a 501(c)(3) non-profit fund established specifically for this build project and the family. The fund is managed by the Greater Lewes Foundation.
Food donations from attendees were collected upon entry into the Pep Rally Tuesday night. These donations will stock the Food Bank of Delaware. 1,630 pounds of non-perishable food was collected and sent by van to the Food Bank after last night's events – and remarkably, not all of the donated food would fit in one van-load! So, a final weight of all collected food has yet to be determined.
A huge thank you goes out to Bank of Delmarva for handling the t-shirt sales – all attendees kept them very, very (read: exceptionally!) busy with their generous support of Extreme Makeover's latest project.
Between the Pep Rally and the benefit concert that followed, Tuesday's event successfully raised around $20,000, pushing the total of all moneys collected for Sussex County's Extreme Makeover: Home Edition build upward approaching $200,000.
And that's something all of the amazing people of Sussex County can be very proud of!