Your home is now your
health sanctuary.

SanctuAIR prevents poor indoor air quality and ensures a healthy, comfortable environment for you and your family.
Indoor Air Quality The EPA ranks indoor air quality as one of the greatest but least recognized risks to public health.
Poor indoor air quality is estimated to cause thousands of deaths and hundreds of thousands of health problems each year, especially among children and the elderly. Respiratory health problems such as asthma and chronic coughs have often been linked directly to poor indoor air quality.
At Schell Brothers, we take this problem very seriously and have included numerous features and construction techniques in our homes to ensure a healthy environment for our homeowners and their families.
Our efforts have been recognized by the EPA, who honored us with their 2015 Indoor airPLUS Leader Award. We were one of eight home builders across the nation to receive this award, selected from more than 700 builders who have joined the Indoor airPLUS Program.
"Our son has always struggled with asthma. It was refreshing to learn that Schell Brothers goes above and beyond. They care about indoor air quality just as much as we do."

The Winslows

Schell Brothers Homeowners
Low VOC Materials We use low to no VOC materials to ensure that our homes provide a healthy environment.
Most materials we use are GREENGUARD Certified, which means they've been screened for over 10,000 chemicals. Certified products help create healthier indoor environments.
Most homes contain VOCs
Research funded by the EPA has found that most homes in the U.S. contain high levels of volatile organic compounds (VOCs) due to the products used in constructing the homes.
Many building products emit VOCs
VOCs are emitted by building products such as paint, carpet, adhesives, OSB/plywood, and others. Most will continue to emit VOCs long after installation.
Why you want to avoid VOCs
VOCs can lead to adverse health conditions such as eye, nose, and throat irritation; dizziness, headaches, loss of coordination, nausea; central nervous system, liver, and kidney damage; and even cancer.
MERV 13 Air Filters We use bigger, better, hospital-grade
air filters.
Minimum efficiency reporting value, commonly known as MERV rating, is a measurement scale designed to rate the effectiveness of air filters. MERV values range from 1 to 16. Higher is more effective.
A typical residential air filter is less than MERV 5 and removes only large particles from the air. Most harmful particles such as bacteria, mold, and allergens are relatively small and can only be removed by more advanced filters.
Schell Brothers homes use MERV 13 filters, which remove almost all the harmful particles in the air. In fact, MERV 13 filters are rated high enough to be used in hospitals.
Blown-in Blanket Insulation Walls filled with safer, quieter material.
Instead of BATT insulation, dense pack fiberglass insulation is "blown-in" to fill all the voids in the walls and ceilings of Schell Brothers homes, creating a consistent and more effective thermal and sound barrier.
The blown-in insulation used in Schell Brothers homes is formaldehyde-free, non-combustible, non-corrosive, and moisture resistant. That means you get a safer product that resists mold growth to protect your home and the people in it.
Each bag of blown-in insulation contains the equivalent of over 30 recycled bottles, and is verified as a GREENGUARD® certified, low VOC product.
Did You Know The blown-in insulation used in Schell Brothers homes also helps improve energy efficiency. Learn more
Blown-in insulation used in Schell Brothers homes improves sound attenuation by 4 to 10 points.
Typical interior walls in homes are 1 sheet of 1/2″ drywall on either side of a wood stud frame. Sound Transmission Class (STC) is a rating of how well a building partition attenuates airborne sound. Higher is better.
Draft Stopping Preventing air leakage and uncomfortable drafts.
Even a well-insulated home can have uncomfortable drafts when unfiltered outside air enters your house through cracks and openings, and conditioned, filtered inside air leaves. Reducing the amount of air leakage is a cost-effective way to create a healthier indoor environment by ensuring air is only able to enter your home through your filtered HVAC system.
Draft/Leakage Prevention
We apply a spray foam to joints and other areas of our home's exterior envelope to prevent unwanted airflow between the outside and inside of the home.
3rd Party Verification
A third party conducts a blower door test on each of our homes to measure the effectiveness of our draft-stopping, allowing us to identify and correct any deficiencies.
Average air exchange rates:
Comparing average air exchange rates:
2.5
ACH50
Schell Brothers
3-5
ACH50
standard new homes
15-25
ACH50
typical existing homes
Air leakage is measured in air exchanges per hour at a pressure difference of 50 Pascals (ACH50). Lower is better.
Fresh Air Ventilation System A healthy indoor environment needs
fresh air.
Very little air leaks through the exterior envelope of Schellter homes, which is great for comfort and energy efficiency, but a healthy indoor environment also needs fresh air.
Our homes include a ventilation system that circulates fresh air into the home at a rate consistent with the home size and sufficient to maintain healthy indoor air quality.
Communicating Thermostat Monitor and regulate both temperature and humidity.
Traditional HVAC systems and thermostats just measure and regulate temperature, which is only part of what makes a home's interior environment comfortable. High humidity can make a home uncomfortable and potentially lead to unhealthy moisture related problems.
Condensation is a major source of moisture and mold within a home. Condensation can be greatly reduced by regulating humidity levels.
Our smart thermostats combined with our variable speed air handlers allow our HVAC system to independently reduce humidity* by cycling down the fan speed to remove more moisture from the air while having a minimal effect on temperature.
* Our HVAC system does not have a humidifier, so it can only decrease humidity levels when the A/C is running.
Variable Speed Air Handler A smart, comfortable and quiet
air handler.
Schell Brothers homes include an HVAC system that has multiple fan speeds to precisely control the speed and volume of air flow.
This type of system is quieter and makes very little noise when it turns on because it can start with a low fan speed.
A variable speed air handler is also much more effective at removing humidity from the air, which not only improves comfort, but reduces problems caused by moisture such as mold. Some systems can remove as much as 24 gallons of moisture per day from a home!
Did You Know Variable speed air handlers also help improve energy efficiency. Learn more
Keeping humidity in the optimal range indoors helps to control bacteria, viruses, fungi (including mold), allergies, and asthma.
Insulated Conditioned Crawl Space Our crawl spaces are actually healthy spaces.
In the last several years, building scientists have realized that traditional vented crawl spaces included in most existing homes are harmful. The moist, warm air found in vented crawls in the summer months creates a perfect environment for mold and bacteria which can infiltrate the living area of the home through HVAC ducts and air leaks in the floor system.
Our crawl spaces have no outside vents, are insulated, and conditioned by the HVAC system, resulting in a healthy environment.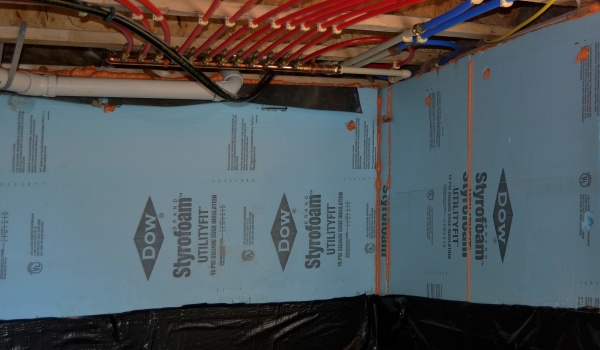 Did You Know Insulated and conditioned crawl spaces are better for energy efficiency. Learn more
WHOLE HOUSE DEHUMIDIFIERS Controlling humidity in the crawl space.
We install whole house dehumidifiers on all non-slab Schell homes. High humidity is uncomfortable, causes damage to interior finishes like hardwood floors and furniture and is a primary contributor to mold growth in the home. We live in a very humid climate and unfortunately running the A/C is not always sufficient to maintain proper humidity levels. A whole house dehumidifier is the most efficient and effective way to ensure safe and comfortable humidity levels year-round in your home.