The new standard for home
energy efficiency

comes standard. Enerwize surpasses the requirements & efficiency ratings of homes built to Energy Star specifications.
HERS Score Finally, a "miles per gallon" rating for home energy consumption.
Developed by RESNET®, the Home Energy Rating System (HERS) Index is the industry standard by which a home's energy efficiency is measured and is the nationally recognized system for inspecting and calculating a home's energy performance. The lower a home's HERS score, the more energy efficient it is.
A home built by Schell Brothers averages a score of 49 on the HERS Index, which means it is over 100% more energy efficient and uses 51% less energy than a Standard New Home with a HERS Score of 100*.
An Enerwize home will have energy costs that are less than half of an equivalently sized existing home.
100% more energy efficient than a standard new home
51% less energy used


Advanced Framing Smart framing techniques that make your home stronger and more energy efficient.
Our combination of new framing techniques maximizes the thermal barrier of exterior walls by increasing insulation and reducing thermal bridging caused by excess wood.
Raised heel truss in Schellter home. Allows insulation to extend full depth to the edge of the exterior wall.
Standard truss in typical home. Insulation is pinched in corners, which allows heat transfer.
24-inch stud spacing in Schellter home. Placing studs every 24 inches instead of every 16 inches reduces the amount of lumber in the walls and allows for more insulation.
True sized header in Schellter home. Using the proper amount of wood to support the structure allows more room for insulation.
California corner in Schellter home. Allows insulation to be installed to the corner of the exterior wall.
Traditional corner in typical home. No insulation in the corner near the exterior wall.
Stick-Built Construction Stick-built homes are more energy efficient than panelized homes.
Most production home builders use panelized walls in their homes because it costs less. Our homes are constructed on-site, because stick-built homes are stronger and more energy efficient, although framing is certainly less expensive and quicker using panels.
Panelized homes introduce extra studs into the exterior walls because there are two studs next to each other where panels meet. Wood is a poor insulator so extra studs means extra energy loss through the walls.
In addition, small gaps between studs, walls, and floor systems are a common source of air infiltration. In a stick-built home, wall sheathing (the OSB or plywood on the outside of an exterior wall) covers these gaps and inhibits the air leak. With a panelized home, there is no sheathing to cover these gaps, just house wrap or tape which do little to prevent air infiltration in these areas.
Did You Know Stick-built homes are also stronger than panelized homes. Learn more
Ultra High Performance Windows Extremely energy efficient windows are well insulated and block solar heat gain.
The windows in a home can be a major source of heat and cooling loss. Many builders reduce the construction cost and energy loss by simply including very few windows in their homes.
We recognize that more natural light makes a home feel much better, so we don't skimp on quantity or quality of the windows in our homes. To prevent energy loss while including more windows, our provider created a brand new window specifically designed to meet the ultra energy efficient specs we insisted on.
Our windows also minimize the transfer of ultraviolet light, protecting your furniture and finishes from fading.
Standard Window
.47 U-Value Insulation Value R-2
.59 SHGC 41% Solar Radiation Blocked
Low-E Energy Star Window
.32 U-Value Insulation Value R-3
.40 SHGC 60% Solar Radiation Blocked
Schell Brothers Window
.26 U-Value Insulation Value R-4
.21 SHGC 79% Solar Radiation Blocked
U-value measures the rate of non-solar heat loss or gain through a window, including the loss or gain due to the window's frame, glass, seals and spacers. Lower is better.
Solar Heat Gain Coefficient (SHGC) is the fraction of incident solar radiation admitted through a window, both directly transmitted and absorbed and subsequently released inward. Lower is better.
2x6 Exterior Walls Bigger, better exterior walls.
2x6 walls are significantly stronger than 2x4 walls and allow for a lot more insulation, which makes a huge difference in heating and cooling costs. The extra insulation also makes it much quieter inside the home.
63% more insulation in Schell Brothers 2x6 walls than 2x4 walls
Lower Costs for heating & cooling
Stronger than 2x4 walls
Quieter better noise reduction
Blown-in Blanket Insulation Completely filling the void.
Insulation's primary purpose is to reduce heat transfer. BATT insulation, often still used in new homes, loses its effectiveness when cut or compressed to accommodate electric boxes, wires, light fixtures, and other objects in walls and ceilings.
Instead of BATT insulation, dense pack fiberglass insulation is "blown-in" to fill all the voids in the walls and ceilings of Schell Brothers homes, creating a consistent and more effective thermal and sound barrier.
Did You Know The blown-in insulation used in Schell Brothers homes also helps provide a safer environment. Learn more
Blown-in insulation achieves higher R-values than BATT insulation of the same thickness.
Schell Brothers
Blown-In 2x6
R-value is the measure of insulation's thermal resistance, or its ability to resist the flow of heat. Higher is better.
Draft Stopping Air leakage is a major cause of heat and cooling loss within a home.
Even a well insulated home can have high energy bills and uncomfortable drafts if the home is not properly draft-stopped. Many homes have the air leakage equivalent of an open window, even though all the windows are closed.
Conditioning air that is lost through leakage accounts for 25% - 40% of the energy used for heating/cooling in a typical home.
Draft/Leakage Prevention
We apply a spray foam to joints and other areas of our home's exterior envelope to prevent unwanted airflow between the outside and inside of the home.
3rd Party Verification
A third party conducts a blower door test on each of our homes to measure the effectiveness of our draft-stopping, allowing us to identify and correct any deficiencies.
Average air exchange rates:
Comparing average air exchange rates:
1.8 ACH50 Schell Brothers
3-5 ACH50 standard new homes
15-25 ACH50 typical existing homes
Air leakage is measured in air exchanges per hour at a pressure difference of 50 Pascals (ACH50). Lower is better.
Variable Speed Air Handler Schell Brothers homes include an HVAC system with multiple fan speeds to precisely control airflow.
A variable speed system with electronic communicating motor (ECM) technology is more energy efficient as most times of the year the air handler fan will only need to run at low speeds.
A variable speed air handler is also much more effective at removing humidity from the air, which not only improves comfort, but reduces problems caused by moisture such as mold. Some systems can remove as much as 24 gallons of moisture per day from a home!
Did You Know Variable speed air handlers also help make your environment more comfortable. Learn more
Typically air handlers only need to run at high speed 20% of the time.
Heating Mode (High Speed)
Schell Brothers
ECM Variable Speed
Circulation Mode (Low Speed)
Schell Brothers
ECM Variable Speed
Power is measured in Watts.
2-Stage High Efficiency Furnace Our smart furnace runs at low speed whenever it can.
Typically homes include a single-stage furnace that runs at full power any time it is turned on. Schell Brothers homes use a smarter, 2-stage furnace.
A 2-stage furnace is like having two furnaces in one: an energy efficient low-stage furnace for moderately cold days, and a heavy duty, high-stage furnace for very cold days.
A 2-stage furnace typically operates in the low stage most of the time, producing far less combustion noise than a single-stage furnace.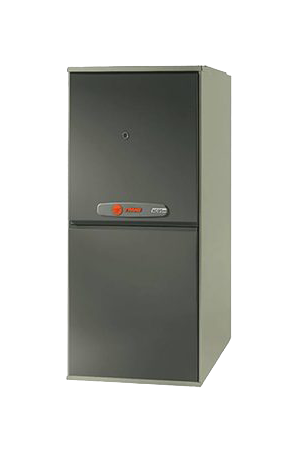 Insulated Conditioned Crawl Space Eliminating heat loss through the floor.
Insulating and cooling the home's crawl space creates a thermal connection to the ground and essentially eliminates the majority of heat loss through the floor system, not to mention eliminating the discomfort caused by cold floors in the winter.
A vented crawl space, on the other hand, makes the entire home a conditioned island surrounded by unconditioned air on all sides.
Our crawl spaces have no outside vents, are insulated, and conditioned by the HVAC system.
Did You Know Conditioned crawl spaces also help create a healthier living environment. Learn more
Properly Sealed Ductwork Up to 20% of the energy used to heat & cool a home is wasted due to duct leakage. Source U.S. Dept. of Energy
Proper duct sealing can greatly reduce or eliminate this source of energy loss. Locating the ductwork within conditioned space further increases the efficiency by reducing the heat transfer through the duct walls.
Our ductwork is located predominantly within conditioned space and all the seams are sealed with tape and mastic to ensure little to no air leakage.
To ensure proper duct sealing, all Schellter homes receive a 3rd party Duct Blaster Test which measures the amount of air leakage in the duct system so that any deficiencies can be identified and corrected prior to installing drywall.
Tankless Water Heater You wouldn't leave your car running all day. Why leave your water heater going?
A traditional tank water heater uses a tremendous amount of energy because it is constantly running.
Schell Brothers homes feature a tankless water heater that only runs "on demand" when hot water is needed. It's also about the size of a briefcase, so it takes up a lot less space. Plus it never runs out of hot water, and will last about twice as long, typically up to 20 years.
Tankless water heater vs. traditional:
40% less energy used

2x longer life span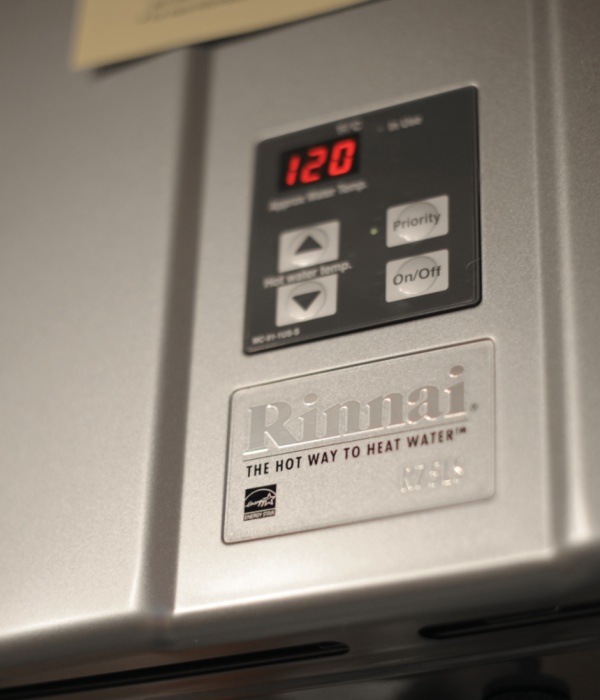 PEX Plumbing Lines Faster hot water with direct home run lines.
PEX pipes are flexible tubes of cross-linked polyethylene that we use with a manifold in a "home run" plumbing system to provide direct water lines to each faucet.
PEX piping systems have far fewer joints and fittings than traditional PVC or copper pipes, which greatly reduces the potential for leaks. PEX tubing won't pit, scale or corrode and is much less likely than PVC to burst if it freezes.
*Our Virginia market includes pex plumbing lines with one shut off valve.