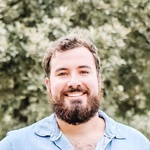 Growing up, sports have always been very important to me. From soccer to basketball to football, you could always find me on a field or a court with a few good buddies. I loved the sense of community that comes from a team working together to accomplish a common goal. There's something special about having people there who pull you through the losses and celebrate with you in your victories.
When my son, Jackson, was born, it was like learning an entirely new sport altogether. Is it supposed to look like that, do you think this is OK for him to eat, how I do I know which is the front versus the back? But my partner, Tabby, and I take every day as a new challenge and we cherish each little accomplishment we see as he grows. We work together as a team to raise our son.
When I joined Schell Brothers, I felt like I was a part of a new type of team. The community this company creates is something that I was missing from my younger days playing sports. It's a group of people who care about one another, who care about their clients and are working together with the common goal of putting you in a home that you are going to love. Let myself and the Schell Brothers team support you through the home building process and help you turn the house of your dreams into your home.

Zach is personable, approachable and responsive throughout the home purchase process. He explained the process thoroughly, and was efficient when changes needed to be made. Zach made sure our home experience was "above and beyond".

The Adachis

River Mill Homeowners
Zach was wonderful to work with every step of the way.

the Mancanos

Mosaic at West Creek Homeowners
We were very fortunate to have Zach as our CSM. Not only was he knowledgeable, he was helpful in areas that didn't fall into his wheelhouse.

the Burkes

Mosaic at West Creek Homeowners
Zach is extremely helpful, professional, responsive. I like that he doesn't just sell you, he builds a relationship with you. He was part of the reason I went with Schell. He is an asset and makes a great first impression. I especially liked that he was so helpful, as I navigated through this process. He is a good human being. Every recommendation that Zach gave me, I personally see the advantages, now that I am in my home.

Ms. Hudobenko

Mosaic at West Creek Homeowner
Zach was and still is amazing. He was very thorough, knowledgeable and very communicative throughout the process. He remained diligent and continued answering questions/helping with issues outside of his "part" in the build. He made the experience much more relaxing and comfortable.

the Luus

River Mill Homeowners
Zach is hands down the best salesman we've ever had the pleasure of working with. He was extremely knowledgeable and if he didn't know the answer he found it and got back to us about it. Zach still calls and checks in on us.

the Nelsons

River Mill Homeowners
We love Zach. It's that simple. He made the whole process as easy as possible. He gave terrific advice to help fit our wants into our budget.

the Paces

River Mill Homeowners