Spring
Home Care Tips
Shake off the winter blues and get ready for your first backyard BBQ with these tips on maintaining your home for Spring.
Plumbing Tips
We're here today to talk about a few plumbing tips!
Heating, Ventilation, and Air Conditioning
A few tips to keep things running smoothly and efficiently in your Schell Home. Such as changing air filters, flushing the condensate line, and keeping the humdiity levels at a proper set range.
New Yard and Landscape Orientation
We want you to be satisfied with your new yard and landscaping. Therefore, we would like to review some details and set proper expectations to ensure you have the best possible starter lawn.
How to Caulk Your Shower
Rich Gehman walks us through the process of caulking your shower.
How to Operate and Maintain Your Garage Door
Bobby Gross from Overhead Door Company walks us through the process of operating and maintaining your garage door.
How to Adjust Your Manual Dampers
The damper is located above furnace and controls air flow to different parts of your house.
In the summer time, its advised to close the damper off on the main trunk line off about half way to push more air flow to the upper level of your home.
In the winter time, you'll want to open up the damper, so to restrict air flow to the up-stairs, so the upper floor doesn't get too hot.
How to Change Your Air Filter
The air filter is located beside your furnance, often located in the basement or crawspace.
The filter should be check every 3 months, and replaced at least every 6 months.
To replace air filter, write down part number, and/or MERV #, and check with local hardware store.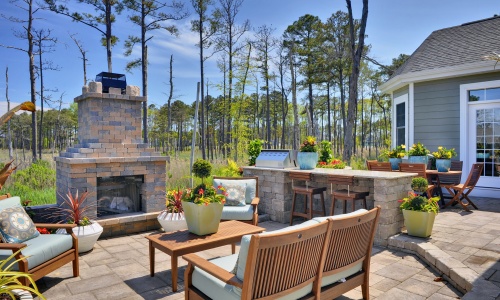 Decks & Outdoor Spaces
Test exterior faucets for broken pipes.
Clean gutters and confirm that downspouts or splashblocks and extenders drain away from the house.
To clean and get your exterior decks ready for the spring and summer season make sure to follow the care and maintenance guidelines listed for your specific decking manufacture.
Look for settling of backfill soils and fill in where needed.
Re-activate your irrigation system, making sure the system is operational for the upcoming summer months.
Undertake spring landscaping maintenance; fertilization plan.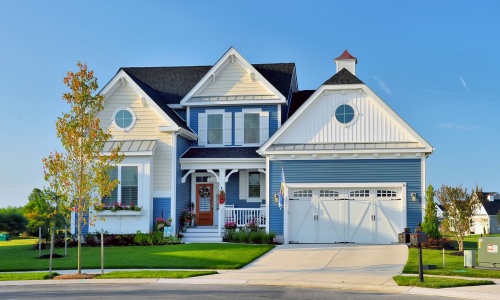 Garage
Check caulking and weather-stripping, including around entry door from garage and house.
Check garage overhead door, tighten bolts as needed, and lubricate springs with medium weight oil. Have other repairs done by professionals.
Exteriors
If your vinyl siding needs a spring cleaning, please follow these simple cleaning steps from Exterior Portfolio.
If your fiber cement siding needs a spring cleaning or needs to be re-caulked, please follow manufacturer's care and maintenance guidelines.
Wash windows and screens, clean weep holes, and lubricate tracks for proper operation. Please see manufacturers guide for proper cleaning.
To prevent possible air leakage or water intrusion, inspect all caulking of the home, both inside and on the exterior of home, and touch-up especially around exterior doors and windows. This is recommended twice a year and is the responsibility of the homeowner to perform this maintenance.
Inspect roof from the winter for possible blown off shingles, and replace if necessary.
Check exterior paint and stain surfaces (especially stained doors) and refinish as needed.
Appliances
To have your Rinnai serviced and sediment flushed out, you must contact a licensed professional for this service. This is recommended once a year. For more information visit the manufacturers website.
Remove lint from dryer exhaust vent with a long, flexible brush, and make sure the exterior exhaust vent is clear of debris.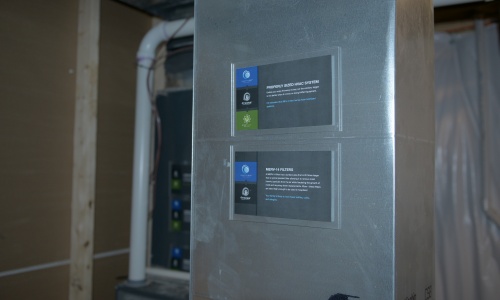 Crawl Space & Basement
Check manual damper for appropriate seasonal setting within crawl space and basements.
It's recommended that you check the furnace and dehumidifier filter every 4-6 months. Change or clean filter if necessary.
Check basement outdoor drain for grass clippings or blockage.
Check sump pump, making sure it's operational and free of debris.
Inspect basement or crawl space for signs of possible leaks.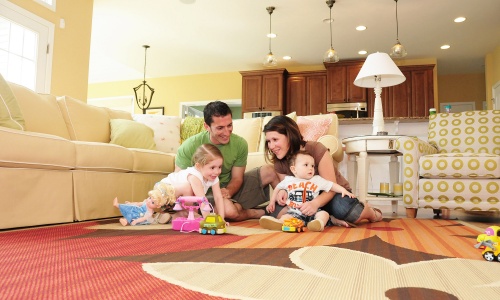 Heating & Cooling Systems
Operate air-conditioning system; if service is needed it is more conveniently arranged before the busiest part of the season arrives.
Adjust registers and confirm that air returns are clear of furniture or draperies.
Make certain the air-conditioner compressor is level and clear of debris.
Maintain comfortable AC levels between 74°F to 76°F, but no more than 78°F for extended absences from home.
Check that air intakes and exhausts are clear of debris, nests, etc.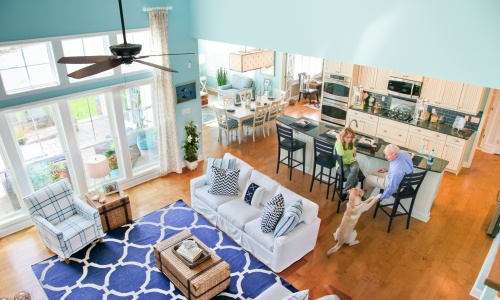 Inside Your Home
Inspect grout around tile (floor or wall) and touch up.
Clean and test smoke alarms and carbon monoxide detectors. Check batteries twice a year and change if necessary.
Test and reset ground fault circuit interrupters (GFCI) breakers.
Irrigation Controller (Hunter X2)
This video provides an overview of basic offline programming with your X2 controller. In addition to reviewing terminology and explaining programs, we will cover the basic programming steps required for an irrigation program.
Irrigation Controller (Hunter Pro-C)
This video shows you the basic steps to program a Hunter Pro-C irrigation controller and how to use its various features, from setting the date and time to adjusting seasonal percentages and more, including manual operation.